If you haven't already heard, there's been a new buzz in the air in the mountain biking scene that has to do with backcountry adventuring on your bike called bikepacking. The concept isn't new. Cyclists have been touring and camping off of road bikes for almost a century. The only difference here is that bikepacking involves mountain bikes, dirt roads and trails and ultra-light camping in the backcountry. Think of it as ultra-light backpacking on a mountain bike.
Bikepacking can be taken to many different levels depending upon a person's mountain biking skills, fitness level and interest in the backcountry. Hardcore mountain bikers that enjoy going deep into the wild might outfit their bikes with high-end, specialized, inline frame packs and ultra-light camping equipment in order to spend multiple days camping off their bikes. Other cyclists who are trying it out for the first time or riders who prefer shorter excursions can outfit their mountain bike with lower cost equipment from a local bike shop or outdoor store.
Getting Ready for Your First Bikepacking Adventure
To start, get your mountain bike tuned up and ready to go. A bike that is not working properly or breaks down frequently will put a huge damper on your adventure and can make it really difficult or dangerous. Take a good look at the condition of your bike and do the necessary repairs to get it ready for a trip. If you have any questions, take it to your local bike shop and have them go over it.
Next, you will want to plan out your trip. Where do you want to explore?  What type of riding conditions will this entail?  How many days will it take, and how many nights will you be camping?  These questions need to be answered first as this will dictate your bikepacking set-up. For beginners, it's best to focus on a two-day, one-night trip. This allows you to test everything out and get use to camping off your bike for the future. Keep the destination simple and the trail conditions to an easy/moderate level. Stay close to civilization in case you run into difficult circumstances.
Now, with your bike ready and your destination planned, it's time to get your equipment dialed in. For starters, all you really need is a front and rear bike rack, two large dry bags, a top-tube bag, backpack and, of course, your camping gear. Once you have your equipment, it's time to mount it all to your bike. The most important thing to remember is to bring only what you need, and then try to downsize from there. Keep it simple and keep it light! If you are going with a friend or two, divide up the equipment and share the load amongst each other. Think ultra-light backpacking!  Get on the web and research bikepacking and ultra-light backpacking to learn what others are doing. This will save you lots of time, money and headaches. Keep the combined weight of your camping equipment, food and water to 30 pounds or less.
Once things are packed, start loading up. Strap on the dry bags inline on the bike racks (not sideways). Keep it to one bag per rack. You want your equipment to be streamlined for trails to keep contact with brush, trees, stumps or rocks to a minimum. Keep the front end as light as possible for better control. Load up the heavier items on the back rack. Load up your top-tube bag with things you will want frequent access to, like trail food and your phone or camera.
Now that you are loaded, take your ride out for a spin. Test out how the bike rides and responds. It will react a lot slower than you are used to. Make sure to test it out on some local trails and adjust the load to dial in bike performance. Test your bike well in advance of your trip.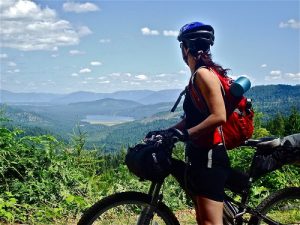 Where to Go Bikepacking
The Inland Northwest is an amazing place filled with abounding adventures. Some of the best places to start bikepacking are right here in our backyard. National forest lands are filled with forest roads that link with singletrack trails, like those around Sullivan Lake in northeast Washington and Priest Lake and Lake Pend Oreille in north Idaho. There are also many rails-to-trails to venture out on, like the John Wayne Pioneer Trail in Washington and The Old Milwaukee Road in Idaho. You can even start from your doorstep and venture to a local campground (like Riverside State Park) for a quick overnight stay using the Centennial Trail and other local trails and dirt roads in your area. Your bikepacking adventure can be anything you want it to be. Keep it simple at first, enjoy the journey and, above all, share it with others!
To explore the endless bikepacking possibilities out there, including trip and gear ideas, check out Bikepackersmagazine.com. (Torin Browning)//