I hate treadmills. I am far from alone on this. A treadmill run can be dreary, making you feel like a hamster on a wheel—because basically, that's what you are. Sometimes, though, a treadmill is just a piece of essential gear, a tool that helps runners get through the often sloppy "shoulder season" bridging from winter to spring. This is what I reminded myself of the other day when I ran on the treadmill in my friend's garage, unwilling to risk the ankle-twisting ice outside, lurking ominously beneath a thin layer of snow. I relied on another essential piece of "gear" to brighten the gloomy run, an audiobook (Malcolm Gladwell's Talking to Strangers). As I ran I looked out the small garage window, keeping my mind off the monotony by increasing and decreasing my speed at intervals. 
There are many running-related conundrums—and many of them can be dealt with via appropriate gear. One chance discovery for me recently was a pair of workout tights with thigh pockets. This small addition (none of my pants had pockets previously) has been a game changer on drizzly and snowy days, protecting my phone from condensation and keeping the battery charge from plummeting in low temperatures. I now own four pairs (mine are Zella brand, 7/8 length)—and have shoved all my other running pants to the back of the dresser drawer.
Then there's eye protection. For years I just sort of squinted and bore it when I ran on bright, sunny days—my regular sunglasses slipped off my nose, and running-specific shades were out of my price range. Glare off the snow was a significant problem. No longer! Now I rely on a pair of Goodr glasses (I picked mine up at Fleet Feet; more styles available on goodr.com). They come in many colors, they are polarized, and they don't slip off my ears or the top of my head when propped up there. Best of all, they cost just $25-35 a pair. 
Other essentials: a lightweight vest for an extra layer on chilly days. Running tops with thumb holes when it's not cold enough for gloves, but not warm enough for unprotected digits. AirPods, which I wrote about in a previous gear article. I won't oversell them by repeating their finer points, but they've become an everyday staple and are especially clutch when I'm bundled up for cold or wet weather and don't want any cords to fumble with. Handwarmers and ski mittens on extremely cold days. And, another recent staple: Balega running socks. For many years I saved money by purchasing "athletic" cotton socks at Costco in bulk, not understanding why running socks were so expensive. Guess what: They cost more because they feel better. They wick moisture and prevent blisters. Now that I've tried them, there's no going back.
Today, the slush is melting. The roads are clear enough that I can skip the treadmill and run outside, no need for Icebugs or a vest. It's overcast, so I'll also skip the sunglasses. I'll keep refining my gear stockpile, though. There's no telling what tomorrow will bring—and I plan to run regardless. 
Story originally published in print as "Refining Your Running Gear Stockpile."
Local Runner Spotlight: Matt Gross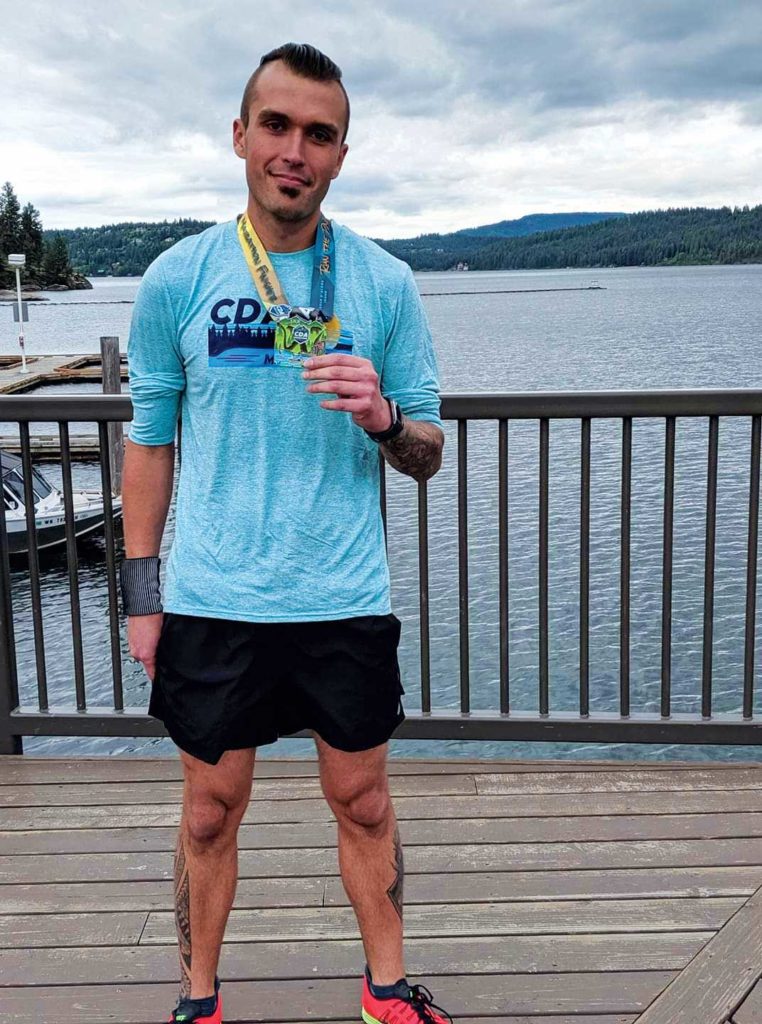 "In 2014, I started my running journey with signing up for my first race with the Windermere Half Marathon," says Spokane runner Matt Gross. "My first half marathon finishing time was 2:09, but I was definitely hooked. My fastest half marathon to date is 1:34 with a lot of training. Over the course of the next 6 years, I have completed 38 half marathons and 5 full marathons."  His goal for 2020 is to use Negative split races, including the Negative Split 10k on April 19 and the Windermere Half Marathon May 17, in hopes of qualifying for the Boston Marathon and the Chicago Marathon in October. (OTO)