The urban agriculture and urban farming movements have taken off. Some use vacant lots to start community gardens for personal use or food bank donations, while others grow their own food in response to growing concern over industrial agriculture.
Figuring out what, when and where to plant can be an intimidating task. Two helpful resources in the Spokane area are the Spokane County Library and the Spokane Master Gardeners. Each spring the Spokane County library and the Master Gardeners team up to offer classes on everything from container gardening and preserving the harvest to keeping out those pesky deer.
Check out a seed library. In 2015, the Otis Orchards Library branch started a program where patrons can borrow a variety of lendable seeds. Library cardholders check out a packet of seeds on the condition that they return new seeds from those plants the following year. The program was such a success that new seed libraries are being established at the branches in Deer Park and Medical Lake. In conjunction with the new seed libraries, the Master Gardeners offers a series of how-to classes. For more information, visit the Spokane County Library District website: Scld.org/take-and-give-seed-library-2016
Think vertically. If you have the space, raised beds are an efficient option. They make weeding and planting easier while maintaining soil temperature. Many gardeners use wooden boards to create a box for planting, but you can also use rocks, sand bags, bricks or cinder clocks. Pallet gardens are growing in popularity, but beware that while some pallets are heat-treated, others are fumigated with methyl bromide to prevent insects. Make sure that the materials you use do not contain chemicals you don't want in your food.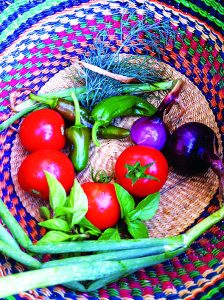 Get creative. Even the smallest patch of ground (10 inches by 3 or 4 feet) paired with a sturdy trellis or ladder-like frame can be productive for plants like cucumbers, snap peas, pole beans, squash, pumpkins and tomatoes. Pieces of rain gutter (with ends) attached to a wooden board can be secured to a wall to create vertical plant boxes that are great for strawberries, herbs and lettuce. Stacking pots, with larger ones holding smaller ones in the middle, ziggurat-style, can create an attractive tower for edibles like nasturtiums, thyme, oregano and chives.
The most important thing is to get creative, get planting, and learn more from people who are passionate about gardening. With microclimates that can vary from house to house, it's important to observe the light in your planting space and experiment. Play with it, have fun and enjoy the harvest! // (Crystal Atamian)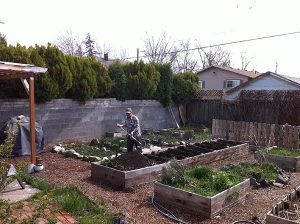 Eat the Best Vegetables Your Dollars Can Buy with a CSA Box
Now is the time to sign up for community-supported agriculture, or CSA. Patronizing a CSA farm is a fantastic way to connect with one of our amazing local farmers. Signing up for a CSA is an easy subscription process. Upfront, you pay a farmer to grow all your veggies for the season (typically May through September) and you get a beautiful box of produce each week.
CSA farms may vary slightly on weekly volume and price but are generally comparable. If the upfront cost seems expensive, calculate the cost each week and compare that to what you spend at the grocery store. The difference in quality between farm-grown or store-bought produce will blow your mind.
Some CSAs require you to pick up your veggies at their farms, while others have drop-off locations or other delivery options. Personally, I love to pick up veggies at the farm. A quick walk on the farm and a chat with growers are such pleasures. If you have kids, it can be a fun family trip too. If you are worried about missing pick-ups due to vacations, talk with your farmer and learn about their policy, or connect with a friend or neighbor to collect your produce when you are away.
Which farm should you choose? I am always amazed at the number of small farms that encircle Spokane County. Inquire at your favorite farmers' market or check out the list of farms on the Spokane LINC Foods website at www.Lincfoods.com/linc-farmers. There is great value in the commitment to supporting local growers, but even greater is the value in feeding yourself and your family incredible produce. // (Beth Mort)