Caveman Roar & Pour 5k Trail Fun Run (March 16): Run through the vineyard overlooking the Columbia River Gorge before the wine tasting event at Cave B Estate Winery in Quincy, Wash. Includes Carol's Cabernet Loop Kid's Run.
O'Grady's St. Paddy's 5k Run (March 17): A timed 5k on trails surrounding the Sleeping Lady Resort along Icicle Creek near Leavenworth, Wash. Irish food and drink celebration after the run.
Yakima Skyline Rim 50K (April 20) & 25K (April 21): Challenging out-and-back course in the high desert of the Yakima River Canyon outside Ellensburg, Wash., near the Umtanum Creek Recreation Area.
Run Like the Wind Running Festival (April 27): Choose the 5k, 10k, or half marathon, all along the trails, paths, and roads around the turbines at the Wild Horse Wind and Solar Facility in Ellensburg, Wash., benefitting Kittitas County Search and Rescue.
Spokane River Run (April 28): Race features a 5k, 10k, 25k, 50k, and 50k team relay race on courses through Riverside State Park near Spokane. Proceeds benefit the Garfield Elementary A.P.P.L.E. program.
Snake River Island Hop (April 27): USATF-sanctioned 100k ultra marathon (with a 50k option) begins near Pasco, Wash., and goes along the mostly-gravel Columbia Plateau Trail—ideal for beginning ultra-runners.
Trail Maniacs Liberty Lake Trail Run (April 20): 8-mile loop course features single-track, switchbacks, waterfalls, and bridges near Liberty Lake, Wash.
Sunflower Trail Marathon, Half Marathon, & Relay (May 4): Run on single-track trails and gravel roads, starting in Mazama, Wash., in the Methow Valley. Point-to-point course ends in Twisp; hosted by Methow Trails.
Priest Lake Marathon, Half Marathon, 50k Ultra, & 5k Family Fun Run (May 11): Celebrate Mother's Day with a wilderness trail run through the Panhandle National Forest.
Trail Maniacs Farragut Trail Run (May 17-18): New this year is a start/finish from Scott's Field at Farragut State Park; weekend event includes a 5k, 10k, 25k, and free kids race.
Priest Lake Spring Festival Run (May 26): Half marathon and 10k and 5k fun run/walk, starting in Coolin, Idaho, near the Inn at Priest Lake.
Tom Rogers Memorial Run for the Hills (June 1): Celebrate National Trails Day with Dishman Hills Conservancy and a 5-mile (8k) run starting from Camp Caro in Dishman Hills Natural Area in Spokane Valley.
Herron Half Marathon, 10k, & 5k (June 8): Trail race based at Herron Park in Kalispell, Mont., showcases the Foy's to Blacktail Trail system. Includes a 1k kid's race.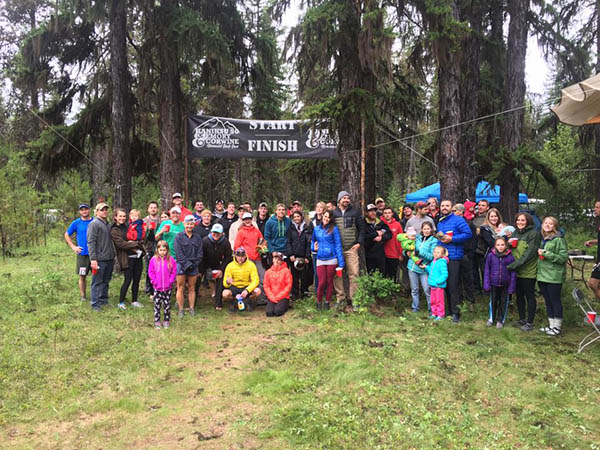 Kaniksu 50-Mile & Emory Corwine Memorial Ruck Race and Tall Trees 29k (June 8): Three events in one day in the Colville National Forest at Frater Lake near Ione, Wash., organized by Kaniksu Ultra. For the Ruck Race, teams of up to 5 participants, or solo runners, complete legs carrying 25-35 lb backpacks.
Ultimate Fitness Run (June 15): Navigate a challenging 5-mile obstacle course run at Mt. Spokane State Park, organized by Core Fit. Competitive division includes a more challenging 1-2 mile sprint course challenge, in addition to the 5-mile one. Event includes a kids' race. Partial proceeds benefit Team St. Luke's.
Mountain Magic 5/10/25k Trail Run (June 22): New this year is the addition of a 5k loop for this early-summer run on the single-track Nordic trails in Mount Spokane State Park.
Spokatopia Trail Run & Trail Running Clinic (July 13): Free, fun, "around-3-mile" run at Spokane's Camp Sekani Park, starting at 7:30 a.m. Free "yoga for everyone" session at 9 a.m. after the trail run—all part of the 2-day Spokatopia Outdoor Adventure Festival.
Mt. Spokane Vertical Challenge (July 13): A redesigned race "for your suffering pleasure," according to the Trail Maniacs website, with new courses for the 50k challenge, 26k challenge, and 25k fun run at Mt. Spokane State Park; (10k route is unchanged). Event includes free kids race.
Mud Factor 5k Obstacle Run (July 27 & July 28): National Mud Run series includes a 5k and Kids 3k (ages 4-13 to participate with their families) with cargo climbs, water slides, and mud crawls. Event locations: July 27, Airway Heights, Wash.; July 28, Richland, Wash.
The "Original" Bare Buns Fun Run (July 28): Earn bragging rights if you dare to bare it all at this annual clothing-optional, 5k trail run at Kaniksu Ranch Family Nudist Park, near Loon Lake, Wash.
7 Summits MTB vs. Trail Runners (August 10): Organized by Trail Maniacs, this simultaneous 53-mile ultra trail run and mountain bike ride follows a grueling, mountainous point-to-point course with 13,900' total elevation gain. Race has a 50%+ DNF rate, with only 9 finishers last year, with an average finish time of just over 10 hours.
Smokechaser Race (Sept. 7): Choose from a 30k or 5-mile race, starting from the Lionhead section of Priest Lake State Park; organized by Priest Lake Multisports.
Moscow Mountain Madness 5-Mile & Half Marathon (Sept. 8): Hosted by the Palouse Road Runners club in Moscow, Idaho, race directors eliminated the 50k ultra from this annual event to better focus on the others.  
Sekani 5k & 10k Trail Run (Sept. 29): Adventure run/hike/walk on trails at Camp Sekani in Spokane. Event includes a free Kids' 1k run, and proceeds benefit Franklin Elementary School's A.P.P.L.E. program.
Wild Moose Chase Trail Run (Sept. 28): Hosted by the students in Eastern Washington University's Class of 2021 Doctor of Physical Therapy program, the run starts fromMount Spokane State Park's Selkirk Lodge.
Chocolate Chip Cookie 50k Trail Run (Oct. 26): Explore Riverside State Park on a multi-looped course with 2,470' elevation gain, and enjoy homemade chocolate-chip cookies at the finish. //