Lilac Century (April 28): Now taking place in April, rather than late May, this 26th annual event gives all its proceeds to local charities supported by the Spokane Aurora Northwest Rotary Club. Ride options include: Century (100 miles), Metric Century (66 miles), 50-Mile Ride, 25-Mile Ride, and 15-Mile Ride and Family Ride. All routes start/finish at Spokane Falls Community College.
Bike Everywhere Challenge (May 1-31): To celebrate Bike Everywhere Month, Spokane Bicycle Club hosts special events and rides to encourage cycling for both transportation and recreation. Events and activities include the Bloomsday Bike Corral on race day, group rides on local bike paths and trails, flat-fixing clinic, and other events (spokanebikes.org). Record your biking mileage at lovetoride.net/washington.
Kidical Mass (May 11): A family-friendly 3-mile neighborhood ride (using anything that rolls) starting from Chief Garry Park, in west Spokane, near Spokane Community College. Sponsored by Summer Parkways and Christ the King Church.
Spokane Bike to Work Week (May 13-17): Spokane Bicycle Club hosts events all week, including Monday morning pancake breakfast; Tuesday morning energizer stations around the city; Ride of Silence; and Friday's celebration of Bike to Work Day. Full event details at spokanebikes.org.
Apple Century Bike Ride (June 2): Tour Wenatchee, the "Apple Capital of the World," with a ride to help local Sunrise Rotary Club charitable projects.
CHAFE 150 (June 15): A popular Gran Fondo scenic ride (not a race) starting from Sandpoint's City Beach and going along Lake Pend Oreille into Montana's Cabinet Mountain river valleys. In addition to the 150-mile route, there are 5 other options: 100, 80, 40, and 30 mile routes, and a family fun ride. Organized by Sandpoint Rotary, all money collected from entry fees goes directly to the Pend Oreille School District's program serving children with Autistic Spectrum Disorder.
Summer Parkways (June 20): Now in its 10th year, this summer solstice family-friendly community event is for cyclists, runners, walkers, skaters, and anyone else with human-powered recreation to enjoy a 4-mile loop in the Manito and Comstock neighborhoods. Streets are closed from 6-9 p.m.; event includes free kids' activities and business and vendor booths.
8 Lakes Leg Aches (June 22): A new, earlier date this year for a popular ride. Choose among 30, 45, and 75-mile routes, with the longest one touring around all 8 Lakes along the course through the Channeled Scablands west of Spokane. Proceeds benefit Spokane-based Lutheran Community Services Northwest.
Silver Valley Ride to Defeat ALS (June 22): Starting in Kingston, Idaho, from the Enaville Trailhead of the Trail of the Coeur d'Alenes, participants age 12+ ride solo or as part of a team to raise funds to fight Lou Gehrig's disease. Children age 11 and younger can participate on a tandem bike, tag-along bike, or bike trailer.
Century Challenge & Cycle De Vine (June 22): Scenic course through orchards and vineyards surrounding Lake Chelan, Wash. Choose the 100-mile ride (includes 9,600' elevation gain) or the 30-mile tour of the Lake Chelan Valley.
Tour de Whatcom (July 20): Explore the beautiful landscape of Whatcom County, in northwest Wash., with a ride distance to suit your style. Options include 22 or 44 miles, Metric Century (62 miles), or Century Ride. Start/finish in downtown Bellingham.
Spokane Valley Cycle Celebration (July 28): ValleyFest organizes three rides for all ages, including a 10-mile Family-Friendly Ride, 25-mile Adventure, and 50-mile Hills Around the Valley Ride. All begin at the Centennial Trail Mirabeau North trailhead. Free for riders age 12 and younger.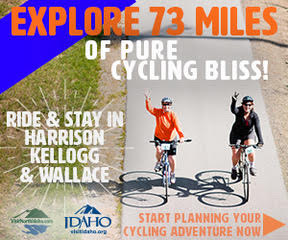 Blazing Saddles Bike Ride (August 3): Explore the low-traffic and highly-scenic Colville, Wash. area countryside with a 40 (the "Colville Loop"), 62, or 100-mile ride. This fully-supported ride kicks off in Colville, Wash., and utilizes some of the best road biking routes in the Northwest.
Tour de Lentil Bike Ride (August 16-17): A fundraiser for WSU Cycling Club, held in conjunction with Pullman's National Lentil Festival, this ride features 50, 100, and 150km routes through the Palouse.
SpokeFest (September 8): Based in Spokane's Kendall Yards neighborhood, this 12th annual bicycling event includes 3 ride routes: Spokane Falls 9-mile Loop, 21-mile River Loop, and a Half Century (50 miles). SpokeFair includes interactive booths and vendors.
Mt. Baker Hill Climb (Sept. 8): A timed race, with two non-competitive divisions (social and recreational), cyclists will grind up 4,098' in 22 miles along Mt. Baker Highway.
WaCanId Selkirk Loop Ride (Sept. 9-14): One of the most scenic routes in the Northern Rockies, encircling the Selkirk Mountains of Washington, Canada, and Idaho, the 6-day ride covers 370 miles.
Global Kidical Massive (Sept. 14): Local children will join thousands worldwide on this day. In Spokane, the family-friendly ride begins at 1 p.m. at Spark Central in Kendall Yards and follows a 3-mile route through the neighborhood and along the Centennial Trail.
Bike MS, Cycle Silver Valley (Sept. 14-15): This fundraiser for the National MS Society offers a 1 or 2-day journey with looping routes along the Trail of the Coeur d'Alenes; start/finish at Silver Mountain Resort.
RIM Ride (Sept. 15-16): "Rotary in Motion" 5-mile family bike ride on Saturday, hosted by the Rotary Club of Liberty Lake, Wash., followed by 15, 25, 50, and 100-mile rides on Sunday.
Coeur D'Fondo (Sept. 21): Course includes Idaho's Scenic Byway (Hwy 97) and finishes at downtown Coeur d'Alene's Oktoberfest. Options include: 120-mile Gran Fondo; 90, 50, or 40 miles; or the 15-mile Family Fun Ride.