Gran Fondo Ephrata (March 17): Ride 50 or 80 miles along primitive back roads in central Washington, with 2,700'+ elevation gain.
Hilly Nilly Gravel Series (March 17, April 28, May 5, June 9): Organized by Trek Bicycle Store in Coeur d'Alene and Vertical Earth, this free, no-support, 20-40+ mile ride series takes place on hilly courses, with a mix of paved and gravel roads. All rides begin at 10 a.m. from Michael D's Eatery (Sherman Ave) in Coeur d'Alene.
Washington Student Cycling League (March-June): A mountain biking development program for riders in grades 6-12, organized by the non-profit Washington Student Cycling League, that partners with schools and community groups and volunteer coaches. Includes practice rides and a spring race series.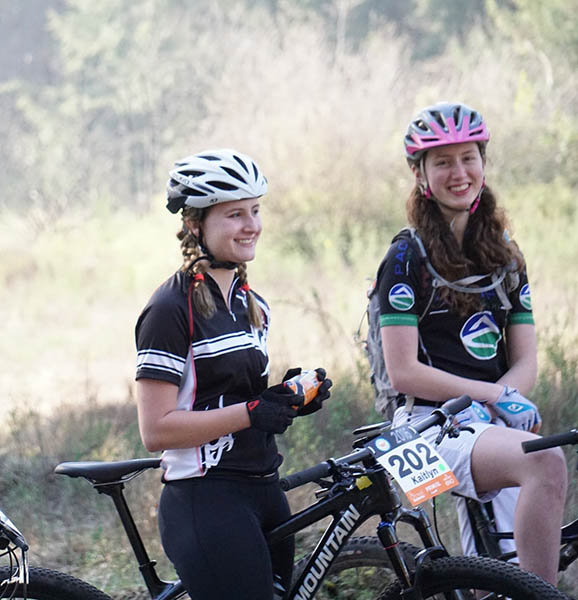 Gran Fondo Goldendale (April 14): Serious climbing—up to 6,300'—with views and rolling terrain along a 90- or 45-mile route in south-central Wash.
Bike Hub Two Wheel Transit Ten Hour (April 20): This 3rd annual event at Camp Sekani in Spokane provides a similar course as previous years—9.2 miles (per lap) and about 1,400 feet of total elevation gain. Compete to complete the most laps in 10 hours; participate as a solo rider or with a team (2-5 riders). New this year is a just-for-fun timed downhill section.
Beezley Burn (April 27): Based in Ephrata, Wash., race 8-mile laps (1-3 laps depending on race category). Event includes a free Kids' Race.
Wednesday MTB Race Series at Riverside State Park (May 1-June 26): For nine consecutive Wednesday evenings, this popular annual event organized by Nomadz Racing keeps it fun and simple. Each week features a different race course, typically 7-11 miles per lap. Free entry for riders age 17 and younger.
Gran Fondo Leavenworth (May 19): A challenging, rugged 87-mile course, for experienced riders only, along paved and Forest Service roads and over mountain passes (9,400' of elevation gain) around Leavenworth, Wash.
Round and Round 24-Hour MTB Race (May 25-26): Relay teams and solo riders complete laps on a 13-mile course in Riverside State Park—there will also be a kids' race. Last chance to participate because this 20th annual event is the very last one!
NICA Adventure Camps & Race Series – Idaho Interscholastic Cycling League (May-October): Mountain bike league for youth in grades 6-12 has overnight camp opportunities and league race series.
Bavarian Bike and Brews (June 1): Rigorous 8-mile loop, with 1,780' elevation gain per lap, at Gibbs Organic Farm in Leavenworth, Wash.
5 in July at Farragut State Park (July 3, 10, 17, 24, 31): Wednesday evening timed, single-track race series at Farragut State Park, in Athol, Idaho, starting at 6:30 p.m. from Tower's Picnic Area. Different bike shops host each week, including Trek Bicycle Store in Coeur d'Alene, Two Wheeler Dealer, Vertical Earth, and Coeur d'Alene Bike Co. New weekly courses, 8-9 miles/lap; riders age 18 and younger are free, and there's also a weekly 2-mile kids ride (with parents). Fundraiser for Lake City Trail Alliance and Kootenai County Mountain Bike School Team.
Spokatopia Outdoor Adventure Festival MTB Demo (July 13-14): Now a 2-day festival, don't miss one of the biggest bike demo events in the Northwest with shops and reps offering a chance to test the latest mountain bikes on Camp Sekani Park single-track. Road bikes, e-bikes, gravel bikes and other bikes will be on display, for sale, and demo. Live music and beer garden benefitting Evergreen East and other activities all weekend long.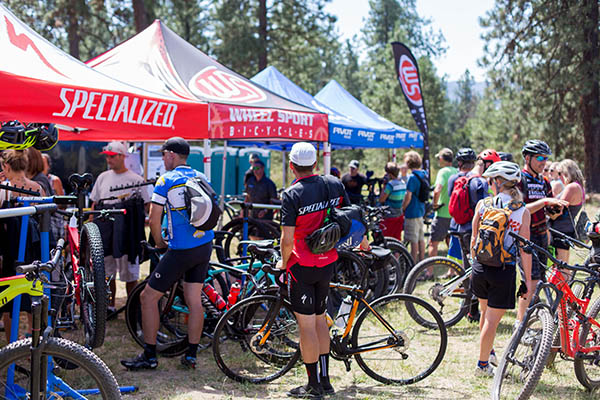 Gran Fondo Ellensburg (June 16): A new event in central Washington, organized by Vicious Cycle, choose a 50-mile or 90-mile course with 7,500' of climbing.
Ride the Passes (July 21): Now in its second year, the approximately 60-mile "Epic Gravel Loop" self-supported ride, organized by Trek Bicycle Store in Coeur d'Alene, starts/finishes at the Northern Pacific Railroad Museum in Wallace, Idaho. Course goes over Lookout Pass, then along the Hiawatha Trail to Pearson and over Moon Pass before returning to Wallace. Though this event is free, there is a Hiawatha permit fee—only $10 with discount coupon, which will be handed out at the museum before the start.
Blue Goose Chase (July 20): A free 11-mile family bicycle ride in the Little Pend Oreille National Wildlife Refuge, along the gravel auto tour route, to support the non-profit Friends of the LPO.
7 Summits MTB vs. Trail Runners (August 10): Organized by Trail Maniacs; see event details in the Trail Running section.
Nelson Fat Tire Festival (August TBA): A 4-day festival in Nelson, B.C., organized by Nelson Cycling Club, that showcases the best downhill and cross-country trails of this mountain-biking mecca.
Silverroxx Mountain Bike Festival (September TBA): Silver Mountain Resort hosts this 3-day mountain bike festival, which includes group downhill and super-d races, and kids' events such as Excelsior Cycle's Silver Kids Race and Kids & Kickstands Ride.
Gran Fondo Winthrop (Sept. 21): A challenging, mountainous 90-mile ride with more than 10,000' of climbing, in north-central Wash.; event includes 45-mile Medio Fondo.
Ride the Reactor (Sept. 21): A 15-mile ride, organized by Bike Tri-Cities, that starts/ends at B Reactor National Historic Landmark in Hanford, Wash.
5 Summits of Gravel (Sept. 29): A new event organized by Trek Bicycle Store in Coeur d'Alene, this point-to-point, self-supported, 60+ mile gravel grinder begins in Coeur d'Alene and ends at Farragut State Park.
Fall Hoodoo Gravel Classic (October 6): Another new, free shop-ride event from Trek Bicycle Store in Coeur d'Alene, this 40+ mile, self-supported gravel adventure ride starts in Bayview, Idaho, and travels through the Hoodoo Creek Valley before looping back.
Inland Northwest Cyclocross Series (Oct.-Nov.): This USA Cycling series organized by Emde Sports includes divisions for women, men, pros, masters, and junior boys and girls at race venues in Coeur d'Alene, Pullman, Potlatch, Walla Walla, Mead (Walter's Fruit Ranch), and Riverside State Park. Dates TBA.
Mountain Bike Races & Programs for Kids & Teens
Get the whole family out riding with these rides, races, and mountain biking programs.
Washington Student Cycling League, grades 6-12 (March-June)
Beezley Burn (April 27)
Wednesday MTB Race Series at Riverside State Park (May 1-June 26)
Round and Round 24-Hour MTB Race (May 25-26)
5 in July Mountain Bike Series at Farragut State Park (July 3, 10, 17, 24, 31)
NICA Adventure Camps & Race Series—Idaho Interscholastic Cycling League, grades 6-12 (May-October)
Silverroxx Mountain Bike Festival (Sept. 21-23)
Inland Northwest Cyclocross Series (Oct.-Nov.) //