With over 100 events this spring, summer, and fall, our 3rd annual guide for road and trail running, cycling, mountain biking, triathlons, and other outdoorsy events has something for everyone—no matter your age or ability, or whether you're a weekend warrior or hard-core competitor. Find an event right for you or your family, register, and then commit to an exercise or training routine. Many events support local non-profit organizations and charitable causes, which provides even more feel-good reasons for participating. See you at the starting line!
Snake River Canyon Half Marathon (March 2): Organized by the Palouse Road Runners Club, the flat, out-and-back, USATF-certified course begins/ends at Wawawai Landing, near Pullman.
Race Up the Snake (March 2): Run the scenic trail up Rattlesnake Mountain Recreation Preserve near Benton City, Washington, on either the 11k or 4k route.
Yakima River Canyon Marathon & Half Marathon (March 30): This point-to-point USATF-certified marathon course offers spectacular views of the Yakima River Canyon.
Spokane Superhero Fun Run (March 30): Family fun-run 5k and 10k races along the Centennial Trail through Riverfront Park. Proceeds benefit CASA Partners, helping abused and neglected children in the foster care system.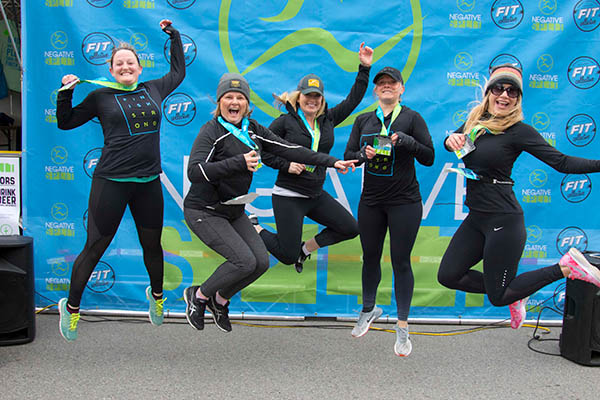 Negative Split Half Marathon, 10k, and 5k (April 7): The annual Hunger Run, organized by Second Harvest and Union Gospel Mission, has now merged with Negative Split. Race event based in Kendall Yards.
Hauser Lake Icebreaker 5k & 10k Run (April 7): USATF-certified 10k course is a Bloomsday second-seed qualifier. Event is the largest annual fundraiser for Double J Dog Ranch at Hauser Lake. Runners and walkers with strollers and dogs are welcome.
Palouse 100k Relay & Solo Run (April 7): Organized by the Palouse Road Runners club and sponsored by Pullman Regional Hospital, choose among four race divisions: 100k Ultra Relay, 100k 10-person relay, 100k 5-person relay, and 100k Solo.
Wenatchee Marathon, Half Marathon, & 10k (April 20): A Boston-qualifier, mostly-flat course that includes the Apple Capital Loop Trail through Wenatchee Confluence State Park.
Spring Dash & Tot Trot (April 27): This 5-mile Bloomsday second-seed qualifier race along a beautiful course through downtown Coeur d'Alene, starts at McEuen Park, and raises funds for United Way of North Idaho; Tot Trot (untimed) for kids age 10 and younger.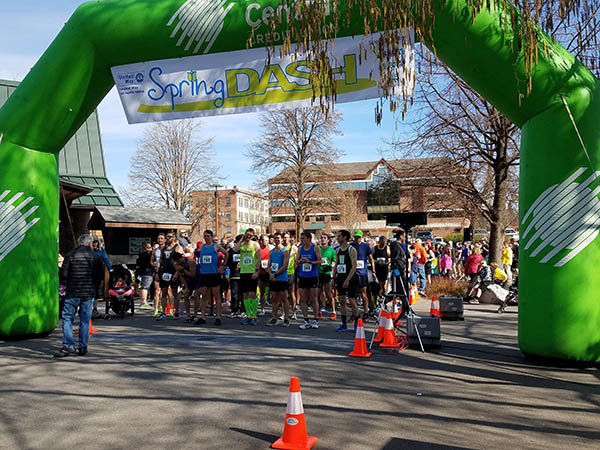 Pooch & Pal Run and Walk (May 4): This pet-friendly event at Columbia Point Marina Park in Richland, Washington, includes a 5k and 1-mile course (strollers welcome).
Lilac Bloomsday Run (May 5): This iconic 12k race attracts runners and walkers of all ages and abilities, as well as elite racers from all over the world competing for prize money. This year's official charity is Second Harvest.
Windermere Marathon & Half Marathon (May 19): This popular Negative Split race event features a flat and fast, Boston Marathon qualifying course along the Spokane River.
Coeur d'Alene Marathon, Half Marathon, 10k & 5k run/walk (May 26): Now organized by Negative Split, there is a new marathon course this year (no longer a Boston qualifier), plus a new 10k race. Strollers allowed for the 5k.
Summer Fun Run Series (July 9, 16, 23): 5k fun runs with 1-mile run option for kids, organized by U-District PT in Spokane and Negative Split. Free registration for ages 18 and younger; jogging strollers allowed.
Strides for Strong Bones Fun Run/Walk (July 20): Run or walk a 3- or 6-mile course at Medical Lake's Waterfront Park with proceeds benefitting the Washington Osteoporosis Coalition.
Spokenya 7k Run/Walk for Clean Water (July 20): Fundraiser for Spring of Hope International, to support clean water projects in rural Kenya. Strollers and wheelchairs are welcome. Starts/finishes at Life Center church in northwest Spokane.
Missoula Marathon & Half Marathon (July 28-30): USATF-certified Boston Qualifier marathon course; event also includes a 5k and kids marathon with 1-mile untimed fun run.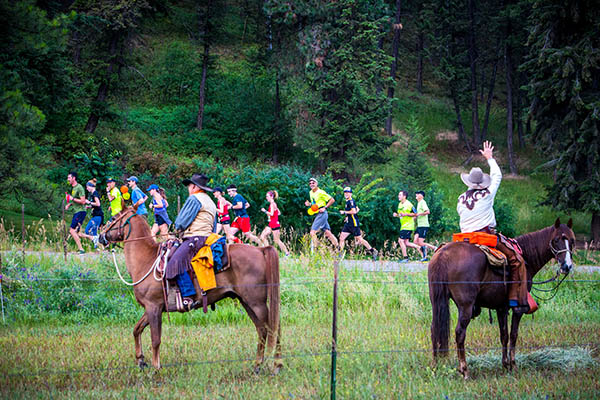 Spokane to Sandpoint Relay (August 16-17): Starting from the summit of Mt. Spokane, down to the Spokane river, along the Centennial Trail to Coeur d'Alene, and then north to the finish line at Sandpoint's City Beach, this epic 200-mile overnight relay team race is a thrilling adventure.
Tase T. Lentil 5k Fun Run (August 16): A USATF-certified race to celebrate the National Lentil Festival Food & Brew Fest in Pullman.
Run 2 Rock (Sept. 13-14): A new event produced by Negative Split, this Friday-Saturday event combines yoga, half marathon and 10k race distances, and a music festival.
Sandpoint Scenic Half Marathon & 10k (Sept. 16): Start/finish at City Beach in Sandpoint, Idaho, on a course with panoramic views of Lake Pend Oreille and the surrounding mountains.
Newport Autumn Bloom 5k/10k Fun Run (Sept. 21): Takes place at TJ Kelly Park in Newport, Wash.; proceeds benefit Newport Hospital and Health Services Foundation programs.
Run the Dam Half Marathon, 10k, & 5k (Sept. 21): Run across the largest concrete structure in North America, beginning on the east side of Grand Coulee Dam, then along Banks Lake before finishing at North Dam Park, for the local Harvest Festival.
Numerica Happy Girls Run Spokane – Half Marathon, 10k, & 5k (Sept. 21): Known for its fun, festive, and encouraging vibe, women of all ages and abilities will love this run through Riverside State Park.
Leavenworth Oktoberfest Marathon & Half-Marathon (Oct. 5): Beautiful course near the Alpine Lakes Wilderness Area includes a mix of asphalt, dirt roads, and trails. USATF-certification makes it a Boston Marathon qualifier.
Spokane Marathon, Half Marathon, Marathon Relay, & 10k (Oct. 13): A Boston Marathon Qualifier race that's a scenic tour around Spokane. Proceeds benefit local high school cross-country programs.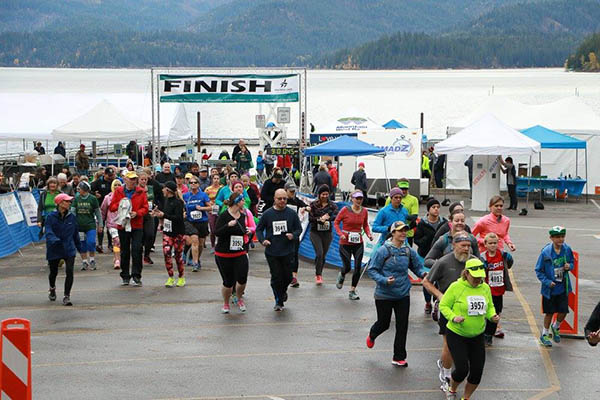 Hayden Lake Marathon, Half Marathon, & Quarter Marathon (Oct. 19): Start/finish at Hayden Lake's Honeysuckle Beach, in North Idaho. Full marathon goes completely around the lake.
Monster Dash 5k & Kids' Fun Run (Oct. 27): Organized by Active4Youth in collaboration with the Spokane Swifts Running Team, this event at Manito Park, on Spokane's South Hill, includes a 5k adult race and kids race (ages 12 and younger), plus costume contests. Jogging strollers and dogs allowed.
5k Races & Runs with Jogging Strollers (and Dogs*)
Want to run or walk with your little one or best friend? Try these kid-and-pooch-friendly events.
Negative Split 5k (April 7)
Hauser Lake Icebreaker 5k & 10k (April 7) – *Dogs (on leash) welcome!
Pooch & Pal Run and Walk (May 4) *Dogs!
5k run/walk at Coeur d'Alene Marathon event (May 26)
Summer Fun Run Series with U-District PT (July 9, 16, 23)
Monster Dash 5k & Kids' Fun Run (Oct. 27) – *Dogs!
Bonus – 7k, Spokenya Run/Walk for Clean Water (July 20) //