During the warmth of early fall harvest, all roads leading to, from and within Tri-Cities are flanked by ripe grapes. Ineffably rich and sweet fragrances from as many as 40 different varieties pervade the senses of even the least discerning motorists. Growers work quickly to harvest the bounty of the season at its peak, and winemakers capture the richness of the season to enjoy year round as some of the world's most respected wines and juices.
Anytime is a good time to drink wine, but March in Tri-Cities is special. Spring hits here first, a full month or more before anyone in the Inland Northwest sports a sundress or a shirtless strut down Division or Sherman. March is typically a mild month of warm temperatures, flowers, buds, cheap asparagus and even the year's first leaves. Whether you come to paddle or hike the Hanford Reach, paddle the Yakima River Delta, hike Badger Mountain or participate in fitness events, spring is an especially good time to pop a cork or unscrew a cap at some of the scores of wine venues in and around Tri-Cities. Here are a few top choices from 37 wineries within 40 minutes of town:
Barnard Griffin's Winery, Tasting Room, and Wine Bar and Eatery is a large, family-run operation in Richland specializing in a broad spectrum of varietals (wines comprised of 75% of one grape variety), including up to 15 in the tasting room at one time, including world-class, award-winning Rose of Sangiovese.
Tagaris Winery in Richland pours award-winning wines from grapes grown in its old-vine Areté and Alice Vineyards and offers Mediterranean cuisine in a fine-dining, old-world setting. The in-house Taverna Tagaris is extremely popular locally.
Kiona Vineyards Winery and Tasting Room is a gorgeous facility on the western flank of Red Mountain, overlooking the Yakima River Valley. Just a few minutes from Richland, Kiona's down-to-earth, no-frills practices and great wines make them a favorite locally and afar.
Hamilton Cellars Red Mountain overlooks the vibrant green of Benton City and the many irrigated orchards and vineyards of the lower Yakima Valley. Close to Kiona Vineyards, Hamilton Cellars features a laid-back tasting room and highly respected reds and whites. Doubling up on visiting Kiona and Hamilton is a good choice.
The Walter Clore Wine and Culinary Center in Prosser is a respected non-profit that invites visitors to experience and learn about Washington wine and food products in a beautiful setting with easy freeway access that features a tasting room, demonstration kitchen and event spaces.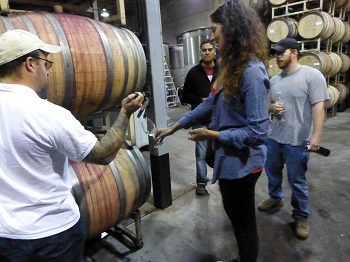 Wine Tourism and Tasting Resources
For comprehensive travel and wine tasting information, the Tri-Cities Visitor and Convention Bureau is extremely accommodating and useful. For guided wine tours, check out "Go Taste Wine," a clearinghouse site for multiple wine tours and shuttles (www.gotastewine.com/wa-wine-tours.php).
Washington's Wine Industry Boom
In March, trimmed vines sprout green and prepare for six months of rapid growth before another season's bounty is captured by the rapidly growing Washington wine industry. More than 850 wineries have sprung up around the state, along with 350 commercial wine grape growers farming more than 50,000 acres. Tri-Cities and the adjoining Columbia Valley represent the epicenter of grapes and wine in the Evergreen State, one reason Washington State University built their new Wine Science Center in Richland. The center is one of the most technologically advanced research facilities of its kind in the world. WSU's Viticulture and Enology Program is attracting aspiring winemakers and top researchers from Northwest communities and around the world. // (Jeff Holmes)