We asked a few of the writers and people we profiled in the August 2018 issue's "Backcountry Pursuits" feature to share a few of their favorite backcountry spots. Grab your boots, backpack, fly rod, native plant guide, or birding binoculars and enjoy! (OTO)
Revett Lake Trail #9
Recommended by hiker and angler Heather Hodson
Location: Bitterroot Mountains in the Idaho Panhandle National Forest
Distance round-trip: 4 miles
Level of difficulty: Easy to intermediate (500 feet of elevation gain)
This popular, well-used trail is great for children, dogs, and novice hikers and backpackers. After hiking through a mix of forest and open talus, and a log-bridge crossing Cascade Creek, you arrive at this subalpine lake below Granite Peak (6,814 feet). Enjoy the Cascade Gulch waterfall, fishing, and camping at primitive sites. (Amy S. McCaffree)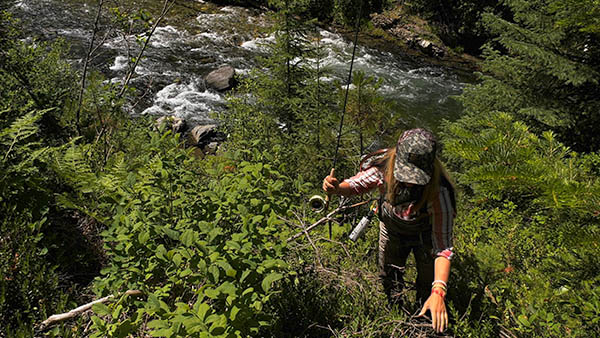 Indian Creek Community Forest
Recommend by forest ecologist Adam Gebauer
Location: Indian Creek Community Forest, Kalispel Tribe, 9 miles north of Newport, Wash.
Distance round-trip: 1/2 mile
Level of difficulty: Easy
The Kalispel Tribe, along with local partners, are developing plans for the 400-acre Indian Creek Community Forest adjacent to the shores of the Pend Oreille River. Although not a super remote backcountry area, it is a great, wild place to explore for families and hikers of all abilities. This site is dedicated to education, research, and low impact recreation.
One of the first pieces of this project that is open to the public is a short trail system. This trail winds through mature mixed conifers with great views overlooking the Pend Oreille River. Interactive and interpretative signage will soon be installed that will include Salish names of plants and animals and information about forest ecology. There are plans for many educational activities at this site including recreational tree climbing, stargazing, nature skills, archery, and more.  (Adam Gebauer)
Stevens Lake
Recommended by backcountry hiker Kayla Haas
Location: Bitterroot Mountains near Mullan, Idaho
Distance round-trip: 4+ miles
Level of difficulty: Moderate to difficult depending on fitness level
Don't be fooled by the relatively short mileage to Lower Stevens Lake; this hike gains 1,600 feet with an initial grade of 8 percent! After passing a waterfall, prepare for the final push across a boulder field to lower Stevens Lake.
After two miles of burning legs, many hikers don't continue beyond lower Stevens. If you still have some gas in your tank, then keep heading up to upper Stevens; it's worth it.
From the upper lake, enjoy solitude and stunning views of jagged peaks. If your legs and lungs are still feeling strong, then you can scramble up goat paths or cross-country and bag Stevens Peak, which is the highest peak in the western range of the Bitterroots. (Kayla Haas)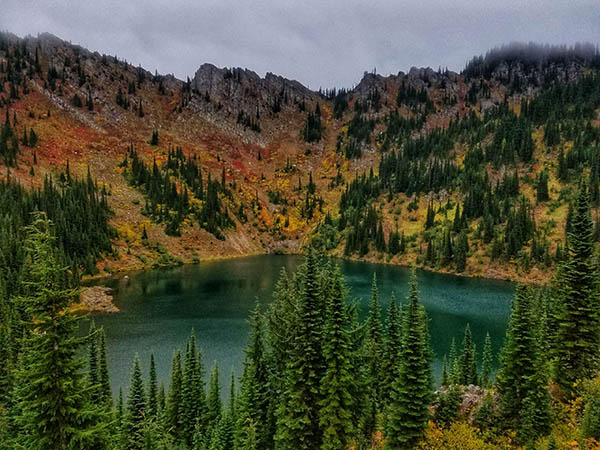 Blossom Lakes Trail (#404)
Recommended by hiker and angler Heather Hodson
Location: Lolo National Forest at the Idaho-Montana State Line
Distance round-trip: 6 miles (to lower Blossom Lake)
Level of difficulty: Intermediate to difficult (1,141 feet of elevation gain)
Beginning from the same trailhead as Revett Lake, the trail—which begins on the Idaho side of the state line—is bordered by occasional patches of huckleberry bushes. It begins easy but becomes more challenging as you hike from Idaho into Montana. You get to Prospect Creek and then arrive at lower Blossom Lake. There are primitive campsites on the northeast side. You can also hike further to visit Upper Blossom Lake and Pear Lake. (Amy S. McCaffree)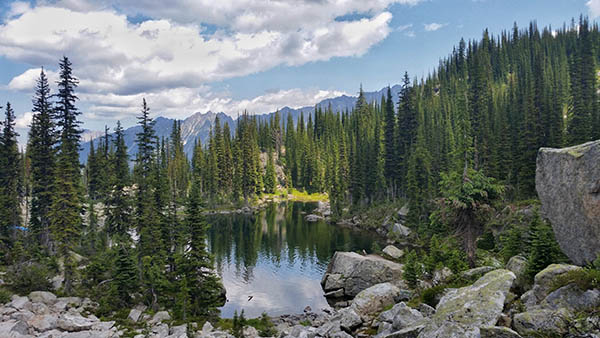 Kokanee Glacier Cabin
Recommended by backcountry hiker Kayla Haas
Location: Selkirk Mountains; Kokanee Glacier Provincial Park, Nelson, British Columbia, Canada
Distance round-trip: Approximately 10.5 miles
Level of difficulty: Moderate
This trail meanders through an alpine wonderland. The trail gets the majority of the 1,300 feet of elevation gain and the only lackluster views out of the way within the first 1-2 miles. The trail and views begin to open up as you make your way across cascading waterfalls from the summer melt of Kokanee Glacier.
Take in 360-degree mountain views as you admire wildflowers and crystal clear streams in alpine meadows. Listen to songbirds as you rest on the edge of one of the many alpine lakes, but watch out for aggressive, food-conditioned marmots. Enjoy your lunch on the deck of the Kokanee Glacier Cabin located on the north side of Kaslo Lake.
This alpine "hut" is a multi-story cabin that sleeps 20 in the summer and is a popular winter destination for backcountry skiers. Live in backcountry luxury with a full kitchen, electricity, and flushing toilets. You can extend your stay by reserving a bunk in the cabin or pitching a tent in the nearby Kaslo Lake campground.
Also, like many Provincial Parks in Canada, dogs are not allowed. Even if you're only hiking for the day, make sure to use the chicken wire available at the trailhead as the resident porcupines love to gnaw on brake lines. (Kayla Haas)
[Feature photo: On the rail to Kokanee Glacier Cabin. // Kayla Haas]