As the weather warms and the sun is up longer, this may be the year to turn your backyard, front porch, or balcony into a shady home oasis that can help you feel like you're getting away from it all—even if you're only traveling a few steps away from your front door.
Pergolas
A pergola—an outdoor structure most typically made of wood, with pillars spanned by lattice crossbeams—offers both shade and beauty. Pergolas often stand alone or can be attached to a house or other building, and can range from small-scale to elaborate and spacious. You can train vines to grow on them for added greenery, or drape them with sun-resistant cloth for extra shade. If you're ready to take on some DIY construction (or hire it out), check out the plethora of plans for pergolas of all sizes online (YouTube tutorials abound on this subject), then pick up the needed supplies at a local hardware store.
Shade Sails
For a project that involves a bit less effort, try suspending sailcloth across your deck or yard and attaching it with hardware to tall objects like posts erected for this purpose. Again, YouTube is your friend for specific ideas suitable for your space. Check out a local hardware store or search online to buy needed materials like the cloth and hardware, which can often be purchased together in a shade sail kit (tip: UV resistant cloth is worth the investment if you'd like your sails to last more than a season or two). Consider layering a few shade sails to cast a larger and more artistic shadow.
Big Umbrellas
Umbrellas: ages-old shade-makers for good reason. Though you can find umbrellas at even unexpected places like grocery stores, you might consider spending a little more and investing in an umbrella with a standalone base that can be moved around your outdoor space as needed. An offset base is also worth considering since the pole is off to the side, giving you more space to sprawl in the cool of the shade.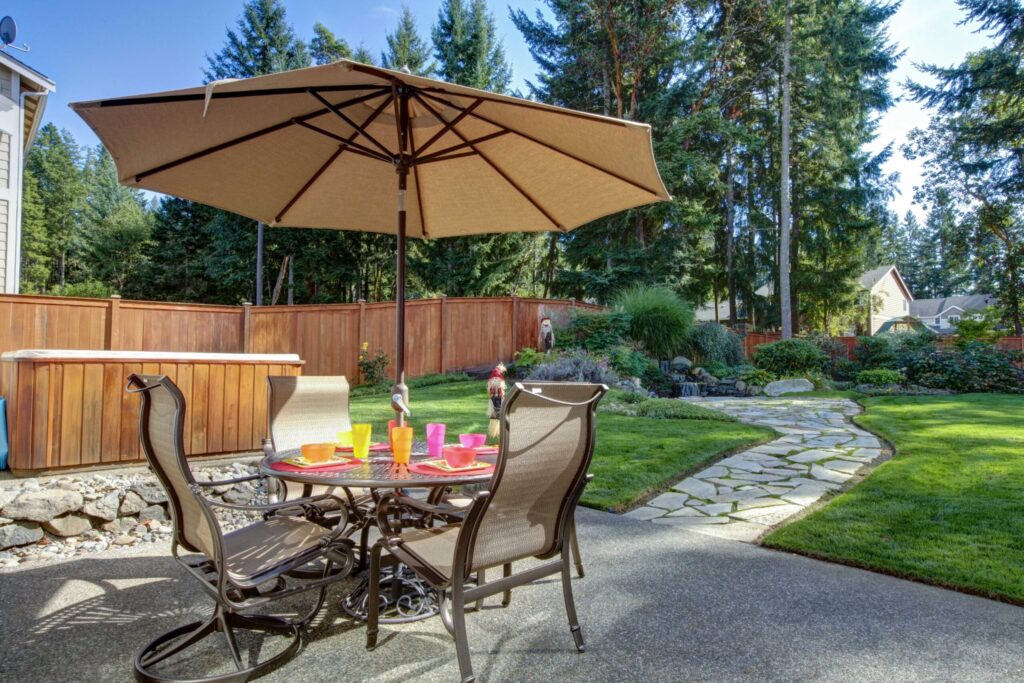 And, of course, Trees
When it comes to shade trees, Paul Knowles, special projects manager for Spokane County Parks, Recreation, and Golf, recommends Zelkovas. "There are a lot of different varieties—basically whatever size and form you want you can pretty much get," he says, whether that's something broader or more columnar. "I like them because they have this really nice, soft look to them and really great fall color—oranges, bronzes, reds." They are drought-tolerant, fast-growing, and well-suited to our environment.
"Another one that I like that is a little bit of a larger tree is a Bur Oak," says Knowles, who describes them as "beautiful trees with fissured bark" and yellow to gold fall color. Common Hackberry is another option he suggests. "They're actually pretty cool trees," he says of the oval-shaped, drought-tolerant deciduous trees, which do well in our climate once established and are friendly to wildlife like birds. Hackberry bark develops cork-like ridges as they grow.
When shopping for trees, check out a local nursery like Blue Moon, the Rosarium, or Greenacres, and ask for assistance to ensure that the tree you're selecting is appropriate for your available space. Nursery staff can answer questions on how to get your tree established and meet its watering needs, which will be more significant in the beginning.
Originally published as "Create a Shady Home Oasis" in the June 2020 issue.
More ideas for your home: