When you're not out safely exploring the trails, if you're like me, you've found yourself with a lot more time at home this year, which means a lot more time in your backyard. These solar projects won't fill the hole of getting patio beers with your friends, but they will spice up the ambience in your yard to make it feel like a destination at the end of the day. (These days, it's the little things.) Choose solar and LED options to keep your upgrade eco-friendly and long lasting.
String lights: Those fancy string lights that adorned the restaurant patios of last summer? Get your own, and go for the solar option. String lights work as a major lighting feature and should be strung to designate a hang-out area: across a pergola, along a fence as a backdrop to your BBQ, or in the boughs of a pine tree near your outdoor fire pit. This is the number one "happy element" in my yard.
Garden box lighting: Someone sure bought a lot of potting soil this spring, and we're hoping you all have leafy veggies underway. Adding solar lighting to the garden will highlight the life in your yard. Solar rope lights are a sleek way to go for this project. (Bonus: helps you keep an eye on neighborhood cats who are looking for a litter box.)
Illuminated hammock garden: Go solar above your ENO hammock setup for the ultimate evening lounge. Use a small but mighty light like the ENO Moonshine Lantern, which is compact, portable, LED, and built to hang. Prep your perch with an ENO bug net for a great night reading spot.
Solar safety: Replace your regular porch light with a motion-detecting, solar LED floodlight from a local hardware store. Path lighting is also a small install that can have a big impact, and it doesn't have to be boring; Lowe's carries path lights in the shape of colorful dragonflies and birds.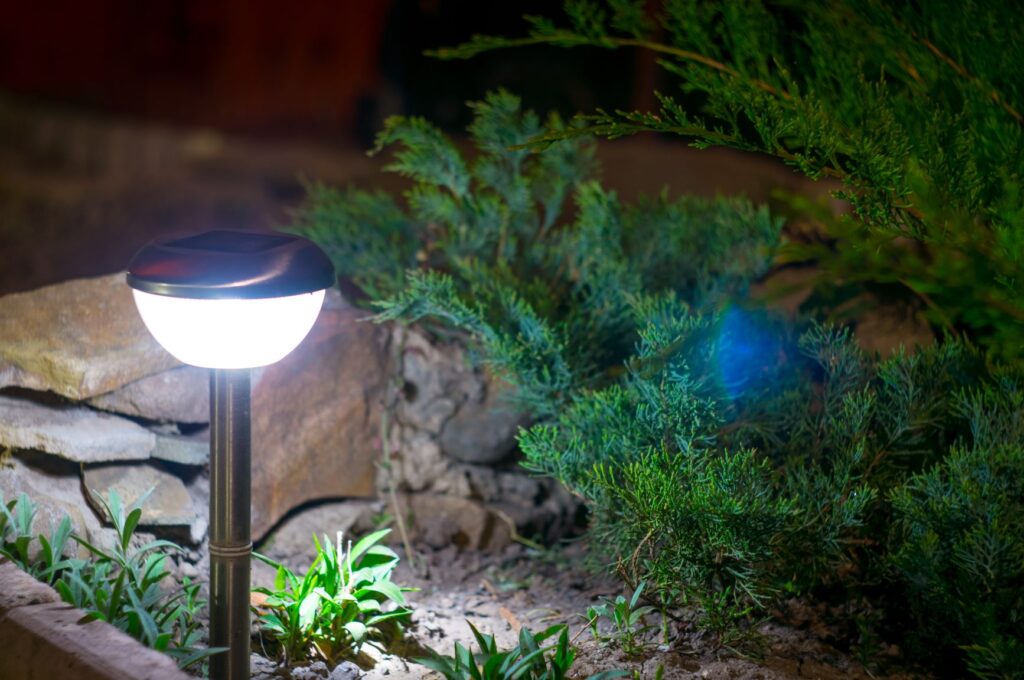 Shrub and tree lighting: Personally, I've always found illuminated trees to be a little spooky. But creating a series with tree or shrub lighting in your yard can add great depth to a space. Illuminate a pattern for the background of your next evening badminton game or wine and cheese night to make your outdoor space feel like a coordinated zone. (Just make sure it's not a Boo-Radley-type elm and you'll avoid the spooky element.) Home Depot carries solar spot lighting housed in faux rocks for a natural look.
DIY twinkle solar cans: This is for the crafty among you. Take some cleaned and de-labeled tin cans, make a design with a Sharpie, then drill holes over your pattern for the light to come through. Elevate this project beyond the tealight by buying some cheap solar pathway lights and disassembling the solar head from the lens. You'll drill a hole big enough for the solar bulb in the bottom of the tin can, then use epoxy glue to adhere the solar head panel side out. Attach a loop of wire on the end that has the solar head, so the can hangs solar light up, open side down. These are totally mobile, charming, and budget-friendly.
Go big on your home: Once you've spiffed your yard, power the rest of your traditional outdoor lighting with solar panels. It's a great investment for your stimulus check. Check out Eco Depot at Solarenergyspokane.com to learn more about residential solar options.
Lisa Laughlin is a freelance writer living in Spokane. She recently had her first child and is excited to show him the outdoors this summer.