Staying home this spring break? Keep kids physically active with local outdoor adventures—some can even be educational. Here are 10 ideas, either free or low-cost, for planning your spring staycation.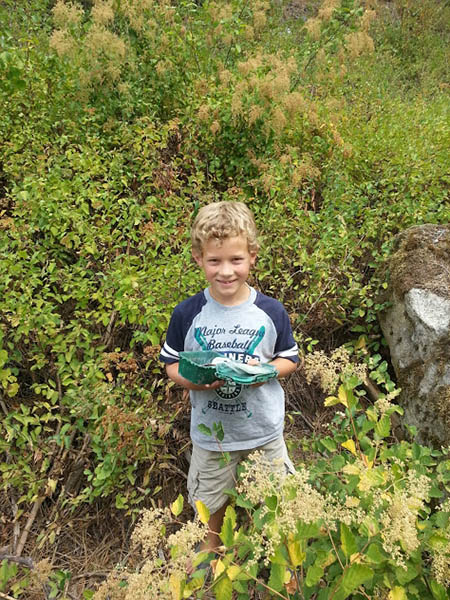 Cat Tales Zoological Park & Wildlife Center: As close to a zoo as we get in the Inland Northwest, Cat Tales is a non-profit organization providing rescue sanctuary for exotic and endangered felines and large carnivores, including Siberian, Bengal, and white tigers; black bears; bobcats; coyotes; and cougars. Located in Mead, Wash., off Newport Highway, it's open Tuesday-Sunday.
Fish Hatchery & Story Trail: The Washington State Fish and Wildlife hatchery in northwest Spokane is open daily year-round, 7 a.m.-4 p.m., for self-guided tours (free). A short drive away nearby is Saint George's School and its quarter-mile Story Trail. Visitors are welcome year-round, dawn to dusk, when the school's main gate is open. Other regional fish hatcheries are in Kettle Falls, Ford, and Moses Lake, Washington. In north Idaho, the Cabinet Gorge Fish Hatchery near the town of Clark Fork is open daily to the public, while the hatchery in Sagle (referred to as the Sandpoint hatchery) is only open for visitors during summer.
National Wildlife Refuges (NWF) & Idaho Wildlife Management Areas (WMA): You can hike, snowshoe, cross-country ski or take an auto tour (if roads are open) at Little Pend Oreille NWR near Colville, Kootenai NWR near Bonners Ferry, or Turnbull NWR near Cheney. Turnbull charges an entry free March-October. Also near Bonners Ferry are Boundary Creek and McArthur Lake Wildlife Management Areas, where you're likely to see moose and white-tailed deer. Free admission.
Conservation Areas: Choose from 16 designated areas in Spokane County, such as Feryn Ranch, a farming homestead with restored prairie and wetland habitat, in the foothills of Mount Spokane State Park. Find maps at spokanecounty.org.
Riverfront Park: The skate ribbon's closing day is March 3 and will re-open for roller-blading, skating, and scootering in April. The SkyRide and Looff Carrousel continue operating daily. And the Sunday Funday series continues this spring, with free activities for children and families, such as crafts and sidewalk games.
Wild Walls Climbing Gym: Monday and Wednesday evenings, 5-7 p.m., is the Spider Monkeys class for beginning climbers ages 4-10. They also have a new 2,000-square-foot bouldering expansion. wildwalls.com
Spring Skiing: Enjoy free skiing all spring break at 49 Degrees North Mountain Resort from April 1-7. To celebrate, all the resorts are hosting fun events: Hawaiian Dayz at 49° North (March 23) and Hawaiian Day & Annual Pond Skim Competition at Mt. Spokane Ski & Snowboard Park (March 30); Spring Carnival with pond skim at Silver Mountain Resort (March 30); Schpring Finale at Schweitzer Mountain Resort (April 6-7) with pond skim, cardboard box derby, and Ponderay Rotary Club Duck Derby; Spring Fling with cardboard box derby & coconut bowling at Lookout Pass (April 14).
Bird watching in Idaho: During March and April at Camas Prairie Centennial Marsh Wildlife Management Area near Fairfield, you can see sandhill cranes, snowy egrets, redhead ducks, and many more species. At Lake Coeur d'Alene, you can seek out diverse waterfowl and shorebirds at Tubbs Hill, Independence Beach and NIC Beach, Silver Beach and Higgins Point, and Cougar Bay. At Fernan Lake there's a Great Blue Heron rookery and bald eagle nest. Learn more about Idaho birding trail locations at idfg.idaho.gov.
Geocaching: Take your kids scavenger hunting with a GPS. Learn how at Geocaching.com, where you will also find a database of caches, with thousands in the Spokane area. Cache Cave, a retail store specializing in this recreation hobby, is another great resource that also has a website at cache-advance.com. "Our family loves exploring and being outdoors, and geocaching allows us to explore areas we may not have explored otherwise," says Spokane mom Sara Talley. The Talley's favorite searches have been at Dishman Hills Natural Area, Stevens Creek trailhead, and Manito Park.
Letterboxing: Similar to geocaching, it's more of a mystery hunt using narrative search descriptions and clues instead of GPS coordinates. Hidden boxes contain a logbook, and instead of trading treasures—like in geocaching—there's an ink-stamping system for keeping track of who finds what. Learn more at letterboxing.org, and see the database of nearly 200 regional letterboxes. //
Amy McCaffree is Out There's special section editor and enjoys spring skiing with her husband and their two children.