Tucked away off Waikiki Road in northwest Spokane County is one of Washington state's many fish hatcheries, owned and operated by Department of Fish and Wildlife. It is here that more than nine million rainbow trout eggs are incubated every year, to eventually be released into lakes around the state for recreational fishing. All but 2.5 million of those trout eggs are shipped from the Spokane Fish Hatchery (2927 W. Waikiki Road) to others run by the state.
Five other types of game fish are also raised at the hatchery, which is located strategically near Griffin Spring, one of the Spokane Aquifer's natural discharges. The cool, clean water supplies the hatchery's fish tanks. Visitors are welcome daily, 7 a.m. to 4 p.m., for self-guided tours. An educational kiosk display introduces facts about the watershed, trout species and the hatchery functions. Additional display boards on the outer wall of the main building illustrate the fertilization and incubation process.
Without the meticulous breeding process to provide a sustainable wild stock of trout – and to compensate for lost natural habitat – recreational fishing would likely diminish. Ninety percent of all rainbow trout fertilized eggs survive in the hatchery, whereas only 1 percent survive in the wild, according to the Spokane Fish Hatchery. When the hatchery building is open, you can see where the science happens. There are also restrooms and a water fountain inside available for the public.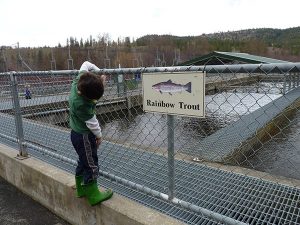 Children will enjoy observing the hundreds of fish in the circular outdoor pools where young trout wait to grow large enough for the wild. Bring quarters to buy small handfuls of fish food for the adult rainbow trout. Kids will be delighted by the feeding frenzy of fins as the trout compete for morsels. And bring along snacks for your family to enjoy at the picnic area.
Before or after touring the hatchery, visit the Story Trail at St. George's School (facebook.com/StoryTrail.SGS), which is open to the public year-round from dawn to dusk (when the school's main gate is open). Created in 2012 by fifth-grade students, the trailhead begins near the school's gate and is clearly marked with a large sign.
How the Story Trail works is simple: You hike along the ¼-mile but mildly steep trail and read different laminated pages of a storybook displayed at reading posts along the way. "There are new books every month from March until November," says Jennifer Smith, an art and ceramics teacher at St. George's School. She helped create the Story Trail and selects the storybooks. For March, the featured book is Frederick by Leo Lionni. Upcoming titles include A House for Hermit Crab by Eric Carle for April and If Kids Ran the World by Leo and Diane Dillon for May, according to Smith. There is also a "Little Free Library" at the end of the trail and a comment book for kids to sign.
At both locations, dogs on leashes are welcome. If you're seeking a longer hiking adventure for your family, there is an access point to the Little Spokane River Natural Area and its hiking trail on your way to the school. A Discover Pass is required, and neither pets nor bikes are allowed. //