Our 4th annual Inland Northwest Family Outdoors Guide provides families of all experience levels with event and activity ideas to maximize your outdoor fun and adventure. If you're looking for a unique summer camp and recommendations for regional hiking and biking trails and other adventure ideas, our trusted guide is your go-to resource. And once again we kick it off with a list of our 10 favorite warm-weather family adventures!
Visit Palouse Falls State Park. Your kids will be amazed at the 200-foot waterfall, as it thunders down and churns through a basalt gorge, especially during spring run-off. At 13,000-years-old, it's one of the "last active waterfalls on the Ice Age floods path," according to Washington State Parks' website. Enjoy the picnic area or camp overnight (first-come, first-serve). Walk the interpretative path that leads to the Fryxell Overlook. Stay behind the fence-barriers at all times, and do not attempt to swim beneath the waterfall or hike on dirt trails above the Palouse River Canyon. Park rangers have blocked unofficial trails as every year there have been fatalities from drowning or falling from cliffs.
Seek treetop high-adventure. Take your family (ages 7+) through an aerial obstacle course among the treetops at Mica Moon Zip Tours & Aerial Park in Liberty Lake, Wash. In Athol, Idaho, within Farragut State Park, Tree to Tree Adventure Park has courses closer to the ground for kids age 9 and younger and higher courses for youth and adults (season opens April 13).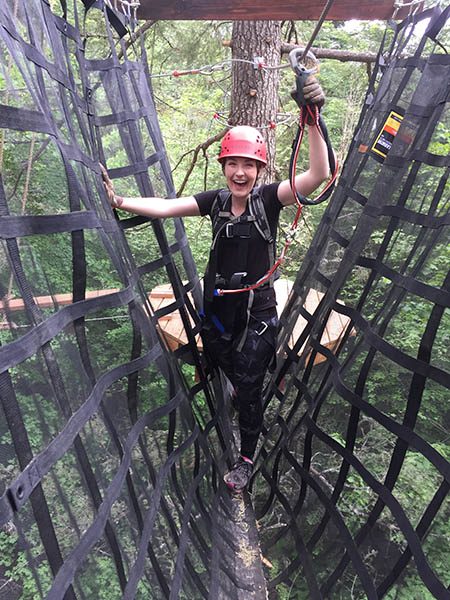 Go dock fishing. Round Lake State Park, south of Sandpoint, Idaho, has some of the best trout fishing in the region, with two long docks bordering the swimming area (fishing allowed year-round here). Klink's Resort at Williams Lake, near Cheney, Wash., charges a nominal fee for day-use of their docks, and hosts an annual fishing derby every May (third Sunday). Visit state fish and wildlife agency websites for complete details about regulations and licenses.
Hike the Pulaski Tunnel Trail. Learn about the Great Fire of 1910 with a 4-mile round-trip hike along this historic trail near Wallace, Idaho. Wildfire burned more than 3 million acres of forest across the region. Interpretive signs along the route to the Pulaski Tunnel overlook tell the story about how Forest Ranger "Big Ed" Pulaski ordered his fire crew to hunker down in an old mine as the wildfire raged around them; all but 6 of the 43-man crew survived. The trailhead is a 5-minute drive from downtown Wallace on Forest Service Road 456. No one is allowed inside the tunnel. Learn more at visitnorthidaho.com or fs.usda.gov.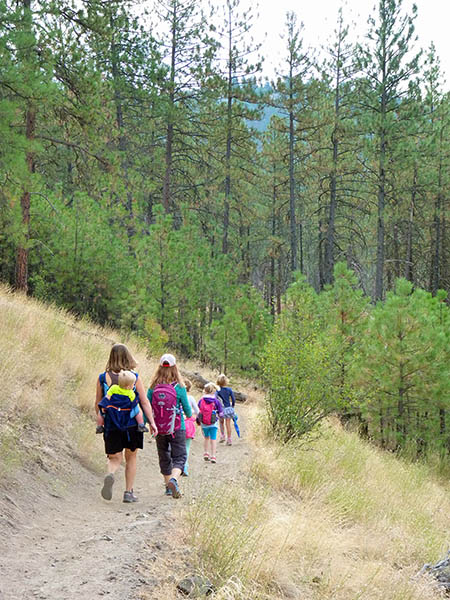 Visit an island. Whether you get there by paddling or powerboating, kids will enjoy being daytime "pirates" or overnight campers. Options include Maiden Rock at Lake Pend Oreille; Popcorn Island at Killarney Lake; Kalispell, Bartoo, Fourmile, or Eightmile Islands at Priest Lake; sand dune islands at Potholes Reservoir; and Wild Horse Island State Park at Flathead Lake, in western Montana.
Camp at Priest Lake. This quintessential Inland NW pastime provides relaxing fun for all ages. With nine rustic U.S. Forest Service campgrounds on the west side and Priest Lake State Park's three campground units on the east side of this 19-mile long lake, you can stay for a week and do it all: swimming, fishing, paddling, boating, waterskiing/tubing, hiking, and mountain biking. In lieu of camping, stay in a resort cabin at Hill's or Elkin's. Paddle the Thoroughfare to Upper Priest Lake, or hike the Navigation Trail, to explore this wilderness.
Forage for wild huckleberries. While commonly found in the forests surrounding Priest Lake, bushes full of these beloved tart berries are also on the slopes of Mt. Spokane and other trails in the Selkirk and Bitterroot Mountains. Be bear aware, especially in remote locations, and bring bear spray.
Visit Steptoe Butte State Park. This day-use park near Colfax, Wash., offers spectacular views of the surrounding Palouse farmland.
Float the Coeur d'Alene River. Locals frequently tube sections of the river, but for those new to the Coeur d'Alene, Joe Roope's Castaway Fly Fishing Shop provides guided rafting trips. The 3-4 hour trip begins in Enaville and finishes in Cataldo. Raft rental, guide, shuttle transportation, and beverages are provided, according to castawayflyfishingshop.com. Afterwards, dine nearby at the historic Snake Pit restaurant.
Go sailing on Lake Coeur d'Alene. Spend the day at NIC Beach at Lake Coeur d'Alene (the public beach at North Idaho College, officially named Yap-Keehn-Um Beach), where you can rent a 14-foot Hobie Wave sailboat, by the hour or for a full day. There are also canoe, kayak, and stand-up paddleboard rentals here—available June 1 through Labor Day.
For more ideas, visit OutThereOutdoors.com and search "family summertime adventures." //
Amy McCaffree is Out There's special section editor and Out There Kids columnist. She enjoys camping, kayaking, biking, and hiking with her husband, two children, and their family dog.