Here are 3 popular ski/snowboard lesson programs for children and teens in the Inland Northwest offered by Ski the NW Rockies Association affiliated mountains.
5th Grade Ski/Ride FREE Passport
This popular program helps get 5th graders out on the slopes for free. The passport provides three free days at each of the participating ski areas with a parent/guardian present (49 Degrees North, Lookout Pass, Mt. Spokane, Silver Mountain, and Loup Loup Ski Bowl).
To participate, parents need to submit an application with a $20 processing fee at 5thgradeskipassport.com and check their email for the passport. Print the passport or pull it up on your phone at the ticket office to receive a lift ticket. Please note blackout dates for each resort listed on the passport website, which include but may not be limited to Saturdays and holidays.
Some of the participating ski resorts also offer discount rental gear and lessons as part of the 5th grade passport program. More info: Skinwrockies.com
EZ Ski/Ride 1-2-3
The EZ Ski or Ride 1-2-3 programs makes learning to ski or snowboard for the first time affordable and easy. And both kids and parents can sign up! All four Ski the NW Rockies association resorts (49 Degrees North, Lookout Pass, Mt. Spokane, and Silver Mountain) are offering a three-visit package to first-timers at an incredible price that includes three lift tickets, three rentals (boots, poles, skis or snowboard), and three lessons.
Three Simple Steps: Pick one of the three ski areas, call the ticket office at the resort and purchase your EZ SKI 1-2-3 package, and then follow their instructions to schedule the lessons. More info: Skinwrockies.com/ez-ski-ride-123
Lookout Pass Free Ski School
Over the past 81 seasons, Lookout Pass Ski & Recreation area on the Idaho/Montana state line has been offering its Free Ski School. Since that first year, the ski resort has introduced over 78,000 kids to the winter sports of skiing and snowboarding.
The program is available for boys and girls between age 6-17 who want to learn to ski and ages 7-17 for snowboard lessons. The lessons range from beginner to advanced, so there are lessons for all abilities and kids can move up levels as the season progresses.
While the lessons are totally free and a lift ticket is not required to ski or snowboard during the lessons, rental equipment is not provided and a season pass or day ticket is required for kids who want to continue skiing or riding after the lesson and on non-lesson days.
Rental equipment can be reserved and paid for at the Lookout rental shop, or kids can bring their own gear. Parents should also pre-purchase any season pass or lift tickets if desired. More info: Skilookout.com/famous-free-ski-school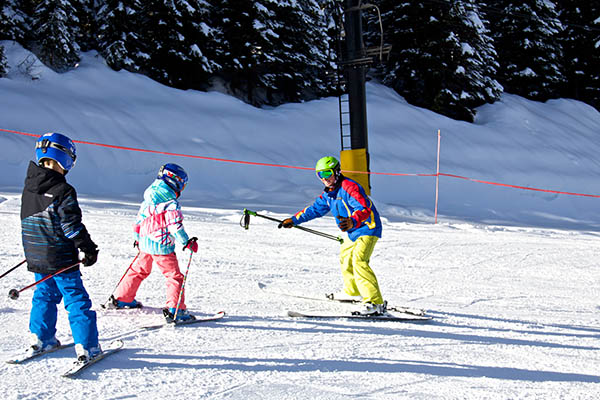 Sponsored by Ski the NW Rockies Association.
Read more stories from the Family Winter Sports Guide 2021.