SUP yoga—or yoga on a stand up paddleboard—is an increasingly popular way of spending time in nature while benefiting from the challenging and restorative elements of yoga.
"If you're looking to explore water sports in a safe way and get a really good physical workout without really realizing you're getting one, SUP yoga is a great way to do that," says SUP yoga instructor Roxanne Best. In this sport, you're being physically challenged but "you're not sweating, exhausted, hating every minute."
Best is a 200 hour instructor with the Yoga Alliance; she is certified to teach SUP yoga through the Professional Stand Up Paddle Association. Her original career was as a scuba diver, and she's SUPped for many years, in addition to practicing and teaching yoga. A member of the Colville Tribe—"we're water people," she says—she was looking for a new way to enjoy the water when she took a SUP yoga class and fell in love.
In the SUP yoga classes Best instructs, participants of all levels learn to paddle their boards and engage in a series of yoga flow positions; both the SUP components and the yoga positions are taught in a way that makes them approachable for any skill level.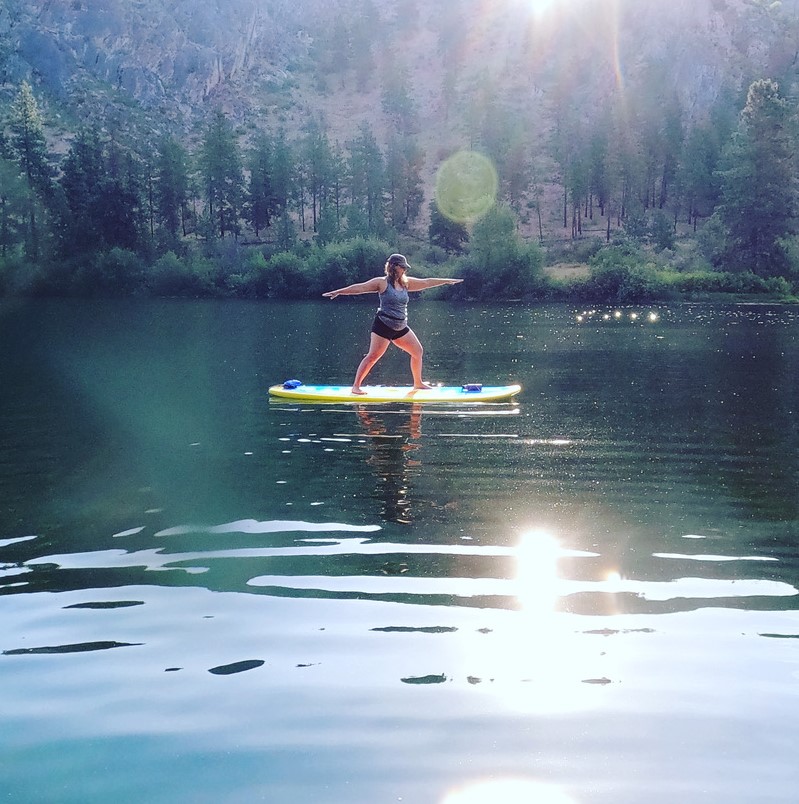 A common challenge of SUP yoga is getting past the fear of falling into the water. Though most participants don't fall in, the possibility seems to be on the back of everyone's mind—which can be kind of freeing. You go from "being conditioned that falling was bad, to the mindset of…it's actually okay to fall, and it's kind of fun!" Best says.
"For me it's just a really grounding experience, and centering, which is weird, because you're out on the water," she says. "It's really just an opportunity to tune into your environment. Tune out some of the human noises and tune into some of the nature noises."
Read more yoga stories in the OTO archives.
Learn about lake destinations and recreation in the 2021 Inland Northwest Lake Guide.