Lake Chelan is known for both its wine and recreation, which make it the perfect pairing for summer fun. The first key is finding the right place to stay.
Campbell's Resort on Lake Chelan has been Washington state's favorite family getaway resort since 1901 and is a great launchpad to enjoy all that the region has to offer.
The historic downtown waterfront had private beaches and many acres to roam. From here, the following lakeside activities are nearby and abundant.
1. Take an E-bike tour of Lake Chelan.
Chelan Electric Bikes offers several tours of the scenic landscapes where local grapes are grown. The electric bicycles let riders be a part of the landscape and also offer an easy assist on the hills. There are several tour options, the most classic one being the four-hour, wine-focused casual and scenic pedal. Visit three enchanting wineries, sip fabulous wine, and ride about 18 miles. There's also a family tour option that skips the wineries and focuses on swimming holes and wildlife sightings.
2. Paddleboard tour around Lake Chelan.
There is no better way to enjoy the lake than launching into the water. Rent a paddle board from Lake Rider Sports in downtown Chelan (509-885-4767).
Choose from traditional paddleboards or get funky with the Supsquatch, a one-of-a-kind standup paddleboard that can hold up to 14 people. The Supsquatch makes for a casual, fun day on the water.
Those more interested in a workout can rent a board and cruise as far as the eye can see.
3. Hike or bike for views.
Fourteen major trailheads provide starting points for 250 miles of maintained summer trails near the town of Chelan.
One great option is the Echo Ridge trail system, which contains almost 25 miles of trails intertwined with roads. Originally designed for Nordic skiing and snowshoeing, the trails are perfect for mountain biking and hiking.
There are wide, easy trails suitable for all ages, and technical singletrack for the more adventurous. Expect to see great views of Lake Chelan, the Stewart Range, Okanogan Highlands, and Columbia Plateau.
For those who want to stick close to town, the Riverwalk Park Loop Trail is a 1-mile pathway that loops between the two bridges that span the Chelan River, in historic downtown Chelan. There are shaded benches all along the trail.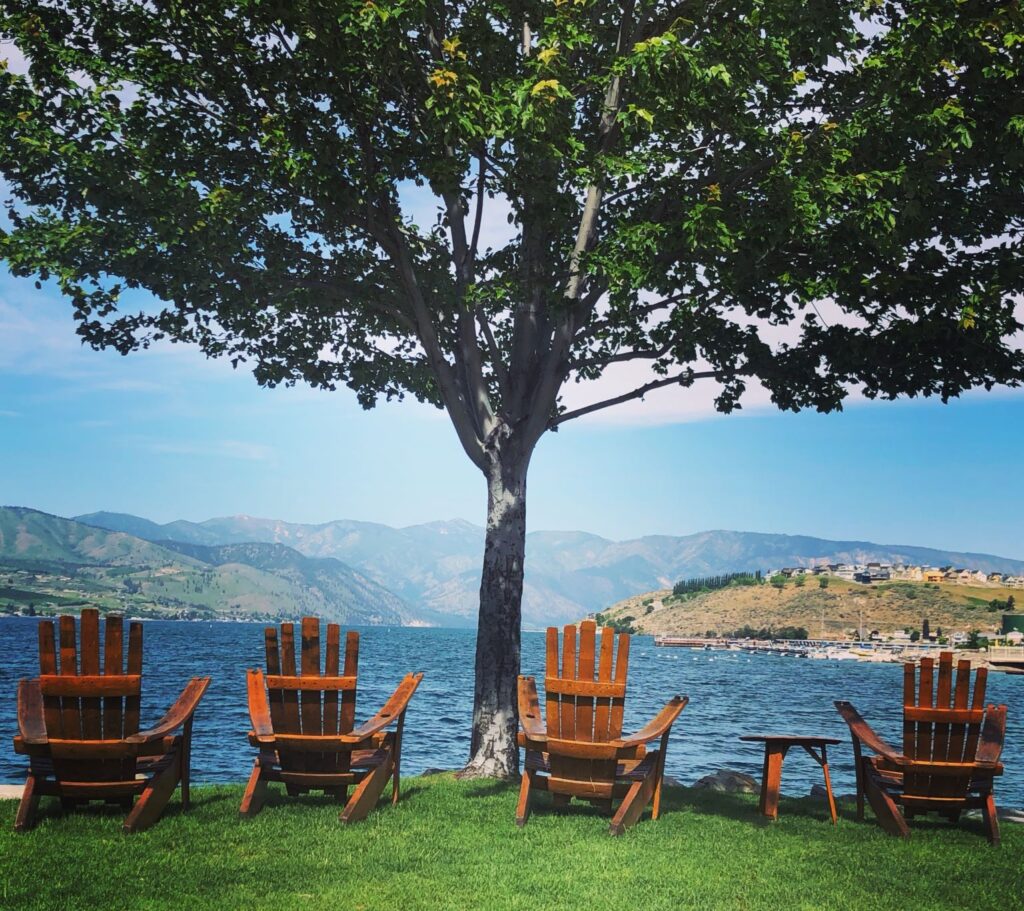 4. Fly above it all.
Paraglide Chelan offers first-time flyers the freedom and the thrill of flight. Flyers are securely attached to their instructors, which makes it possible to relax and enjoy the ride. A tandem paraglide flight is a unique and immersive way to see the area.
They employ US Hang Gliding and Paragliding Association instructors, who make every flight safe, fun, and unforgettable. Pilots from all over the world also travel to Chelan every year for national and world competitions.
5. Take a wine-tasting tour.
Taking a tasting tour around the Chelan area is a great way to explore the area and enjoy some amazing wine and food.
Vin Du Lac, French for wine of the lake, offers a beautiful view, an array of award-winning wines, a farm-to-table bistro menu, and a setting ideal for relaxation, enjoyment, and events. All wine grapes at Vin Du Lac are hand harvested and fermented in small batches, and the live music scene is hard to beat.
Tunnel Hill Winery offers a stone cottage tasting room, built from the rubble of the old Knapps Hill Tunnel just up the hill. Thus their tasting room, like their wine, is sturdy, solid, and very much from the earth.
Karma Vineyard boasts 14 acres of selected varietals including Gewürztraminer, syrah, pinot noir, riesling, chardonnay, and pinot meunier. Known for its sparkling wine, Karma Vineyards was the first vineyard in Chelan to cane prune pinot noir grapes.
Each year Chelan's One Wines offers a simpler approach to wine. Instead of creating multiple reds and whites, they make three great wines per year—one red, one white, and one rose.
Wapato Point Cellars offers a delightful evening at the winemaker's grill with an exquisite selection of delicious menu items on their ever-changing fresh sheet. Dine in the restaurant or al fresco on the outdoor patio.
Radiance Winery Tasting Room is a family-owned winery and tasting room that specializes in balanced, radiant wines true to varietal and vineyard source.
Alta Cellars owner and winemaker Jay Pederson has been a commercial fisherman for most of his life. Today he runs Alta Cellars, which features very limited release quantities of premium red wines with special attention to Bordeaux-inspired varietals.
Obviously not a winery, but Lake Chelan Brewery is worth a stop to sample some of the five flagship beers and 11 seasonal beers. An onsite pub serves burgers, sandwiches, soups and salads.
Find more stories about Lake Chelan in the OTO archives.
Learn about other lake destinations and recreation in the 2021 Inland Northwest Lake Guide.