I dismounted again and sighed. Ten months earlier, I'd purchased my first mountain bike in more than two decades. While I had yet to complete both loops of the 24-hour mountain bike relay course at Riverside State Park, and while the months since my new bike purchase had included November, December, and January, I inexplicably felt ready to try the Woodrat 25er, a June mountain bike race organized by Priest Lake Multisports.
The Woodrat 25er race title didn't distinguish between the 25- and 12-mile distances it offered. I might have been ready for a challenge, but I hadn't been ready for a death march, so I'd signed up for the 12-mile option.
The race website had breezily mentioned "sections of low chain ring climbs," but that phrase had been tucked into a longer description that included "pristine national forest" and "huge cedar trees." Now here I was, dismounting again and craning my neck to see yet another hilltop. I heard a rustle behind me and the click of shifting gears, and out of the brush exploded a local elite triathlete who was already on his second loop. For a moment I thought I'd get his quick take on the event when he inevitably dismounted to run his bike up the nearly vertical trail in front of us. Instead, I watched as he expertly worked his gears straight up the trail, over the top and out of sight.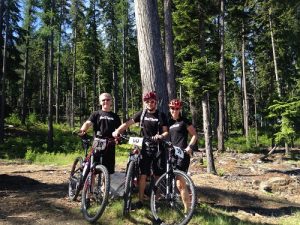 When I finally reached the top, my cursing halted. Below, framed in evergreens on both sides and mountains beyond, rested Priest Lake and tiny Fourmile Island. That view — and the entire beautiful, up-and-down course — was worth the repeated shame of pulling to the side of the trail every time an advanced rider came up behind me.
At the post-race lunch table, the volunteers empathetically chuckled as exhausted finishers couldn't determine the direction of the food line. As soon as I could articulate words, I was evangelizing to onlookers about the course and vowing to tackle the 3,000 feet of elevation gain again soon.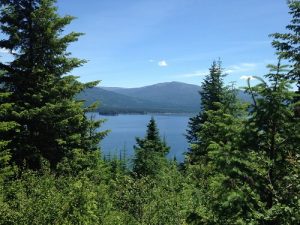 The Course: 25 mile endurance or 12 mile division. A mix of double track and singletrack riding in the beautiful Idaho Panhandle National Forest by Priest Lake, Idaho. Course singletrack has sections of low chain ring climbs, some fast downhill, groves of big cedar trees, and lots of turns and includes mountain top views of the Selkirks and Priest Lake. Trail is a mix of smooth cut singletrack tread with some rock and roots.  Course is for intermediate rider skill or better, no crazy rock jumps or boulder fields, but quick turning sections of trail for confident riders. Check out some cheesy video of the course to see what the trail looks like! (View Map).