"It was just a mess. Everything that could have gone wrong went wrong." That's how Dustin Semb with Eastern Washington University's EPIC Adventures outdoor program describes one of his most memorable experiences whitewater kayaking. Semb had driven up to Canada for the weekend to meet up with friend and long-time Spokane area kayaker Steve Bailey to run Findley Creek. It was supposed to be a simple, straightforward class II run with one class III drop, but what they didn't know was that the guidebook had flipped the two runs. What they thought was a class II was actually a class IV run through a narrow slot canyon. They were forced to scout as they went with one person running the drop and pointing out the best route down the drop for the second to follow. "I came around a corner and [Steve] was telling me to stop as fast as I could, so I just pulled into an eddy and the river was just completely choked with logs," Semb says.
It took some pretty ingenious thinking for the two kayakers to get out of the canyon. To get out where he was at, Bailey stood on Semb's paddle so that he could jump up to climb out of the overhanging, polished-rock canyon. "Then we were trying to portage the log jam," Semb recalls. "We fell and my boat went in and got stuck in the log jam. The fall broke my boat. And the keys were in the boat – the keys to the truck." With some creativity and a bit of luck, they managed to get out of the canyon with both boats and keys, although it took an hour-and-a-half scramble up the pine-covered, steeply-sloped sides of the canyon lugging the boats behind them. Despite everything that went wrong, the two pair went back the next day and used their creek boats to goof off on the class II section, doing hand rolls down the river.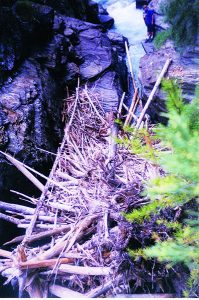 Semb got into whitewater kayaking in 2000 after enrolling in an intro to kayaking course taught by Dr. Matt Chase at EWU. Before showing up for his first class, Semb had already purchased a bunch of his own gear. "I fell in love with it, and I put all my time and money into it." Semb was already an avid snowboarder by the time he started kayaking, which he says is a lot like snowboarding. "You get to go places that you can't get to readily without that equipment, and the sensation feels similar. There's a lot of the same stuff going on, like similar body movements." His first year kayaking he racked up 200 days on water on top of 180 days on snow. "I'd go snowboarding, and then I'd come down into town and go kayaking," he says.
Many people imagine whitewater kayaking as flying over waterfalls or expertly careening down rapids, but it doesn't have to be like that. "Just about any personality type can enjoy whitewater kayaking because it is such a diverse sport," Semb says. "I know people who are in their 70s who just cruise down the river." That said, if you're new to whitewater kayaking or looking to get into the sport, Semb suggests taking a lesson. "You've got to respect the river," he says. Taking a lesson from a qualified instructor or mentor will get you up to speed on many of the basics and safety considerations, while also making kayaking more fun because you have someone there to encourage you and coach you. A lesson will also introduce you to the different types of whitewater kayaks and help you discover which style suits you best, from play boating to river running.
Whitewater kayaking works many of the same muscles as paddleboarding but allows you to experience a wider range of environments. "The whitewater kayaking scene really deserves to grow," Semb says. With four runs on the Spokane River alone, as well as dozens of river and creek runs within a few hour's drive of Spokane, there's endless whitewater for local kayakers of all levels to explore. //