Don't ski or snowboard? No problem. Carpe diem this winter and play in the snow outside your door. Here are four wintry adventures that don't require a resort lift ticket.
Snow Tubing
Get a sled from a local hardware store and find a park or schoolyard with any sizable hill—small ones are great for toddlers and preschoolers. Gear up your kids with weatherproof clothing so they stay warm and dry, and have them wear ski helmets and goggles, if possible, for better protection from injury. Bring along an old-school thermos filled with hot cocoa, and spend an hour or more having old-fashioned fun.
In Spokane, popular sledding hills can be found at Manito Park and Chase Middle School, both located on Spokane's South Hill. My friends around Spokane County recommend Mission Park in east Spokane, the hill behind the ROTC building on Eastern Washington University's campus in Cheney, Sky Prairie Park near the Five Mile hill in northwest Spokane, and Holmberg Park near Whitworth University.
For more tubing locations, at local ski resorts and in Idaho, check out S. Michal Bennet's story at OutThereOutdoors.com called "Mountain Sledding: Finding Places to Slide on Snow."
Snowshoeing
It's almost as easy as walking. Borrow gear from friends or rent from a local shop. Snowshoes just strap on your own boots. If snow is deep enough where you live (at least 8-12 inches), you may be able to snowshoe wherever it hasn't been plowed or packed down. The heavier you are, the deeper you sink into the snow. Little kids do better at floating on top of snow with their itty-bitty snowshoes. Or, head to a trail at a public park or Riverside State Park, such as the Deep Creek trail. You could even drive up to a mountainous trail. Be sure you have the proper Wash. or Idaho state park pass and winter trail permits for your vehicle. Wear layers (you'll get warm quickly) and remember that snowshoeing can take up to three times as long (or more) as walking the same distance, especially with children. For more details about gear and tips for snowshoeing with children, check out my article "Family Fun on Snowshoes" from last winter. For snowshoeing with babies, see the tips from OTM's Aaron Theisen's article "Snowshoeing with Children: Tips for Keeping Warm and Having Fun." Both of those articles are posted on Out There's website.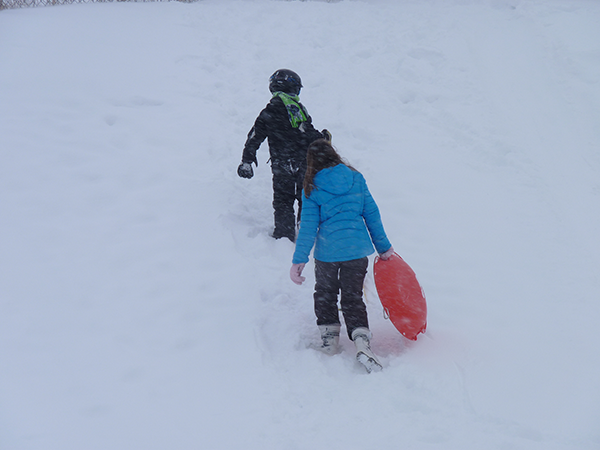 Snow Forts
These are super easy and super fun. Snow conditions just need to be suitably wet enough to make a good fort. It can't be too dry. But, if snow is packed, solid, and doesn't just have a frozen top crust, it can more easily be cut into blocks. You can also burrow a tunnel into the side of a large snow pile that was created by shoveling or a snow plow. If you haven't made a snow fort before, there are some great ideas online. Safety Warnings: whether it's a snow tunnel or fort, kids should always enter feet first. If the snow roof collapses on top of a child, he or she can suffocate. Also, avoid playing in snow near a roof with overhanging snow pack as it can slide or break off.
Snow People
Everyone has made a snowman, but have you ever made a snowdog? Snowskier? Snow punk-rocker? Liven up the traditional snow person with creative accessories, colored spray chalk (you can make your own at home!), and battery-powered outdoor LED lights. When I was a kid, my dad once helped us use long 2×4 boards and ladders to make a family of giant snow people. Last winter, the Conrad family in Spokane Valley made a 22-foot Olaf in their front yard. What could your family create? It's doesn't have to be amazing; it just needs to be fun. //
Amy McCaffree plays in the snow with her husband and their two children and husky. She is Out There's special section editor and wrote most of the Family Winter Sports Guide in the October issue. Follow her adventures on Facebook @AmyOutdoorsSpokane or Instagram @adventure_amy_spokane.