"Hey, kids, want to float on some deep snow?" This question should get them excited for snowshoeing, one of the easiest and least expensive winter recreation options. Beccie White, of Spokane, and her husband, Chris, started snowshoeing with their two children four years ago, when the kids were 9 and 7 years old. As an alpine ski family that loves the snow, "snowshoeing is something we can do when the ski area is closed," White says. "For me, it's more for the exercise, but my kids just like to play in the snow, especially when there's none in town."
Where to go: You can snowshoe anywhere there is unpacked deep snow. Mt. Spokane State Park is a family-friendly destination. Try Trail 100, starting from the park's snowshoe parking lot at the mountain road switchback, which leads to Cook's Cabin. Or try Trail 140, which begins near Bear Creek Lodge before entering the park. More snowshoe trail routes and maps are available at mountspokane.org.
To park at Mt. Spokane State Park from November 1 through April 30, visitors need either an annual Sno-Park Permit or a one-day Sno-Park Permit plus a Discover Pass, according to White, who works at REI and is a Mt. Spokane Ski Patrol candidate member. Follow Leave No Trace principles and bring the "Ten Essentials" for a day-hike, including a map and compass, and be aware that cellphone service is unreliable on the mountain.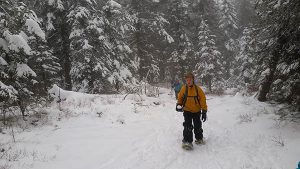 Gear and clothing: Snowshoes have adjustable bindings to fit various boot sizes, and while weight is important for fitting adults – especially when a parent plans to carry a heavy pack – it's less important for children. Local rentals for youth snowshoes are available at Mountain Gear, for as small as toddler size 2 boot ($15/day). REI rents snowshoes for children's boot sizes 1-7 ($6/members, $12/non-members). Trekking poles can help with balance and ascending hills but can be cumbersome for children who prefer their hands free to pick up snow. Local gear shops also sell Mt. Spokane State Park trail maps, park passes, and snow permits.
As for clothing, start with a base layer of wool or synthetic long underwear, worn under snow pants and a waterproof shell jacket. Avoid the typical, heavy ski jacket because it will feel too hot, and you work up a sweat while snowshoeing. Rain pants over fleece pants or other lightweight base layers also work for daytime snowshoeing. Wear snow boots with wool socks, a hat, and sunglasses or ski goggles for sun protection. White recommends bringing two pairs of gloves: a lightweight one (or glove liners) and a weatherproof pair for snow-play or windy conditions.
Each of White's kids carries a backpack with water, snacks, and a second clothing layer "that they can put on once we stop, whether it's a fleece or a puffy jacket," she says. "I'll pack more snacks and water, hand warmers for each family member, and a thermos of hot chocolate [in my bag]."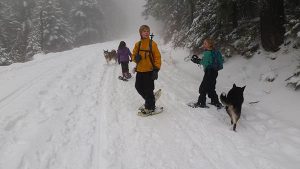 Tips for beginners: "If kids are little, don't expect them to go far. Just because they can hike 3 miles doesn't mean they can snowshoe 3 miles. Cut your mileage in half," recommends White. "Even if you're on flat terrain, kids will walk different [while wearing snowshoes] – their feet are spread wider. And kids are going to want to stop and play in the snow, so have low expectations for how far you can make it." Bring along special treats and incentives to make the experience more fun for children. "Always bring hand warmers and an extra clothing layer for kids to see if they can go further. If kids get cold, they'll be done," she says. //
Amy Silbernagel McCaffree wrote about must-have items for year-round families in December.