After a day of snow-induced adrenaline, your face tingling with windburn and your body warm from hours of exertion, it's time to find that comfort food and a relaxing drink with the right vibe. Moon Time on East Sherman Avenue in Coeur d'Alene, without a doubt, meets all of these criteria and is one of the most common après ski/board hangouts for locals.
Sam McLandress, frequent snowboarder, backcountry skier, and former field instructor at Selkirk Outdoor Leadership and Education, says Moon Time's hearty food and fun atmosphere easily make it the top choice in the Coeur d' Alene area after a day in the snowy mountains. Marci Wing, a Coeur d'Alene art teacher, ceramic artist, and avid skier, agrees: "Moon Time is my favorite. Definitely." The dark wood, well-worn bar, and images of classic British pubs exude relaxation and enjoyment. And the servers treat you with spunk and wit, like maybe you could be family, or at least like you've been gracing their establishment for years.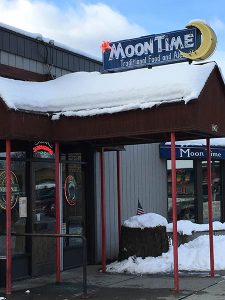 The menu at Moon Time is comfort food backwards and forwards, generous portions, and everything is done excellently. You can stick to tried-and-true standards, like the Moon Burger (I always ask to add bacon) with their famous corn pasta, the spicy 74th St. Gumbo (not for the faint of heart!), or a Caesar Salad (in-house dressing made without raw eggs) and a cup of the soup of the day. There are plenty of non-traditional pub fare options too: a rotating veggie burger, French dip sandwich, swimming angel, tacos, quesadillas, and more. They even have grilled cheese and butter noodles for the little snow bunnies. My go-to is the Mediterranean lamb burger with creamy goat cheese, tangy pesto mayo, and relish. Moon Time also has 16 beer taps, plus two nitro and one cask. You can thaw your frosty nose with one of the established, all-around drinkable beers, or discover a new brew on tap. You're certain to find great local and regional beers as well. For those who prefer grapes over hops, Moon Time's wine selection is balanced and gratifying. And they always have at least one hard cider on tap.
This popular local pub is conveniently located just off Interstate 90 and recently celebrated 20 years of serving locals, tourists, and everyone in between. The atmosphere is undeniably laid back and no-nonsense. "We have created a sense of community," says owner John Grollmus, who is also a backcountry guide for SOLE, "and we have that social aspect. You are sure to run into someone you know whenever you're here." According to Grollmus, a good post-ski watering hole pretty much just needs one thing – aside from solid food and drink – and that is other skiers who sit and talk about the day, the skiing, and their love of snow. Moon Time manager and chef, Chris Schultz agrees: "We have great food, beer, and a nice comfortable atmosphere for people to hang out." So, the next time you are headed back from Lookout Pass, Silver Mountain, Schweitzer or the Bitterroot backcountry, bank on a tip from the locals and stop into Moon Time. As Jason Wing, the owner of Slate Creek Brewing Company puts it, "It is a classic." //