If there is a list of greatest jobs in the world, building mountain bike trails must be at the top of it. At the very least, it must fill your karma account. This is what I am thinking as I grin ear to ear and wrap around every perfectly engineered corner of the Whitefish Trail.
I decide the second greatest job in the world is being the operator/host/winner of the Great Divide Race and owner of the Whitefish Mountain Bike Retreat. Yes. There is a Mountain Bike Retreat near Whitefish, Montana. Yes. You want to go there.
Day One: I roll into Whitefish and amazingly do not get lost in the ten minute drive out to the Retreat. I might adopt a boyfriend for the weekend because, as we've established, owning a bike is pretty much my only boyfriend criteria and I see a lot of boys on bikes here. Note to self: trip looking good already.
Upon arrival at the Retreat, I am met by hostess on hand, Emma, who knows everything about anything, from which trails to hit at sundown to what live music is in town that night. She takes me to the bunk house, which is misleadingly named. I think there are bunk beds here, but all I see is a cyclist's dream interior design.
Handles are made of handlebars, the railing is recycled bikes, rims decorate the walls, cranks hold toilet paper. The entire downstairs of this converted barn is dedicated to community – the biking community. They're sitting at the bar eating Jalapeño potato chips and confident enough in their biking prowess to wear pastel pink shirts.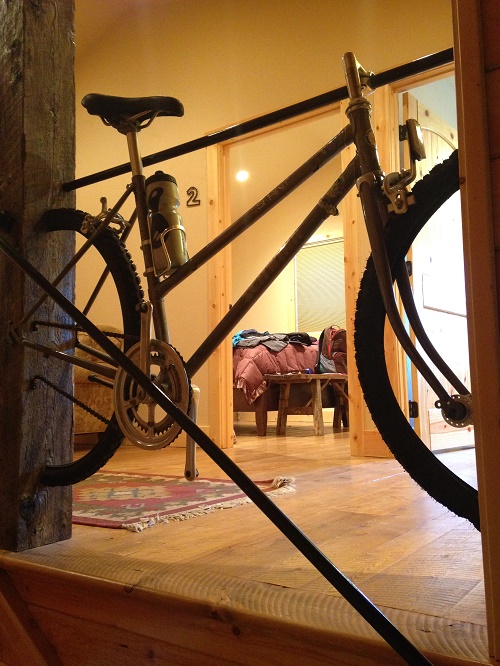 I unload, throw my kit on, recall Emma's directions ("ride through the campsites, follow the signs"), and hit the trailhead. In minutes I am on some of the most beautifully shaped trail I've ever rolled. It's almost as if…someone planned it that way.
And they did. A company called Terraflow, based in Whitefish, built these trails specifically for biking. Oh they are fun to ride, but they're also intelligent. They self-drain, they have banked corners, they don't puddle or pool, so you can ride in all weather without damaging the trails. They are cut into the hillside in a way that provides momentum, so even climbing can feel easy. You can tell whoever made these trails knew they were making happiness. You'll want to ride all day, then ride some more.
After I pick the bugs out of my grill, I sit down with the chip-eaters. Meet Rosie: Rosie does not look like your epic-journey mountain biker. She's burly, round on the edges, and could crush you with a single flex of her calf muscle. She just rode 4,500 miles across the country to "train" for the Great Divide Mountain Bike Route. Her business partner, Todd (likes pink, teddy bears, and dessert before dinner), tells me stories of food consumption that are almost as impressive as his bike journeys. I want to grow up to be like them.
Day Two: I meet in the morning with Tom and Anna Danley of Beyond the Boundaries. They run a guiding, private lesson, and cycling camp business. During the week, they teach kids to mountain bike. On the weekends, they show people like me the trails.
Tom takes me up to the Beaver Lake trails. I'm convinced there's not a thing about biking, bikes, trails, and Whitefish that he doesn't know. He tells me inspiring stories of kids on bikes that make me want to spend a week here with my own child (and hit the trails while she makes new riding buddies).
Upon returning to the Retreat, I meet a handful of other riders passing through. There's a little bit of everything here. There is Patrick, touring east to west before returning to college. There is a well-known jazz composer George Maurer who is riding to Boston in memory of a friend lost to cancer. He composes music in his head while he rides. There are some women learning yoga and venturing on their first mountain bike rides. There's a bike shop owner from Arcata with his family. We eat, share stories, become friends, and sleep with dreams of trails on our minds.
Day Three: I call up Whitefish Mountain ski bunny/marketing director, Riley Polumbus. She watched me crash down the mountain on telemark skies last winter. I promise her I ride much better than I ski, and she shows up with her bike and a plan. We want to ride the Lion Mountain Trail, from the top (just past the Retreat) to the bottom and back.
Now I've ridden my bike everywhere from Patagonia to Pasco, in the redwoods of California, down the trails of the Cascades, but I've never ridden anything quite as damn straight fun as the 12 miles we rolled that afternoon.
Fast, flowing trails with wonderfully playful design through changing landscapes in a seemingly ceaseless journey around hillsides and through canyons. I could not stop smiling. I did not want to leave. Ever.
Back at the Retreat, I seriously consider staying. Rosie and Todd are staying for another day with some excuse of needing more sleep. The others seem to be adding rest days as well. I know that if I stay another day, I'll just rent out my house and get a job waiting tables in Whitefish or something. Instead, I use the bike wash to clean my ride, then tune it up in the shop on hand. I have about 500 ideas for the house I build myself someday.
On my way out I run into Cricket Butler. In case you've never heard of her, she's about the bad assest lady to ever ride a bike. The retreat is her dream and her home. She's humble in her ways, and she'll mention that she's ridden the Great Divide (four times), but she doesn't tell you that she's won the race, that she likely slept in a ditch with a plastic bag and banged out those 2,745 miles of trail in record time. But she will ask if you're comfortable, give you beta on the trails (local and distant), and make sure you feel at home. And you will. Whitefishbikeretreat.com. //
When You Go
This place is like a home away from home, only you'll wish you could stay for good. There's a beautiful community kitchen, showers, grill pit, bike shop and wash, pump track, and trailhead connecting to the Whitefish Trail system. Rooms are $45 per night in bunk rooms, $95 per night in queen rooms, and camping is $15 per person.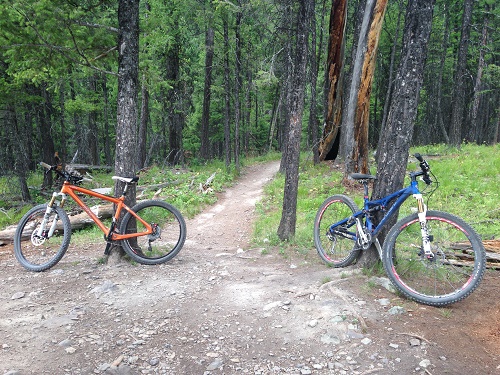 Trails to Ride in Whitefish:
The Whitefish Trail System
A series of trails (some linked, some independent) on lands donated by private and public organizations, the system currently includes over 25 miles of official trail with more than 55 planned in total.
Lion Mountain (2.2 miles west of Whitefish on Highway 93): 12 miles of flowing, rolling, blissful awesome. It also connects to several of the other trails in the system (Beaver Lake, Skyles, Woods Lake).
Beaver Lakes (About 9 miles west of Whitefish on Highway 93 and Beaver Lake Road): Connects into Three Mile Loop. Riders can make this an easy few miles or tack on the Woods Lake Loop and a nice little climb to the east.
North Spencer (4.5 miles west of Whitefish on Highway 93): This trail includes a manicured trail (built for bikers) with an 8-mile loop and endless connector trails within the loop of varying difficulty.
Whitefish Mountain Resort Trails
So you brought your downhill or all mountain ride? You put the kids in bike camp? The mountain has just the lift-serviced adrenaline fix for you.Lifts are open daily from 10 a.m. – 5:30 p.m. ($32 adults, $22 kids).Trails include several long, challenging routes from the summit. Most beloved and known are Kashmir, Freebird, and the lengthy Summit Trail (7.8 miles). If you like to pedal up, you can ride up the Summit Trail, but watch for downhillers in busy hours. The Resort also has plenty of miles of intermediate and beginner lift-served trails too.