Fernie became my new favorite word for several weeks this summer. I really couldn't stop talking about it, to the eventual annoyance of my wife who had to endure the brunt of my endless ranting and raving.  I had always thought Fernie was too far away, but the real barrier was the fact that I didn't have a clue what I'd been missing.
First, it's time to dispel the distance myth. At a little under a five hour drive from Spokane, it's faster than driving to Seattle (with the heinous traffic), and no offense to the Emerald City, but I'll take a cool, Canadian mountain town over a trip to the crowded Westside any day. The Easton border crossing north of Sandpoint is typically quick and painless, and the rest of the drive is mostly mellow highway time with awesome mountain scenery to Zen out on.
Now, if you're like me before this summer and you've never been to Fernie, let's focus on what you've been missing. The town itself sits in the heart of the truly stunning Canadian Rocky Mountains. Think cool outdoor town surrounded by scenery that looks like Glacier National Park or the Colorado Rockies. An outdoor recreation mecca with a relaxed and authentic feel filled with people who are there because of their passion for the mountains, Fernie is the real deal. Whatever your bliss (hiking, mountain biking, whitewater, fly fishing, mountain town chilling), you can craft your own custom mountain getaway with ease.
Historic Downtown Fernie 
On a recent trip, we rolled in late and decided to chill on our hostel deck with the resident giant dog and a couple beers while we watched the evening light melt into the mountains. In the morning, we walked a few blocks downtown to get a feel for the place. Fernie's street-side patios, coffee shops, and cafes make for a pleasant start to the morning and a fine introduction. It's worth taking the time to stroll the spacious sidewalks lined with turn-of-the-century brick and stone buildings to get acquainted with the town and its history. The newly renovated Fernie Museum (with a kid's mining cave) is a fascinating historical walk in the town's shoes. Far from a mining boom town on the bust, Fernie's downtown is alive with people out and about, zipping down the streets on fat-tire and townie bikes, browsing the eclectic stores and restaurants that serve locals and tourists, including unique shops like the Beanpod, one of North America's only bean-to-bar chocolate makers, or Clawhammer Letterpress, where 100-year-old printing presses are still in use. After getting to know the town a bit and maybe having a bite to eat, it's time to hit the mountains you've been gawking at all morning.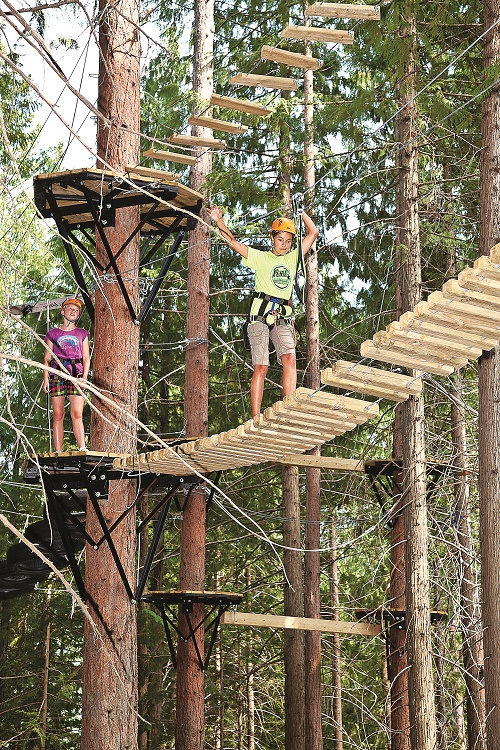 Hiking
Fernie has so many hiking trails winding up and around the mountains above town that it's hard to choose exactly where to start. There are trails to ancient fossil sites, tranquil waterfalls, majestic old-growth cedars and scenic 360 degree panoramic views. The timber chairlift at Fernie Alpine Resort climbs to 5,662 feet and offers access to trails with views that will literally take your breath away. Just east of the resort, Island Lake Lodge offers extensive hiking trails right out of the lodge, including hikes through some of the most inland groves of ancient west coast cedars. The iconic Mountain Lakes Trail takes hikers deep into the mountains for a day of tranquility and wild, stunning scenery. If you're looking for a little extra relaxation and rejuvenation after your hike, Island Lake Lodge has a "relaxation deck" and a spa with views of the Three Bears Peaks and a restaurant.
 Mountain Biking
The word about Fernie's legendary mountain biking has been slowly making its way south of the border over the past couple years. On a recent biking trip to Rossland, just about every other rider I met out on the trail was headed to Fernie next. There are over 60 trails above town and 37 at Fernie Alpine Resort, including world-class lift-accessed riding at the resort bike park. Thanks to thoughtful trail building and diverse terrain, riders of every ability will find trails to ride from easy family-friendly valley trails looping through town to expert singletrack and everything in between. I especially appreciate how many trailheads you can easily pedal to from your hotel or hostel. To get oriented, order a copy of the artfully written and designed and immensely helpful "Fernie Mountain Bike Guide" before your trip. If you prefer the kind of in-person trail beta that you can only get from riders who live and love their local trails, Fernie has several friendly bike shops that can help get you pointed in the right direction.
 Whitewater Rafting
Looking for a day off from the trails and a cool (and wet) way to explore the area? Spend a day floating the Elk River Canyon's renowned whitewater. Full-day rafting trips on the Elk's class I-IV rapids through the valley's stunning scenery can be customized for those who are new to whitewater boating and for more experienced, adrenaline seeking paddlers (inflatable kayaks are available on guided tours for an even more thrilling float). A summer day on the Elk River is an unmatched way to experience the region's wild character and striking mountain vistas.
 Fly Fishing
A destination for anglers, the Elk River flows from the crystal clear Elk Lakes to the northeast down to Lake Koocanusa along the border, offering pools, flows and streams that create the perfect combination of fish habitat. Monster bull trout and westslope cutthroat abound here and on the nearby Bull and Wigwam Rivers. Experienced guides are ready to show you the ideal spots for float trips or walk and wade. When I learn to fly fish (hopefully later this year), I'll be back.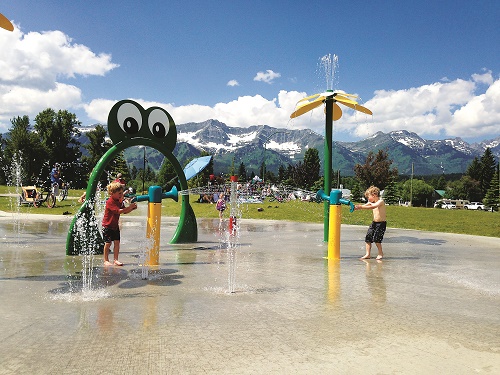 Outdoor Family Fun
Especially with younger kids, getting the whole family out into the bush for a wilderness adventure might be pushing it, and fortunately Fernie has its bases covered as an outdoor family destination. There are miles of community trails, a river running through town, the Fernie Aquatic Centre and splash park, and plenty of shady parks and fun playgrounds to visit. A few miles up out of town, Fernie Alpine Resort's interpretive nature centre, scenic chairlift rides, aerial park, ziplines, guided hikes and bike park are enough to keep any active family occupied for days.
 Food, Drink, and Nightlife
We didn't expect the quality of restaurants we found in Fernie either, from local organic produce and homemade gelato to fusion cuisine, real sushi, and some of the best Mexican food and margaritas I've had north of California. A visit to Fernie Brewing Company to sample some award winning brews is also highly recommended. Nightlife includes an eclectic mix of regular live music from local and visiting artists playing various locations downtown, where the contagious cheer spills out into the streets and bikes pile up casually outside popular watering holes. Just make sure you get enough beauty rest to tackle the trails in the morning.
 Where to Stay
For an affordable, authentic community living experience, try the Raging Elk Hostel. Private rooms are available, it's bike friendly, there's a community kitchen, and a deck with a view of the mountains. There's even an in-hostel lounge (Ragingelk.com). We also stayed at the Red Tree Lodge on the main drag through town, where the rooms are spacious, it's also bike friendly, and there's a hot tub and free breakfast (redtreelodge.com). Rooms at Island Lake Lodge, with world class hiking right outside your door, were also highly recommended (Islandlakecatskiing.com).
Learn more about Fernie and plan your next trip at Tourismfernie.com.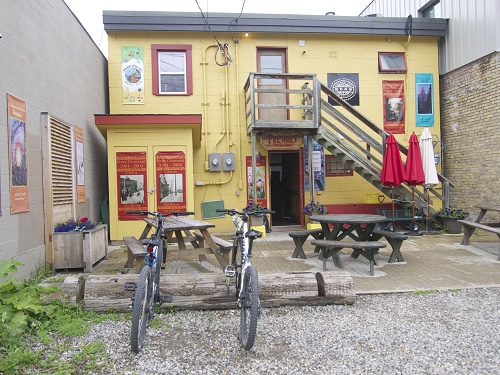 Fernie Summer Events
Let's face it. Canadians are way more social than your average American, and they pull off some super fun events that will have you feeling like you're almost a local (or at least wishing you were) by the end of it all. Summer in Fernie offers non-stop events, with everything from mid-week outdoor concerts and fun bike rides to world-class multi-day races. The second weekend in August (Aug. 8-9) features Fernie's Indie music festival Wapiti outside in Annex Park. The same weekend there's also a 100-mile road bike ride, the Bibbity Bobbity Boo Children's Festival in Rotary Park and the Classic Car Show in downtown Fernie. Later in the month, celebrate the 50th anniversary of the Lifting of the Ghostrider Curse (an incredibly fascinating bit of local lore) in a weekend of interpretive entertainment including the Ktunaxa dance troupe. Find details at: Tourismfernie.com.