Between bike shop advertisements and outdoor articles over the past couple of months, you can't help but notice that the popularity of fat bikes is climbing beyond the "cool and unique" level. Plus, more ski resorts are finding that skiers and bikers can peacefully coexist on at least some Nordic trails, further increasing your riding opportunities. As long as conditions are right, the wide tires and low tire pressure leave little more than tread marks on a groomed Nordic or snowmobile trails.
Be sure to follow the rules on Nordic trails that are open to fat biking, including never riding on trails that are not clearly open to fat bikes. Fat bike ruts on Nordic trails are bad for skiers and bad for the fat bike community's reputation. There is less concern for ruts on snowmobile trails since the machines are largely unaffected by them. Use lights and wear bright color clothing to make yourself more visible on snowmobile trails and yield to the machines. You'll hear them coming. Here are some of the trails around the greater Inland Northwest where you can expect to enjoy a fun ride on a fat bike if the conditions are right.
Spokane and Coeur d'Alene
Mount Spokane State Park allows fat bikes on the multi-use trails that are open to hikers, snowshoers or snowmobiles. Bikes are not allowed on the Nordic trails or in the alpine ski area. Fitness Fanatics also has a couple Surly Moonlander fat bikes for rent at the Selkirk Lodge at Mount Spokane this winter (Wednesdays through Mondays).
Around Coeur d'Alene, you have many locations in the Idaho Panhandle National Forest. Nearby Canfield Mountain has 25 miles of trails that local riders often keep packed down for fat bikes. There are also snowmobile trails that you can access at 4th of July Pass, the top of Fernan Saddle, and at Hayden Creek.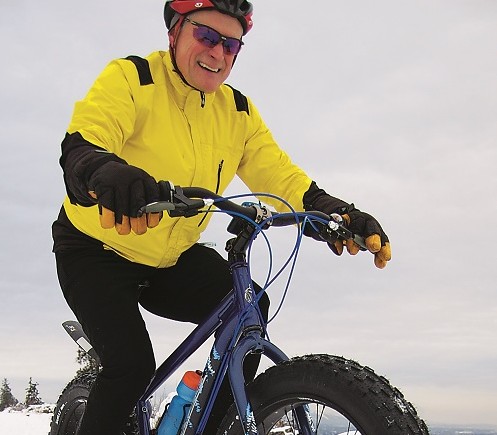 Sandpoint and Priest Lake
Brian Anderson at Greasy Fingers Bikes and Repair in Sandpoint says they have about 150 miles of groomed snowmobile trails in the area at Trestle Creek, Pack River, and McArthur Lake. Priest Lake is surrounded by over 400 miles of snowmobile trails too. Greasy Fingers rents fat bikes and can offer trail recommendations for these areas. There's also a trail map at www.switchbacks.com/plsnow/plsnowmap.aspx.
Schweitzer Mountain Resort
All 32 kilometers of Nordic trails at Schweitzer are open to fat bikes. And they rent bikes, which allows you to try before you buy. All riders must have a daily pass or a Nordic season pass. Tires must be wider than 3.7 inches and inflated at no more than 10 psi. They ask you to stay off the trails under any of these circumstances: there are three inches of new snow, you're leaving a rut deeper than one inch, you can't ride a straight line, or you need to get off and push the bike. Bikes also must yield to all other users. You can view the complete policy at www.schweitzer.com/mountain/snowbiking/.
Central Washington
The Leavenworth Winter Sports Club recently announced a pilot program for the 2014/2015 season that allows fat bikes on the Nordic and snowshoe trails prior to snow grooming and the opening of the Nordic ski season. Once grooming and skiing is underway, bikes will be limited to designated dates and times. They have night riding on 5 kilometers of lighted trails too. See www.skileavenworth.com/activities/fat-bike for details.
Methow Trails near Winthrop has about 20 kilometers of trails open to fat bikers. As with other locations, you're required to purchase a ski pass. They have a policy similar to Schweitzer, which you can find along with the current conditions at www.methowtrails.org/winter-trails/fat-bike.
Also in Methow, Joseph Brown, owner of Methow Cycle and Sport, and Steve Mitchell, owner of the Rocking Horse Bakery, joined with the Department of Fish and Wildlife and the Pearrygin State Park to create a volunteer community supporting fat biking trails during the winter. Both state agencies provide equipment to Joe and Steve so they can groom and maintain the trails. (Steve's history with fat biking dates back to the original days in Alaska.) There are 16 miles of trails at Lloyd Ranch and Pearrygin Park open to bikes. You must have a Discover Pass.
British Columbia
Tyler Merringer at Revolution Bike Shop in Rossland, B.C., reports that the ever increasing fat biking community uses many of the same trails that mountain bikers ride during warmer weather. The severity of the snowfall determines which trails are rideable, but he says you can ride on most days. In Nelson, B.C., Whitewater Ski Resort has opened 5 kilometers of groomed Nordic trails for fat biking. Bike rentals are also available.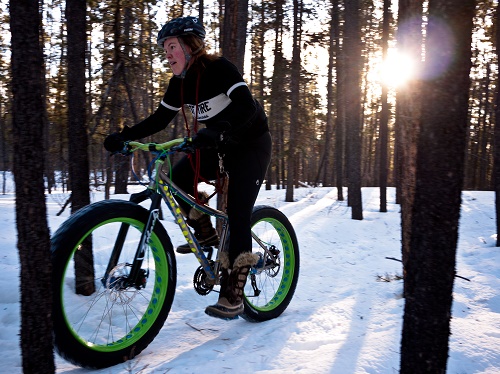 Fat Bike Events Around the Region 
At Round Lake State Park near Sandpoint, the first annual Fatty Flurry Festival is taking place on January 31 at 1 p.m. Sponsored by Greasy Fingers Bikes N Repair, the festivities include group rides, free fat bike demos and a barbeque and refreshments around a bonfire. Try biking in the snow, meet other local riders and discover beautiful new places to ride a fat bike. Call for more info: 208-255-4496.
Methow, WA is hosting the Northwest Fatbike Winter Meetup on January 16-18. Facebook.com/events/573115612790617.
On February 1, in conjunction with the Rossland Winter Carnival, Red Mountain Resort is sponsoring a Fat Bike Festival in Rossland, B.C., which will include a 20 kilometer enduro-format race. Redresort.com.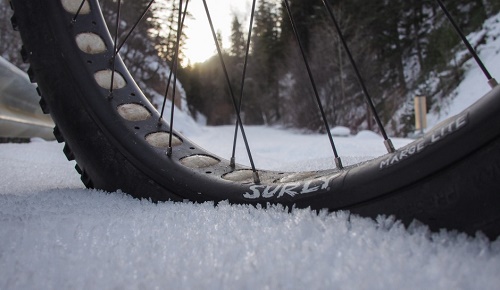 What Conditions are Best for Fat Biking?
Under a lot of conditions, a fat bike provides a smooth, flowing ride in the snow better than a mountain bike. It's still a workout, but it's a far more satisfactory workout because there's less frustration caused by your tires sinking into the snow. Trails that have a base – including snowmobile, approved Nordic, and fat-bike specific trails – provide a better ride than loose snow, but loose snow is not impossible to ride in either. Trails that have been partially packed by snowshoers or hikers can also be a good option. The best groomed trail riding conditions include trails with a firm, compressed base with the temperature below freezing. Riding in deep, wet snow or deep, light powder can be difficult to impossible to ride if it hasn't been groomed. //