The Ecology Youth Corps is Washington's largest youth employment program. EYC has removed litter and promoted recycling and litter abatement throughout the state since 1975. During this time, EYC employed more than 12,000 youths. Each year they hire more than 300 teens statewide to provide an important service to their communities. EYC members earn minimum wage while gaining valuable job skills, teamwork experience, and safety awareness. On average, our crews pick up 1,200,000 pounds of litter per year and recycle just under 200,000 pounds of materials.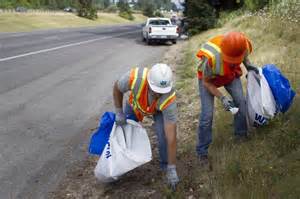 Make Cleaning up Your Community Your Seasonal Job
Right now the Washington State Dept. of Ecology Spokane office is looking for a Regional Litter Ranger/Crew Supervisor. Learn more about the job at ecy.wa.gov/programs/swfa/eyc/index.html or contact Chase Davis at 509.329-3506 to inquire and leave a detailed message about your interest in this seasonal/9-month litter pick-up and youth development job. They are also currently hiring for seasonal/3-month Adult Median Litter Crew. Here are some of the details about the supervisor position:
Helps run the EYC/Ecology Youth Corps (teens 14-17) program, which employs about 90 staff during late June to late August. Hours are Mon.-Fri. 7 a.m. – 3 p.m.
It's a seasonal job with December through February off. Perfect for ski bums!
Pay is $14 – $17 per hour (plus occasional overtime). Benefits such as healthcare and retirement are available after the first full year of work.
You will be assigned a vehicle and supplies to complete work duties.
Applicants should have interests/experience in Natural Resources and Solid Waste Management and gaining supervisory skills; the ability to work in rough weather, remote locations, and in stressful job conditions that demand safety first; and the ability to drive/sit for long hours, get in and out of a vehicle all day long, and regularly lift 40 pounds and bend over to pick up litter and safety signs and traffic cones all day long.
And applicants shouldn't have any interest whatsoever in seeing the inside of an office building or a cubicle.