I rolled over into a cloud of pillows so cozy and warm, I thought there was no other place I'd rather be. Then I remembered it was the Coldsmoke Powder Festival, and I had a pass to the entire weekend at Whitewater Ski Resort.
We had planned a little weekend getaway to Nelson, B.C. to play in the snow and sample their fine dining selection. For a country famous for beaver pelts, maple syrup, and Bryan Adams, I was rather expecting a population of flannel-clad ballad singers on a diet of Canadian bacon and hard whiskey. Obviously, I haven't spent a lot of time in British Columbia.
Nelson itself is a magical little town nestled into the Selkirk Mountains and on the shores of Kootenay Lake. It's filled with beautifully restored buildings, great dining, and perhaps most important to those who share a love of coffee: Nelson is the home of Oso Negro Coffee Roasters. And I hear the skiing is alright too.
If you ski or board, you probably need to put Whitewater Ski Resort on your bucket list. Then put it back on there every season at least twice. The resort is not like a typical resort. It is a like a utopia for people on skis. There are no fancy condos, no drunken people in hot tubs on the side of your slope laughing every time you bail on the bunny hill (okay, so that was just ONCE on a different mountain, but I think it gave me PTSD and a permanent dislike of hottubbers).
Whitewater is by skiers for skiers. There is a single lodge. It has REAL food in it. Like stews and salads and good beer and the things you need to fuel yourself for your next four hours of pristine powder. There's no fluff, unless the snow is fresh. Everyone here is equal. Everyone belongs to the same family – a community of people who love snow.
Whitewater is also the home of the Coldsmoke Powder Festival, an event to behold with eyes of wonder and well-tuned skis. Or if you don't know how to tune your skis, just borrow one of the hundreds of demo pairs they have available. In fact, try out a few different pairs as you go from clinic to clinic learning how to ski moguls, navigate the backcountry, or turn like a champ on the groomers.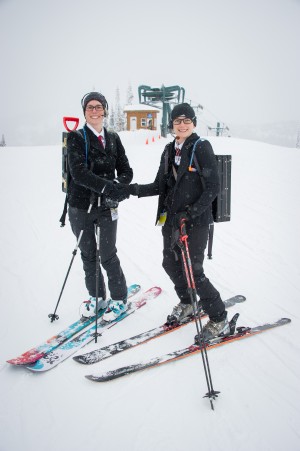 The festival was created to provide a grassroots gathering where mountain enthusiasts of all levels can learn new skills, ski epic snow, and celebrate the cool, local mountain culture. All weekend long there is a selection of amazing ski and snowboard clinics, from backcountry basics to advanced telemark skiing. The mountain is filled with legendary athletes who come to give us hope that we too may one day be more awesome.
The powder festival isn't just on the mountain either. Friday night they open it downtown Nelson with a film festival and prizes (like new skis). Saturday night is a grand buffet with more prizes and a cocktail reception (which is a perfect transition from skiing to dinner, of course). Nelson itself has much to offer as well, from fantastic restaurants to interesting little shops, cool bars to cozy cafes.
After a day of hitting the runs until our quads burned, we would enjoy the city life, then walk with tired legs back to our digs at the Cloudside Inn. If you are going to Nelson, this little family-run bed and breakfast is like a home away from home. They packed us little lunch bags of food to take to the hill, gave us all the insider tips on the town, and welcomed us like old friends. And their beds are so comfortable, it's almost hard to get out of them in the morning if it wasn't for the temptation of the slopes calling us in our sleep.
The weekend was a smorgasbord of incredible skiing, learning new skills, trying new skis, and discovering a perfect weekend getaway close to home. I didn't see a single pelt or meet Bryan Adams, but I sure made a lot of new friends.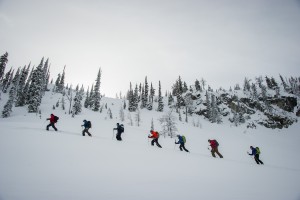 5 Reasons to Hit the Kootenay Coldsmoke Powder Fest This Year (February 20-22)
Super fun and inspiring film festival (Friday night).
ROAM Randonnee Rally ski mountaineering race (Saturday a.m.).
Awesome backcountry and tele clinics for all levels of skiers and riders (all weekend).
Killer food and drink and hilarious entertainment at the Backcountry Buff-EH (Saturday night).
Getting to ski all weekend in sight of Ymir Mountain in Whitewater's legendary terrain and snow! More info: coldsmokepowderfest.com. (OTM) //