This July, run wild in Missoula with a 5k, half marathon, or full marathon race during the Missoula Marathon weekend. Currently ranked by runners as the top marathon in the nation in the Bib Rave 100, Missoula stands out from the pack with its supportive outdoors community.
"We pride ourselves in paying attention to the details and providing the right mix of rural charm and big-city race management," says race director Tony Banovich.
Local Missoulians have a reputation for rallying around the race. There's a gentleman who plays a baby grand piano at mile 16. There are cowboys on horses waving at runners at the halfway mark. There are volunteer pacers in bright shirts who run with balloons marked with finish times.
"Missoula has a very fit, healthy, active, outdoor community, and they have thoroughly embraced the Missoula Marathon," says Banovich. "Last year was a hotter-than-normal race day. Our community heeded the call by putting out hundreds of sprinklers, coolers, buckets, bags of ice, and impromptu aid stations."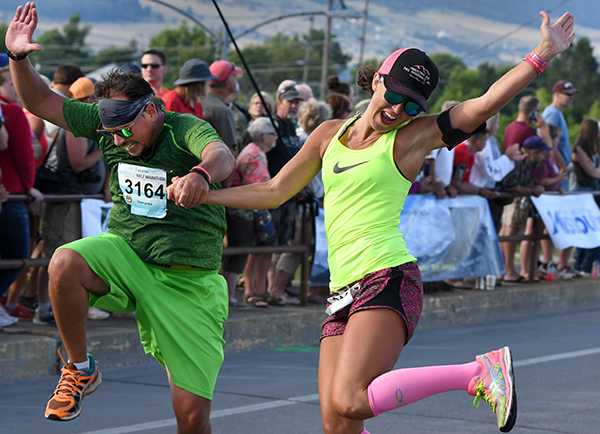 The logistics behind the race shine as thousands of runners are shuttled to the half or full marathon start line around 4 a.m. on Sunday. Race volunteers direct buses with glow sticks; they clap, cheer, and sing as runners arrive. There are multiple rows of portable bathrooms to keep pre-race pee lines short and moving. Runner's bags (provided by the race) are marked with bib numbers, checked, and shuttled to the finish line.
After watching the sky grow light behind a silhouette of surrounding mountains, the race starts with celebratory fireworks. Both half and full marathon courses run between 3,000 and 3,350 feet of elevation, across rivers, through meadows, and under that famous big sky. Runners finish on the Higgins Avenue bridge, running over the Clark Fork River and into downtown Missoula.
Post-race, runners can wade into the river just off Caras Park near Brennan's Wave to ice sore muscles and catch a glimpse of local surfers. From the finish line, it's an easy walk to Missoula's specialty running store, Runner's Edge. Grab a scoop of well-earned ice cream from the Big Dipper or Sweet Peaks, take an evening stroll around the University of Montana campus, or stop in at one of Missoula's various eateries or breweries. If you're traveling with kids, be sure to check out the Missoula Carousel and Dragon's Hollow Park.
If you're looking for other outdoor activities while you're there, you can tube the river, whitewater raft in the Alberton Gorge, hike in the Rattlesnake Wilderness Area, or view wildlife at Lee Metcalf Wildlife Refuge or the National Bison Range. You can float or fish on the Blackfoot, Clark Fork or Bitterroot Rivers, hike to the Missoula "M" visible above the town, or road bike the Bitterroot Trail.
With so much to do in the 'Zoo," the Missoula Marathon is a great race weekend for groups of friends or families. Runners can sign up for the Big 3 Challenge to take advantage of several races over the weekend. There's a free Beer Run 5k on Friday, with beer from Big Sky Brewing, and Saturday offers a 5k, Kid's Marathon (1.2 miles), and race Expo. Visit missoulamarathon.org for race information, and sign up before April 15 to receive the best registration price. //
Start Training for These Inland NW Races
Apr. 7—Inland Northwest Hunger Run, Spokane
5k or 10k. Proceeds help fight hunger by giving to Second Harvest and Union Gospel Mission.
Apr. 8—Negative Split, Spokane
5k, 10k, and half marathon.
Apr. 22—Spokane River Run, Spokane
Trail Run: 5k, 10k, 25k, 25k Challenge, 50k, 50k Relay Team.
Takes place in Riverside State Park; proceeds go to Garfield APPLE program.
May 20—Windermere Marathon, Spokane
Half and full options. A flat, fast course that runs along the Centennial Trail and Spokane River.
May 27—Spring Festival Run, Priest Lake
5k, 10k, half marathon options. //
Lisa Laughlin is Out There's Digital Editor and wrote about avoiding winter injuries in the January/February 2018 issue. She likes long distance running, trail running, and hiking.
Feature photo: Runners finish on Higgins Avenue Bridge into downtown Missoula. // Courtesy of Game Face Media
Originally published in the March 2018 print edition of Out There Outdoors under the title "What Makes the Missoula Marathon So Rad? Community."