Hiking two miles an hour into the wilderness with forty pounds on your back creates its own type of Zen state. And the most pure way to explore Glacier National Park (GNP), in Montana, is by venturing into its backcountry. Only a five-hour drive from Spokane to West Glacier, GNP is not for the casual backpacker.
There are over 700 miles of trails, drowning is the number one cause of death in the park, and you must view the National Park Service's 14-minute video on bears, mountain lions and personal safety before receiving a backcountry permit.
To start planning your Glacier trip, first go to the park's Web site: www.nps.gov/glac/planyourvisit/backcountry.htm. I also recommend consulting a guidebook to help plan the most enjoyable backpacking route for everyone in your group. We used Vicky Spring's Glacier-Waterton International Peace Park (Second Edition), published by Mountaineers Books in 2003.
Although the park used to accept in-person and phone applications, the process has moved to an online-only reservation system and an application fee is still required. For the most current information about how to obtain a wilderness permit and reserve a backcountry campsite, visit nps.gov/glac/planyourvisit/backcountry-reservations.
The National Park Service divides Glacier Park into eight different backcountry areas: Belly River, Goat Haunt, Many Glacier, Lake McDonald, North Fork, St. Mary, Two Medicine and Walton. (Spring's guidebook categorizes them somewhat differently.)
My husband and I chose the Belly River, located in the northeast section of the park, which is primarily accessed from the Chief Mountain Trailhead—located only 500 feet from the Canadian border off Chief Mountain International Highway (Hwy 17). When the higher elevation trails like the Ptarmigan Tunnel or Redgap Pass are accessible, you can also hike to the Belly River area starting from Many Glacier.
To reach the east side of the park, you can drive from West Glacier to St. Mary along the scenic and historic Going-to-the-Sun Road. But be aware that traffic during peak tourist season (July and August) is slow and often bumper-to-bumper.
Because the pass wasn't yet open when we visited in June this year, we drove around the perimeter of the park on Highways 2, 49 and 89 to St. Mary Lake, only an additional 39 miles from West Glacier.
Any of the drive-in campgrounds would make for a good stop the night before a backpacking trip. We chose the Rising Sun Campground, which was closest to our trailhead (although still 43 miles away).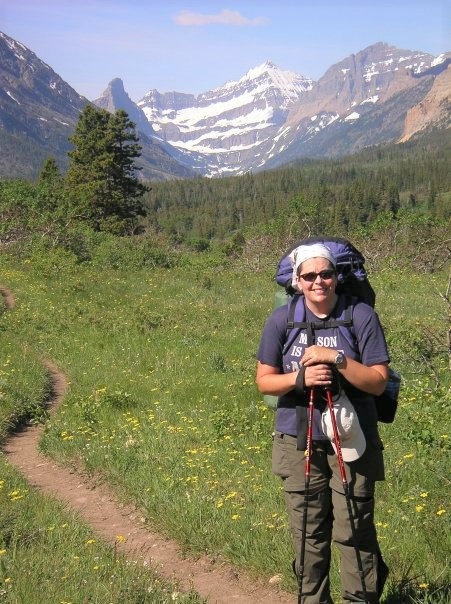 Day one
Our backcountry itinerary, which you provide to rangers when applying for your wilderness permit and camping reservations, began with hiking 8.8 miles to our first destination, Cosley Lake Campground. The first two miles of the trail descend 800 feet to the river valley then pass through aspen groves and grassy meadows with views of Chief, Gable, Sentinel, and Bear Mountains.
When we got to the Gable Creek Camp at 6.2 miles, where many backpackers choose to stay their first night, we turned at the junction to cross the Belly River suspension bridge. Although most trail junctions we encountered were well marked, it's best to equip yourself with a map and compass (and even a GPS).
Each of Glacier's backcountry campgrounds have the same basic layout: a designated food preparation area that all campers must use, a food storage area consisting of a cable strung between trees (each group is required to carry 25 feet of rope for hanging food and other odiferous items), a pit toilet, and a limited number of marked tent sites. (Some campgrounds have food storage lockers because of flying squirrels.)
Summer days are long at Glacier, especially in June when it only gets dark enough for a headlamp around 10:45 p.m. (Mountain Daylight Savings Time). We slept well and ate even better, thanks to the delicious, easy-to-make meals from freezerbagcooking.com. (Learn more at outthereoutdoors.com/great-backcountry-grub.)
As far as wildlife encounters, mule deer, birds, and ground squirrels were the most common animals seen along the trails and at campgrounds. Fortunately, we did not encounter grizzly bears or cougars during our time in the backcountry. We had bear bells attached to our packs and we talked, sang, and intermittently yelled, "Hey, bear," as we hiked to prevent surprising any wildlife that may be around a corner or off-trail in bushes or among trees. We also carried bear spray, attached to a pack waist belt to make it easily accessible and quick to grab. (Learn more about being Bear Aware.)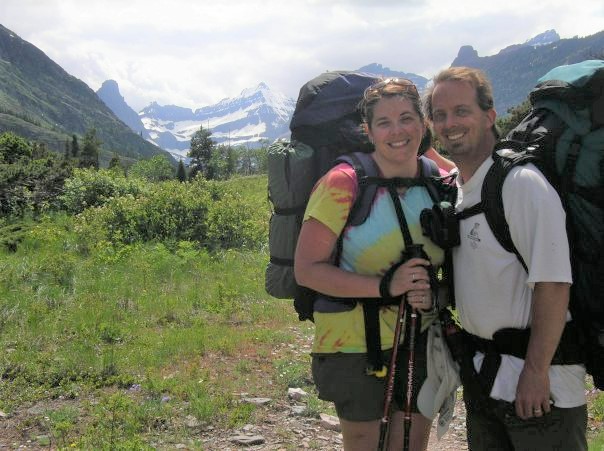 Day two
The second day was a 5.8-mile trek from Cosley Lake Campground to Elizabeth Lake, where we had reservations at the head campground. The trail requires fording the river at the ranger-named "Cosley Lake Outlet Safety Cable." We were expecting a knee-deep crossing, but the cold, swift-moving flow was nearly four feet deep at one point, rising to our mid-torsos.
Day Three
My husband enjoyed some lake fly-fishing at a cove protected from the strong wind. Arctic grayling and rainbow trout were busy there, making for a productive hour of catch and release.
After completing the 5.1 mile hike to the green and lush Gable Creek Campground (completing more or less a loop from this point on day one), we savored the panoramic views from the meadow at the Belly River Ranger Station (which serves as a residence for backcountry park rangers).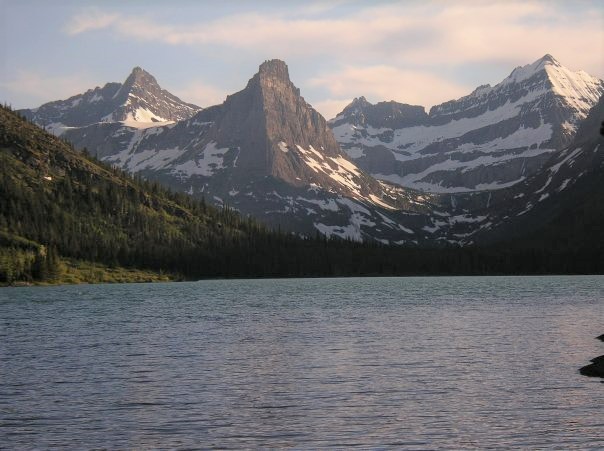 Day four
We finished our trip with 6-mile hike out, for a trip total of 25.7 miles. And a 7-hour drive later, we were home in Spokane, planning our next trip to Glacier for some more backcountry bliss.
When You Go
The most direct driving route from Spokane is I-90 east to Exit 33/St. Regis. Turn left onto Highway 135, heading northeast. Follow the network of two-lane highways to Kalispell. Then take Highway 2 to Columbia Falls and continue to West Glacier.
Originally published in the August 2008 print edition of "Out There Monthly" (the founding predecessor magazine name) for the Roadtrip section.
For more stories about Glacier National Park, visit the magazine archives.
Amy McCaffree is a senior writer, and her first "Out There" story was published in the January 2006 issue. She enjoys hiking, camping, paddling, lake swimming, and riding her hybrid bike. Before becoming a mother, in 2010, she did a lot more backpacking.
[Updated: August 31, 2021]