"This is the hardest thing I've ever done," the Captain says over the sound of his trekking poles dragging along the trail. As we are not even to the hard part yet, I say some encouraging stuff about how doing hard things makes us better people, stronger of character, and slightly tougher than a Girl Scout. The sun is beating down on us. I seem to be coming down with a cold. We are rationing water. And we're nowhere near our destination. These are all ingredients for calamity, but we're still calling it an adventure.
Some weeks ago, the Captain, who gets his name from his position as a paramedic for EMS, had casually asked me if I wanted to attempt a traverse of the Selkirk Mountains. "I've mapped out a route from Parker Ridge to Schweitzer," he said. Considering it required significantly more planning than what usually goes into my trip logistics (Destination: Check. Beef jerky: Check.), it seemed like a great idea. I did my part as a good partner and pretended to watch as he described saddles and summits and the gaining of ridges over dinner one night. He seemed like he knew where he was going. Besides, my therapist says I need to exercise more trust in my relationship. Apparently she does not backcountry bushwhack with her boyfriend.
The plan: Climb into the northern U.S. section of the Selkirks via Parker Ridge, catch part of the Pacific Northwest "Trail," traverse the crest from peak to peak, reach Schweitzer in four days, call my mom for a ride home.
We set out on a Friday morning. The Captain was aiming for 24 miles, which seemed ambitious enough on trail, and I was just naive and optimistic enough to enthusiastically note this would take approximately 12 hours. One of the many differences we noted about ourselves on this trip was that I seem to embrace suffering with an almost pathological delight. There are any number of routes available into and through the Selkirks, but no clear path along the crest. We expected to cross some sections of trail and connect those via ridges and saddles. It was an exciting prospect, to get from top to bottom via a few peaks I'd never been to. We opted not to bring climbing gear and to skirt the bottom of a few summits that were unsafe without ropes.
Our first moment of truth came within a couple hours as the Captain slowed to a pace resembling a depressed, overheated sloth. To his credit, he did not resist when we reloaded our gear and his girlfriend (apparently a cross between a pack mule and a drunk Norwegian) loaded her pack to nearly 50 pounds. Mostly because I wanted to make sure that I had all the chocolate if he fell off the side of the mountain.
When we passed the 10-mile mark, it became blatantly obvious that our mileage estimations were optimistic at best. And we were still on trail. We reset our goal for the first night: Make it to Pyramid Lake and see how far we get the next day. The ridge between Parker Peak and Long Mountain opens up to amazing views toward Canada and the valleys that stretch toward Montana. Dozens of granite peaks poised as landmarks for our navigator. "We're going to head across that ridge, around the back of that peak, take the saddle down toward that other peak, then gain that other ridge, and go over that peak," he would say while pointing into the abyss. All I could see was a bunch of granite and hills to climb. This established another difference between us: The Captain actually has a sense of direction whereas I think all mountains look like mountains.
Whenever you are preparing to go outdoorsing with someone, it is valuable to assess each other's skills and abilities while having an honest conversation with yourself about your own. We had always operated well together as a team, but we had yet to spend days together in the mountains testing endurance or patience. We made a few crucial mistakes that could have ended our trip, though we safely compensated for them. Things not to do when planning an outing:
Forget to actually train for said adventure. Chances are, if your girlfriend has to carry your gear, she's going to expect breakfast in bed for a long time.
Blindly trust the navigator's estimates. If it looks farther than 10 miles, it probably is.
Assume your sleeping mat is in good condition.
We made it to Pyramid Lake long after sunset, where I discovered a two-inch slice in my sleeping mat. After carrying a heavy load, sleeping on the cold ground was not my favorite part of the trip. The next morning, stiff and sore, my snot getting greener by the blow, our water pump failing, we had The Conversation. Do we hike on or hike out? The purpose of our trip was to adventure together. We had four days to wander through the mountains. We had gear and food. There was no eminent danger despite the reality that half the party was in over their head and the other half was contracting consumption. We loaded our backs and headed for the ridge.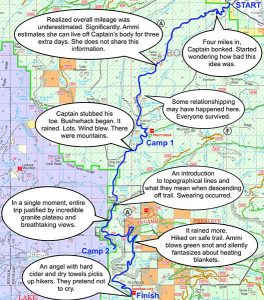 The new plan: Go until we don't want to, hike out.
It took us 10 hours to travel 10 miles off trail. It poured rain on us in the morning as we schlepped over steep granite inclines and talus fields. The sun burst out of the clouds in the afternoon and dried us. We reached Myrtle Peak and pointed toward Two Mouth Lakes, only a six-hour bushwhack away. The descent off Myrtle was veritably insane, and my lexicon of swear words reached drunken sailor variety. We dropped nearly 1,200 feet in less than a half mile.
We were rewarded later by summiting to a moonscape of granite slab above Kent Lake. In a single moment of afternoon sun and bizarre geological formations, every scratch and bruise and drop of blood was worth it. The majesty of our backyard is understated. We camped at Two Mouth Lakes and woke to a late summer sunrise. The trailhead is closed for logging this season, which allowed me to establish a temporary nudist colony. I made my coffee in the nude. I packed my tent in the nude. I did my yoga in the nude. As far as I was concerned, the trip was a success. We opted to stay on trail the next day as a thunderstorm rolled in, hiking out and connecting to the Myrtle Creek Trail, then eventually to the Harrison Lake Trail. Soaking wet from hours of rain, knees creaking from days of clambering through the mountains, we emerged to find our ride home waiting with dry towels and hard cider.
In three days, we had covered 43 miles with 13,000 feet of elevation gain, which based on new estimates is probably about half the distance to Schweitzer. We'll find out next summer. The best part about unfinished adventures is the anticipation of embarking upon them again. //
Ammi Midstokke lives in Sandpoint, Idaho, where she raises her daughter on a deeply ingrained fear of gluten and an arguably dangerous appetite for adventure. Ammi wrote about single-parent road tripping in September.