The Western States 100-Mile Endurance Run is the oldest 100-mile trail run in the U.S. It starts in Squaw Valley, goes through the Sierra Nevada mountain range, and finishes in Auburn, California. Last year I had the pleasure of pacing my friend Gunhild Swanson at the event. At age 70, Swanson became the oldest finisher of event. When Swanson asked me to pace her I was honored, and I knew I would probably want to do a 100-mile trail run myself some day.
After the race, I mulled the details of running a 100 miler in my head for a bit, and I talked to my wife about it. Training for a 100-mile trail run would take up most of my time for at least six months, and I needed her support. She understood why I wanted to do this, so I started looking at possible 100-mile events that were nearby. After I had decided on the Bryce Canyon 100 miler, I put up a post on Facebook. One of the amazing things about Trail Maniacs, the trail-running club that I co-founded, is that most of us are like-minded in our desire to test the limits of our endurance. Bryce definitely fits that category. Bryce offers several distances: a half-marathon, 50k, 50 miler, and 100 miler. We have seven runners doing the 100 miler and three runners doing the 50 miler.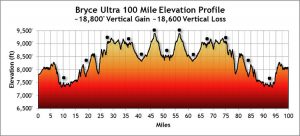 After my race decision was made, I set up a training plan for myself and a few others. I studied the course map and elevation profile, and we discussed travel plans. I set up a 24-week training plan, with the first 12 weeks being basic miles, including back-to-back long runs, which increased weekly mileage by 10 percent. With my therapy background, I made sure to incorporate corrective and strength-training exercises. I researched the gear I would need for myself and my pacers: headlamps, hydration packs, shoes (lots of shoes), and nutrition.
For weeks everything was coming together nicely, but then I screwed up and decided to push myself during week 11. This was a huge mistake, and I found myself training through injury for my first 100-mile race. This was my worst nightmare! My injury started with my calf, and I went to physical therapy for some relief. For about a week I was on the mend, when suddenly my hip decided that it needed attention. So here I am, several weeks before my first 100-mile race, and running hurts. Everyone has been telling me to be patient with this, but I'm kind of freaking out. Not only am I missing valuable training time, but I also absolutely love to run, and I find that I am missing the solitude of my long training runs. I am trying to follow the advice of my physical therapist, staying positive, and doing my corrective exercises as if my life depends on it. I'm not sure what my situation will be on race day, but I plan on showing up at that start line on June 17 and showing them what a Trail Maniac is made of. // (Dave Dutro)
Dave Dutro is an avid trail runner, mountain biker, hiker, and co-founder of the Trail Maniacs. Read about Trail Maniacs events and activities at www.trailmaniacs.com.