Editor's note: This is part one in series on training for a triathlon.
When a reporter once asked mountaineer George Mallory why he wanted to climb Mt. Everest, Mallory famously responded, "Because it's there." For many triathletes, the Ironman is their Everest, but they'll probably use more than three words trying to explain why they do it.
This event, which includes a 2.4-mile swim, a 112-mile bike ride, and a 26.2-mile run – 140.6 miles of physical and mental testing within a 17-hour period – is technically called a "full"-distance triathlon. Several organizations run full-distance triathlons, including Challenge, HITS, and Rev3, but Ironman is the most recognized, and the term has become synonymous with the distance.
"Why did you sign up for Ironman?" That's the question I asked people at first, emphasizing the event rather than the person, and they often answered with a version of Mallory's famous answer: Because it's a challenge that inspires me to pursue my potential. But soon a more interesting question emerged: Why did you – specifically, you – sign up for Ironman?
Before I realized that I was misguidedly focusing on the race rather than the racers, I surveyed more than 40 people in the Inland Northwest who've signed up for at least one Ironman (IM). Their demographics and experience levels ranged from their early 20s to late 60s, from first-time triathletes to multiple-IM finishers, and from former couch potatoes to competitive gymnasts and wrestlers. They identified different areas of anxiety leading up to the event: the commotion of the mass swim, the alchemy of race-day nutrition, the threat of injury. They described different approaches to the months of physical preparation, which included training by heart rate zone, duration, distance, pace, and power exertion. But they all shared two important characteristics: an appetite for tough personal goals, and the mental strength to reach them.
"To be great at anything, whether it's in sport or anything else, there's a constellation of skills that you need to have pretty refined," says Dr. Jon Hammermeister, Sports Psychologist and Professor of Physical Education at Eastern Washington University. Those skills include nurturing a high degree of belief in yourself, setting clear goals and defining a distinct path to achieve those goals, controlling your emotions and remaining focused under pressure, and coping with adversity.
Hammermeister knows what he's talking about. The 13-time Ironman finisher played tennis in college and then started coaching. "I was interested in learning about ways to outthink or outsmart my opponents, and when I started coaching, mental strength became even more important: How could I coach my athletes to be as mentally strong as they could possibly be? I didn't really know how. I had some itches that I couldn't scratch very well." Hammermeister read James E. Loehr's book "Mental Toughness Training for Sports," which intensified his fascination with sports psychology, and then went on to study with Dr. Damon Burton, "one of the giants in sports psychology," at the University of Idaho.  "Turns out I still have the same number of itches I can't scratch – they're just a little more evolved than they were in 1984," Hammermeister laughs.
Hammermeister notes that most of the elements of mental toughness that we rely on go at least as far back as the Samurai 3,000 years ago. "Ever since man developed some semblance of consciousness, we've known that mental strength is important if you want to perform at a high level at anything. What's gotten better over time is how we train it, and how widely those training methods have been adopted. But the basic concepts are literally thousands of years old."
My survey participants confirmed his statement: "I always believed I could do it." "I wanted to honor myself and the event." "I just kept moving forward." "I did way more than my body believed I could." "I looked forward to seeing my hard work pay off." "I believe that Ironman is 75% mental and 25% fitness." "I pushed myself farther than I thought possible." Their responses reflect not only confidence but also a sort of amazement at what the human spirit can accomplish.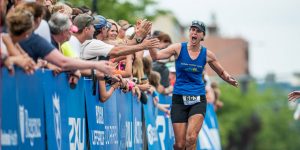 Finishing an Ironman race is unquestionably difficult for anyone, but there are many athletic levels represented in each event. For example, at Ironman Coeur d'Alene, the winner usually finishes between 8 and 8½ hours. However, most of the more than 2,500 athletes finish between 12 and 15 hours. No matter their finish time, the hours on the course – and the months in training – are grueling, and they force people to come face to face with their motivations. "We're never not motivated," Hammermeister says. "We're motivated all the time. Maybe you're motivated to watch hours of TV a day. Maybe you're motivated to finish a project at work, or spend time with your kids, or run 20 miles. I would never say that someone's not motivated enough – it's more a question of what they're motivated to do. It comes down to your goals, and how important those goals are to you."
Reaching the summit of your personal Mt. Everest won't necessarily involve an ice axe or a bike helmet or even sweat, but it will require a realistic assessment of your goals, and then a commitment to the hard work it will take to reach them. "The personal growth," said one survey participant and multiple-IM finisher, "it tests your ideals, discipline, commitment, spirituality, mental fortitude, and so much more; you learn a lot about yourself out there." So why did they sign up for Ironman? Because they had a vision and the mental toughness to believe, plan, focus, and cope through months of training and hours of racing until they heard those four magic words as they crossed the finish line: "You…are…an…Ironman!" //