Traveling to and from British Columbia through one of the Inland Northwest's many border crossings has gotten faster and easier over the past decade, even for the millions of Americans who remain resistant to getting a passport. Make your border crossing experience even quicker with these tips. 
Proper ID: Make sure everyone in your vehicle has a current passport, enhanced drivers' license/ID, or federally issued passport card (half the price of a passport). You'll need one of these easy-to-obtain ID options to get in and out of Canada. 
Pick the Best Border Crossing: Do your research and choose the right border crossing for the fastest trip to your destination based on distance, road conditions, and time of day (some crossings have limited hours). Making a mistake can add hours to your trip. See our list below of the 7 regional official ports of entry.
Leave That Stuff at Home: While Cannabis is legal in both B.C. and Washington, leave your stash at home. Same goes for many fresh fruits and vegetables you may get questioned about, as well as all guns and other weapons, and, for the sake of the American image, any attitude with Canadian border officials. //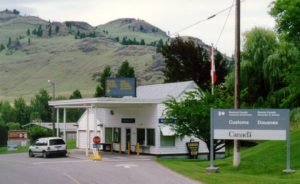 Choosing the Best Border Crossing 
Use this border crossing info and a map to make sure you don't get stuck at a closed crossing or waste time taking the wrong one. 
Osoyoos/Oroville: 24 hours; Use for some Okanagan resorts. 
Midway/Ferry: 9 a.m.-5 p.m.; Use for Big White/SilverStar shortcut when roads are good. 
Cascade/Laurier: 8 a.m.-midnight; Use for Big White, SilverStar & Phoenix. 
Paterson/Frontier: 24 hours; Use for RED Mountain & Rossland. 
Nelway/Metaline Falls: 8 a.m.-8 p.m. U.S. / 8 a.m.-midnight Canada; Use for Whitewater, Nelson, Ainsworth, Kootenay Pass, Salmo, Nakusp, Revelstoke, Halcyon & Rogers Pass. 
Rykerts/Porthill: 7 a.m.-11 p.m. U.S. / 8 a.m.-midnight Canada; Use for Creston/Kootenay Pass. 
Kingsgate/Eastport: 24 hours; Use for Kimberley, Fernie, Panorama, Fairmont, Radium, Golden, & Kicking Horse. //
For more information on traveling from the U.S. to Canada and travel documentation requirements, visit these official resource pages from the U.S. Customs and Border Protection and the U.S. Dept. of State.