Traveling north of the border for skiing, snowboarding, hot springs soaking, snowshoeing, or other winter adventures is incredibly easy and worth every kilometer of extra driving. One of the best yet often under-appreciated things about living in Spokane and North Idaho, in fact, is the proximity to interior British Columbia. This lightly-populated, vast expanse of wild mountains, valleys, lakes, and rivers; enchanting yet authentic mountain towns; and destination-worthy resorts, parks, and trails is a wonderland right next door. And it doesn't hurt that Americans are likely to save around 30% on everything in Canada this winter thanks to currency exchange rates.
Daydreaming about Kootenay Pass powder fields, leaving behind cell service and wifi at Whitewater, and navigating frozen Rossland singletrack often inspires me to scold friends for not having a passport or border-friendly driver's license one minute and then keep my mouth shut the next—the latter selfish act driven by the hope that the much-loved Kootenay-Rockies region of B.C. covered by this guide might magically weather many of the pressures of "progress" while the world around us changes, often for the worse.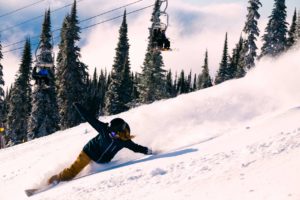 We hope this guide helps you create your own B.C. adventure bucket lists and daydreams. And maybe inspires you to share some wild, wonderous times north of the border with a few of your friends. Or not. We totally understand. //
Originally published as "Our Magical Neighbor to the North" in the Dec. 2019 issue.