Hilarious. Goofy. Useless. Cumbersome. Those were my thoughts when I would see someone hiking with trekking poles back in the late 90's when my love for the outdoors was beginning to take shape. Why would anyone want to lug those things around the forest unless they were elderly or handicapped? Weren't they meant for skiing? I quickly fell into my usual train of thought and assumed that crafty marketing had pulled another fast one on consumers, feeding their constant quest for the next greatest thing to make their lives easier. I was determined not to fall for it.
Then, in late 2001, I was preparing for a thru-hike of the Appalachian Trail, scrolling through eBay, looking for, you guessed it, trekking poles. A well-respected friend had convinced me that they were essential on a long distance hike, so I decided to give them a go. They were titanium—with cork grips, and carbide tips—the Cadillacs of the era. I figured if they were all they were cracked up to be, I might as well go with a quality pair. After all, they had to last the 2,169 miles from Georgia to Maine.
At twenty-three years old, standing in the Georgia rain with 50 lbs. of gear propped up on spindly titanium poles, I nervously questioned my ability to walk all the way to Maine. What had I gotten myself into? It seemed too late to change my mind. Farewells and hugs behind me, I pointed my boots north and began the first of many steps and trekking pole strides up the East Coast.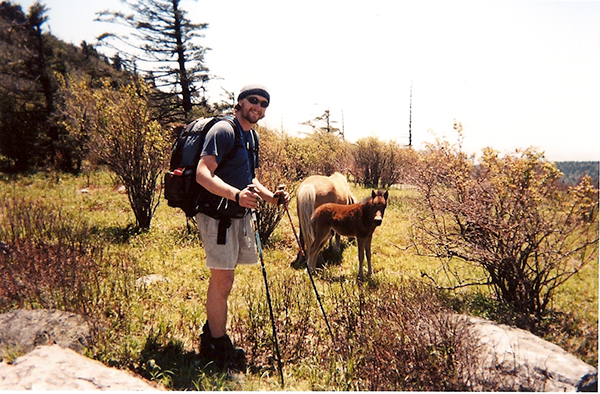 Six months and 10 days later, I summited Mt. Katahdin in Maine after a journey that had changed my life forever. I had worn through six pairs of shoes, two backpacks, and over a million calories. Not only were my trekking poles with me the whole way, but they had also become my all-time favorite piece of gear.
During my AT hike, I witnessed pole-free hikers turn into T-Rex lookalikes with lanky, atrophied arms and tree trunks for legs. Most of them either ended up buying poles or crafting some out of carefully selected branches. Either way, the consensus was that they were nearly essential.
Not only do they give your upper body a workout and relieve some of the "legwork", but they also help you maintain balance while fording rivers or traversing through rocky sections. Climbing an extended steep grade, you can shorten them and then lengthen them on the descent, saving your knees the impact of the extra force.
Nowadays, trekking poles have become more commonplace, and for good reason. With the more prevalent use of carbon fiber, along with avalanche probe design, they have become lighter than ever before—some weigh under a pound for a pair. Even long-distance trail runners are finding them beneficial to carry. However, if you like to travel by foot, chances are trekking poles will help you reach your destination.
Today, I (somewhat embarrassingly) own three pairs. All have their purpose, but only one stands out: My 15-year-old pair that went the distance with me. Covered in scratches and stickers, they will forever remind me of that journey I took up the east coast happily looking hilarious and goofy. // (Erik Prichard)
When Erik Prichard is not writing, you'll most likely find him trail running with his dog Miles searching for new trails. He wrote about mountain biking at night in October.