49° North Mountain Resort
Chewelah Peak Ski Club, founded in 1935, was the first to install a cable tow on the mountain, with permission from the U.S. Forest Service. The two-story lodge was completed in 1950, followed by a double chairlift a year later. By 1968, however, the ski area had closed down, only to re-open two years later as 49 Degrees North, after the Chewelah Basin Ski Corporation took over and made improvements. The ski and snowboard destination as it is known today is due in large part to local entrepreneur John Eminger who, along with his wife, purchased the business in 1996. Within 10 years, Eminger, working with Colville National Forest land managers, expanded the terrain, added chairlifts, created Sunrise Basin, and installed 20 new runs. The Angel Peak development followed in 2009, and its chairlifts were completed in time for the 2013-14 season. Today, on-mountain lodging and living development and year-round recreation opportunities are in the works. Ski49n.com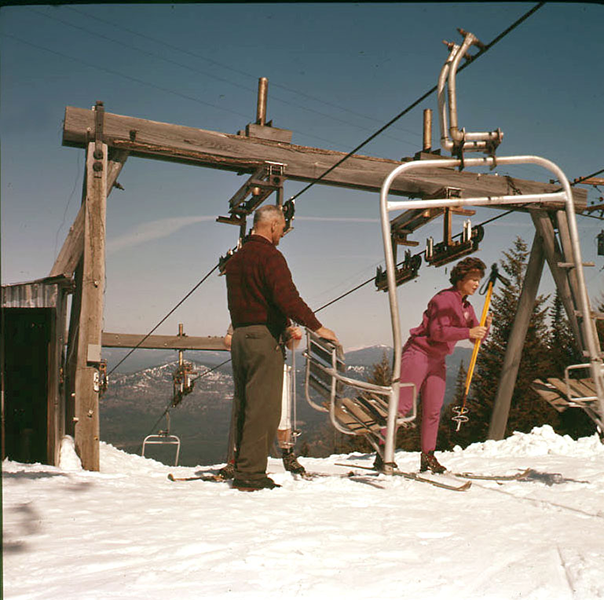 Lookout Pass Ski & Recreation Area
Scandinavian immigrants were the first skiers here and, back then, what is now I-90 was called the Old Yellowstone Highway. The Idaho Ski Club constructed a rope tow for the 1935-1936 winter season. The following winter, the free ski school was created, and in February 1938, Lookout Pass Ski Area officially opened as one of America's original ski areas. By winter 1941, the CCC had built the rustic lodge, and it's now the Pacific Northwest's second-oldest ski lodge that's still operating. Lookout Ski Patrol was the 9th charter member of the newly-formed National Ski Patrol in 1938, making it the Inland Northwest's longest-serving patrol. The first chairlift was installed in 1980, and the ski club oversaw operations until the 1990s. Now owned by Lookout Associates LLC, who added chairlifts and expanded the lodge over the years, Lookout Pass is renowned for its 400 inches of annual average snowfall.  Skilookout.com
Mt. Spokane Ski & Snowboard Park
Originally called Mount Carlton, Mount Spokane became a State Park in July 1927, encompassing 1,500 acres at the time. In 1931, the Spokane Ski Club was founded and with help from the Selkirk Ski Club and Spokane Mountaineers, the groups purchased 500 acres and created rope tows, a small jump hill, and a lit hill for night skiing. Also during the 1930s, roads and trails were built by the Civilian Conservation Corps, Cook's Cabin was completed, and the Vista House was built by a private contractor. The Mount Spokane Ski Patrol was founded in 1938, and today it claims to be one of the nation's largest all-volunteer patrols. In 1946, the Mt. Spokane Ski Lift Association installed the "World's First Double Chair Lift" on the south face. After a fire destroyed the original Grand Lodge in 1952, Lodge 1 and Chair 1 opened a few years later, followed by Lodge 2 and Chair 2 in 1961. The alpine ski area was overseen by the Mt. Spokane Ski Corporation until 1997 when the non-profit organization Mount Spokane 2000 took over concessionaire operations. Find more historical resources at Mountspokane.org and more info about the ski area at Mtspokane.com.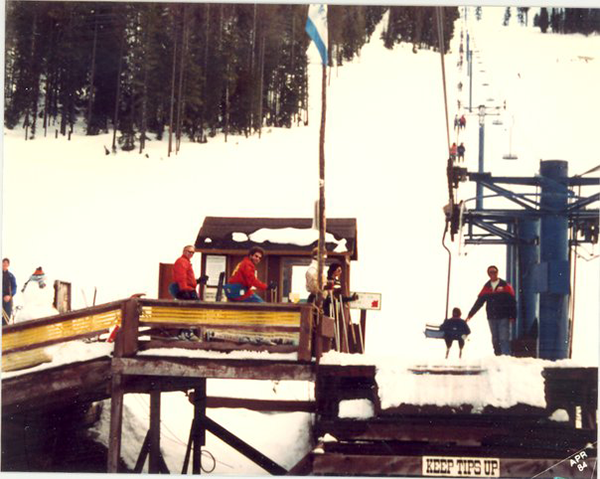 Silver Mountain Resort
Long-time locals may remember Jackass Mountain—the location of Noah Kellogg's old Bunker Hill Mine—which operated as the Jackass Ski Bowl from 1968 to 1973. The moniker reputedly came about because of the horrible condition of the summit road. The City of Kellogg took over management in 1984 and renamed it Silverhorn Ski Area. In 1990, once the gondola was ready, it was renamed Silver Mountain. Six years later, Eagle Crest Partners purchased it and transformed the area into a resort, creating the Gondola Village, Morning Star Lodge, a 9-hole golf course, and Silver Rapids Indoor Waterpark. Last fall, long-time Silver Mountain visitor Tryg Fortun, from Seattle, purchased the resort. silvermt.com //
Amy McCaffree plays in the snow with her husband, two children, and husky. She is Out There's special section editor and wrote for the Family Winter Sports Guide in the October issue. Follow her adventures on Facebook @AmyOutdoorsSpokane or Instagram @adventure_amy_spokane.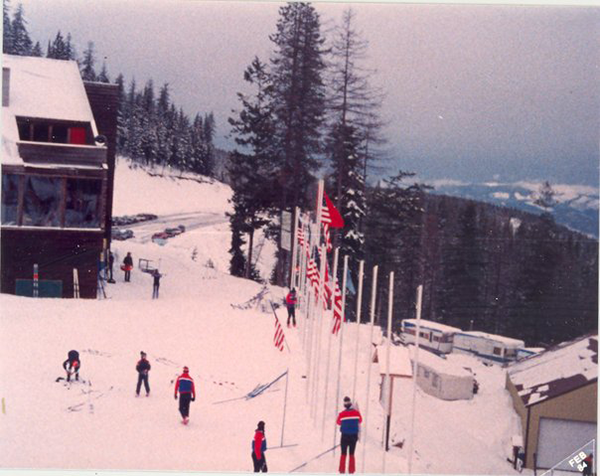 Flashback 1968: Jackass
"The town which was discovered by a Jackass— and which is inhabited by its descendants." This phrase is the unofficial slogan of Kellogg, Idaho, according to the book Silver Valley by Arcadia Publishing. It references a day in 1885 when a miner named Noah Kellogg lost track of his mule, only to find she had stumbled across ore and what would be the future Bunker Hill and Sullivan mines. In 1968, a ski-resort opened and was named in honor of Kellogg's original founder: Jackass Ski Bowl. Although Jackass Ski Bowl only lasted about five years before changing ownership and its name, some of the locals continue to call the resort by its original moniker. Jackass has become almost a term of endearment to those who cherish the Inland Northwest's best-kept wintertime secret and its colorful history.