Learning to ski at any age can be intimidating, but kids often have an easier time of it due to their inability to fear the consequences of failure. Nonetheless, about three seasons ago, I decided that I was going to learn to ski. After an unsuccessful first attempt that included bombing down the bunny hill and narrowly missing the unfortunate pack of children who ended up in my path, it occurred to me that I might not be a natural on skis. A grand finale that included face planting in the snow confirmed my hunch.
Also during my first week on skis, I made the mistake of following my friends down a top-to-bottom blue run because they assured me I was ready. Needless to say, I was not ready, and my confidence on skis took a serious hit. While some people may have an unwavering confidence that enables them to strap on a pair of skis and ski black diamonds within their first week on snow, most of us need a little confidence boost from time to time. I got a few pointers from a friend who learned to ski before she could walk, and fortunately my subsequent attempts went a bit better.
Pizza and French fries only gets you so far, and, as I learned, friends don't always make the best instructors. No matter how patient they may be, there's only so many times they'll go down the bunny hill with you. After all, they paid to ski, not babysit. If I was ever going to graduate from greens, I needed to learn some control, so the following season I decided to take a couple of lessons at 49 Degrees North. I chose 49 because it's close and has plenty of beginner-friendly terrain. It was a good choice, but I'll admit—
the first ski lesson didn't exactly go as I envisioned. Instead of skiing black diamonds, I was on the bunny hill using only one ski at a time to descend the mountain. If you need a visual, picture a flamingo on skis flapping their way down the mountain.
I won't lie and say I didn't question what on earth I'd gotten myself into, but for whatever reason, I decided to stick with it. More lessons followed, and some of them seemed ridiculous at the time; but, ultimately, these lessons made me a better skier. While I still wasn't skiing black diamonds, I did graduate from pizza and French fries. It turns out the thing I needed most was a few pointers and a large dose of confidence.
Like any sport, you will eventually reach a point where you seem to plateau with no forward progress regardless of your skill level. Sometimes this is because you don't have the skills or you haven't developed the necessary muscles to progress, but in my experience, it's usually due to a lack of confidence. And the best way to get over a lack of confidence is skiing with someone who's paid to tell you how great you're doing. I firmly believe that lessons are beneficial regardless of your experience level. After all, even the best skiers have coaches. //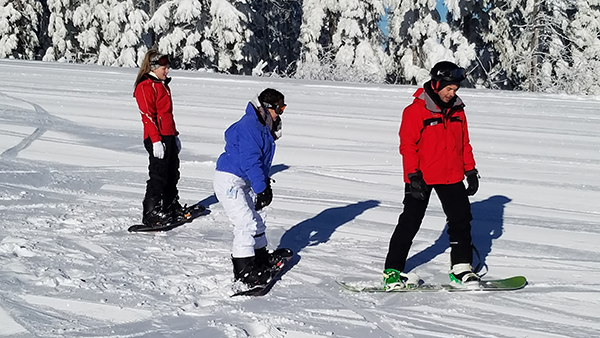 Improve Your Skills—Take a Lesson This Winter
49 Degrees North offers private lessons for any ability level. If you purchase four lessons at once, you receive the fifth for free. If you're learning with a group of friends at the same level, you can add up to four people to the lesson for $39 per person. In addition to private lessons, Mt. Spokane offers ladies only lessons on January 12, February 9 and March 2. These lessons include lift tickets, rentals, and a continental breakfast and lunch all for just $89.
Lookout Pass is well known for its beginner-friendly terrain. Their private lessons are suitable for all skill levels, whether you're a skier, snowboarder, telemark skier, or cross-country skier. Lookout also offers senior workshops for those 55+. Silver Mountain offers both group and private adult lessons with the convenience of a gondola to take you from car to slope without having to travel slippery mountain roads. //
January is Learn to Ski & Snowboard Month
Get on the Slopes with These Sweet Deals!
Each January, resorts around North America celebrate Learn to Ski and Snowboard month. Local resorts are once again offering amazing deals to help entice people of all ages, kids to adults, who have never given skiing or snowboarding a try to make this year the year they are going to finally learn. Check out these great learn-to-ski or snowboard deals from the four local Ski the Northwest Rockies resorts (49, Lookout, Mt. Spokane and Silver).
EZ Ski-Ride 1-2-3
All four Ski the Northwest Rockies resorts participate in an EZ 1-2-3 program designed for first-time skiers and snowboarders. This program includes three lessons, three lift tickets, and rentals for those three days. It's a great opportunity for anyone at any age to learn to ski or snowboard for the first time with others at the same skill level. Many of the resorts also offer either a free or discounted season pass for the rest of the season once you complete the program. Learn more at Skinwrockies.com/ez-ski-ride-1-2-3.
Introduce a Friend to Skiing or Snowboarding & Win Prizes
If you are a loyal skier or rider at one of the four Ski the Northwest Rockies resorts (49, Lookout, Mt. Spokane and Silver), bring a friend to your favorite resort for lessons from a pro and enter to win a ton of great winter-sports prizes all while helping spread your passion for your sport.
Presented by Snocru, the Bring a Friend Challenge starts during Learn to Ski & Snowboard Month on the weekend of January 5 – 7, 2018, and runs through February 18, 2018. Enter to win some great prizes from HEAD, Rossignol, Lange, Seirus, Polarmax, Krimson Klover, Never Summer, and Zeal Optics. And you get a free membership to the Mountain Sports Club, which offers members awesome lift ticket deals at resorts around the Inland NW and North America, with your Challenge entry.
The contest is open to anyone 13 years of age or older who wants to bring a friend up to the mountain who has never skied or snowboarded before to try it out and take a paid ski or snowboard lesson from a pro (proof that the newcomer took a beginner lesson is required to enter). You can enter as many newbies as you want for more chances to spread the stoke and increase your odds of winning prizes. Find the complete set of rules and the contest application form at Skinwrockies.com/learn-a-snowsport-month. //
Siobhan Ebel can't wait to hit the slopes this season. She most recently wrote about fall hiking in the October issue.