In the January issue, Out There Monthly announced a new program, the Team OTM Challenge, which encourages our readers to complete at least one participating race each month from May through October. We're working with race directors of more than 30 events (and counting) in 2016 to provide a diverse selection of runs, rides, triathlons and other adventure races.
Since announcing the program, we've received enthusiastic feedback as well as a few questions. We'd like to address a few perceived participation hurdles.
Hurdle 1: I'm not sure I want to do six events / I'm not available to participate all six months. No worries! Create a modified challenge for yourself instead. For example, you might choose to participate in a couple of events as an athlete and then a couple others as a spectator or volunteer. The number of races you actually do is up to you; we just encourage you to challenge yourself over those six months as best you can. This program is perfect for people who want to work their way up to more challenging races or distances over the course of six months.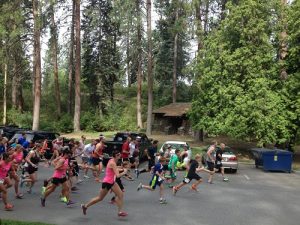 Hurdle 2: I want to do more than six events. Good for you! As a Team OTM Challenge participant, you'll receive discount codes to ALL of the participating races, and you can use as many of them as you like throughout the six-month program.
Hurdle 3: I'm more comfortable running on roads than trails. Our program has plenty of both. Pavement pounders can enjoy the Windermere Marathon and Half Marathon, Dad's Day Dash 5K, Foothills Scenic Five, and Spokane to Sandpoint Relay. And if you're a triathlete, check out the Troika Triathlon, Wunder Woman Triathlon and Valley Girl Triathlon.
Hurdle 4: I never want to run on pavement again. This is a great opportunity to try a trail race, such as one of the Trail Maniacs events, the Priest Lake Multisport events, the Kaniksu 50 Ultra, the Kootenay Sufferfest events, the Happy Girls Run Spokane (mix of dirt and paved trail) and several more — even the Bare Buns Fun Run is on packed dirt rather than pavement!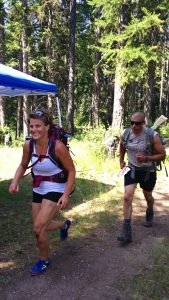 Hurdle 5: I'm not sure it's worth the money. In addition to your swag bag, which includes more than $200 in free passes, samples, services and coupons, as well as a gender-specific tech shirt, you'll receive discount codes to more than 30 local events for 10-30% off registration prices. For big races like the Spokane to Sandpoint Relay, as long as at least three team members are Team OTM participants, you'll save up to $450. Or explore the trails to the north with the Priest Lake Spring Run, Marathon and Smokechaser 50K and save up to $50. Or experience the excitement of the Trail Maniacs and save up to $30. (And that's only a few of the footraces – never mind the bike and triathlon events!) We'll also treat you to a kick-off event in April and a wrap-up event in November, and we'll buy you beer both times. Ultimately, one of the most priceless benefits of the Team OTM Challenge is the encouragement and motivation you'll receive on the course from your friends and teammates.
Hurdle 6: I'm not sure I want to try this by myself. Then gather some friends, sign up as a 4-person team, and save an additional 25% while you're at it. But rest assured: Even if you arrive at the kick-off event without knowing anyone, you won't leave that way.
Hurdle 7: I'm intimidated by crazy outdoorsy people. Our enthusiasm for being active in our beautiful Inland Northwest outdoors is hard to contain sometimes, it's true. However, our enthusiasm for introducing new people to an active, outdoor lifestyle is even greater, and you won't find a friendlier, more welcoming group than Team OTM.
By the time our first race starts in May, you'll already be in shape for – or inspired by – Bloomsday. Keep your momentum going and join the Team OTM Challenge! For more information, email TeamOTM@outtheremonthly.com or visit www.outtheremonthly.com/team-otm-challenge. //