As an experienced female skier, I'm sad to report that although it is the year 2016, the women's ski selection is still very much indicative of a male-dominated industry. True, companies will put out a model or two for women, but most skis are designed to appeal to men. If I hear "Don't worry, it comes in a shorter size" one more time, I'm going to scream. Especially at the price point we are talking. That isn't to say that I've given up all hope. I haven't. The good news is there are young companies like Coalition Snow, a for-women, by-women company, popping up on the scene (their sassy catchphrase is "We make women's skis and snowboards that don't suck!"). Even better, Sneva MFG, based right here in Spokane, has been hand-making custom skis for both genders for decades now. I discovered Sneva skis five years ago, and I've been riding nothing else since.
I'm ecstatic about my newest pair of Snevas, still warm from the press with my very own design smoldering back at me from the topsheets. I have a particular taste in my boards and frankly, I want a ski that isn't available on the market for women right now. My ideal ski is large and in charge (180 cm and 106 mm underfoot – I'm 5'5"), but also soft and playful. It has just the perfect amount of tip and tail rocker to float through deep pow turns but also stick to the hardpack between storms. And unlike the many overly rockered models out there, Sneva ski tips do not flap on the cat track (a personal irritant of mine). Oh yeah, and I want custom blues and yellows on the topsheet that match my bindings and make me grin like an idiot when I look at them. This is everything I want in my ideal all-mountain ski, and that's what I get in this CCB model ski. It's about the same retail price as a typical high-end ski (retail is $749 for a custom pair), and mine are made locally, which is important to me.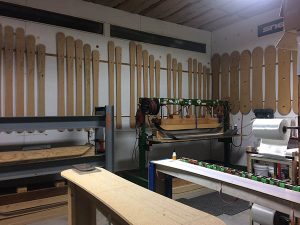 TJ Sneva owns Sneva MFG. When you open the doorway to his shop you are greeted by the warm, dry smell of wood as well as several rows of racing trophies that wink at you in the shop lights. The floors are spotless and the shop is impeccable. This is where the magic happens. The trophies are from Sneva's time as an Indy car racer back in the day and are the inspiration for his recognizable ski logo: a skull bookended by two checkered race flags. Racing Indy cars runs in the Sneva blood and TJ is a third-generation racer. The racing theme is a nod to Sneva's heritage as well as his need for speed. He built his first pair of skis in 1994 on a press his grandfather helped him craft, and the walls of his shop are lined with more than 40 templates for all the skis, snowboards, snow skates and wake skates (yes, he makes those too) he offers his customers. Self-taught and industrious, Sneva not-so-jokingly credits high school wood shop as "the best class he ever took." He makes approximately 1,000 pairs of skis and snowboards a year and yet there are no skis or boards for sale on his website. This is because every single pair is 100% customized to the buyer after a one-on-one consultation with Sneva.
Sneva is passionate about what he does and it clearly resonates through his craft, which you can see firsthand during a shop visit. That's exactly what 14 lucky ladies (and one cool dad who brought his daughter) were able to do recently at an all-women shop tour and ski build demonstration, co-hosted by SheJumps. A 501(c)(3) nonprofit, SheJump's mission is to increase female participation in outdoor activities. You may have seen SheJumps's recognizable "Girafficorn" logo around local ski hills. Sneva has been a local sponsor of the nonprofit since it came to the Spokane area, and Sneva MFG was a primary sponsor of the Get The Girls Out event at Schweitzer Mountain in February.
During the shop tour and ski build demonstration, Sneva smoothly navigated our group through an in-depth tour of ski construction as well as the entire ski discovery and customization process. It was especially exciting for me because the skis he used for his demonstration and actually completed in front of us were my newest pair. It's remarkable to watch a craftsman complete every careful step in creating the ski of your dreams and then have the sensory experience of tracing your fingers over your fresh planks, still warm to the touch, and the air still thick with the smell of them. I can't think of anything better — other than gliding down the mountain on them once they are mounted up and ready to rip. I'm heading to Revelstoke to break them in. I'll let you know how it goes.
Written by Anna Twohig