The Spokane Bike Swap on April 8 at the Spokane County Fair and Expo Center will bring together everything riders need to prepare for a year of biking. More than a thousand new and used bikes for sale priced anywhere from $25 to $3,000 hang from bike corrals in the consignment area. Anyone seeking to sell their bike at the swap can register it for $5 in advance of the event — or they can donate their bike to benefit the Friends of the Centennial Trail.
Vendors with accessories, apparel, and gadgets set up booths in the next room, alongside organizations that organize group rides, provide trail and route information, and help riders plan their commute or discover new opportunities for recreational riding. An STA bus parks right inside the building so new riders can practice safely loading their bike onto the bus. As the Bike Swap enters its sixth year, we chatted with founder LeAnn Yamamoto, Transportation Demand Management Director at Spokane County's Commute Trip Reduction program.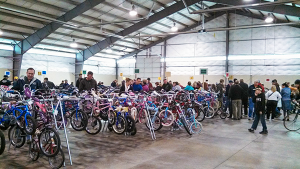 What kind of bikes can we expect to find at the swap?
It's mostly used bikes. Our sellers are often people who want to sell their bike or upgrade to another bike.
What price range can visitors expect for the bikes on consignment in the bike corral?
The ranges are huge because we do sell all kinds of bikes, so we sell kids' bikes all the way up to triathlon bikes. The average price range is $100 to $300.
What inspired you to start the Spokane Bike Swap?
Feedback from our Commute Trip Reduction coordinators. They wanted something like what the ski swap did that would give them the opportunity to reach out to their employees and give them the tools to get ready to commute.
How does the swap help bicyclists prepare for the riding season? 
People can come buy a bike, learn about bike rides, and learn about putting their bike on the bus.
How has the Bike Swap evolved over the years? 
It's grown tremendously. Our first year had fewer than 20 exhibitors and we registered fewer than 200 bikes to consign. We sold 160 bikes from our consignment, but we were successful: We raised $10,000 for the Friends of the Centennial Trail. It has grown nearly double every year up until last year. Last year, we registered nearly 1,000 bikes in our bike consignment area, sold more than 700 bikes, and raised $36,000 for the Friends of the Centennial Trail.
What can we expect this year?
Our exhibitors have grown to more than 60. We have nearly every [local] bike shop at our event now. It does give people a one-stop shop if they want to check out different kinds of bikes or learn about different rides. We've expanded our entertainment and education area. Every child under 14 who buys a bike in our consignment area will get a free bicycle helmet and fitting.
Spokane Bike Swap
When: April 8, 9 a.m. – 5 p.m.
Where: Spokane County Fair and Expo Center, 404 N. Havana St., Spokane
Admission: $5 adults; free for kids 12 and under
Find more information at spokanebikeswap.com. //