Lakeside Surf, the world's largest stationary surf wave that opened in Chelan, Wash., in 2021 continues to serve the wave riding longings of land-locked surfers for their third season. While the closest ocean surf spots are a long day's drive from the Inland NW, Lakeside Surf offers a world-class surfing experience just three hours west of Spokane. From April through the end of October, this perfect surf wave is open to all to book public sessions, lessons, and even private group sessions for you and a few friends. Book a session and see for yourself why so many surfers make the return trip over and over again each season.
How the Wave Works
The wave at Lakeside Surf is more like a river wave than its ocean counterparts in that it is a stationary feature built into the pool that stays put while water rushes past you. Starting on the edge of the pool standing on the board, you can ride out into the wave and cut back and forth across the wave once you get the hang of it. According to Out There contributor and avid surfer Phil Linden, the Lakeside Surf wave is "fun, fast, and rippable." Lakeside Surf, adds Linden, "is a surf lab in which you can hone your craft in an environment that is free of the constraints of river levels, tide, wind, swell direction, cross chop, and dark of night." Read Linden's 2021 full review of the wave in Out There here.
Lakeside offers both beginner, advanced, and "anybody" wave sessions for surfers 10 years and older. All equipment, instruction, and some coaching is provided.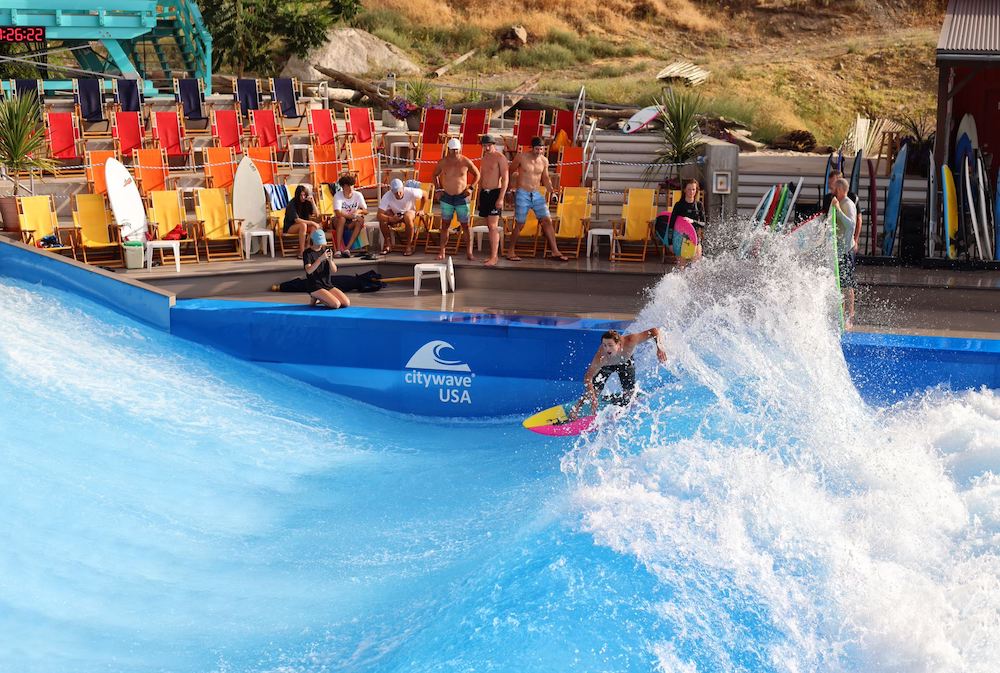 What's New at Lakeside Surf for 2023
Lakeside Surf draws ocean surfers, wake surfers, and river surfers of all ages and abilities, as well as plenty of people who have never stepped foot on a surfboard before. And for their third season, the Lakeside crew has ushered in a few welcome changes to an already highly lauded surf experience, says manager and globe-traveling ocean surfer Jared Eygabroad.
New this year, there's a software upgrade to allow the wave to be tailored to different groups and ability levels. They also added a brand-new, massive movie screen right above the hot tub, says Eygabroad. "The plan for the screen is to offer a delayed live feed so surfers can watch their wave and work with a coach to see where they can improve." Eygabroad envisions surf movie nights happening in the near future too.
Session packages have also changed for the better for 2023. "We use to offer half hour sessions and found that right about at the half hour mark things were just starting to click for beginners," explains Eygabroad. "The new 45-minute sessions provide a much better beginner experience."
The Wave Lineup & Best Time to Book a Session
Starting Memorial Day weekend, Lakeside Surf is open daily through Labor Day weekend, with weekend hours continuing through October. Surfers can book sessions online and view the calendar to see day and time slots that have openings. Each public session includes a maximum of 12 surfers, with an average wait time of five minutes or less between rides, says Eygabroad. "One of the best times to maximize time on the wave are morning sessions in early June before school gets out," he says. Shoulder season, including the fall weekend schedule, can be hit or miss too, he adds, with either fully-booked sessions or plenty of openings. Summer is great for families where everyone may not want to or be old enough to surf, given that the connected Slidewaters water park is a kids' dream. And the surf wave is always open for spectators to come watch at no cost.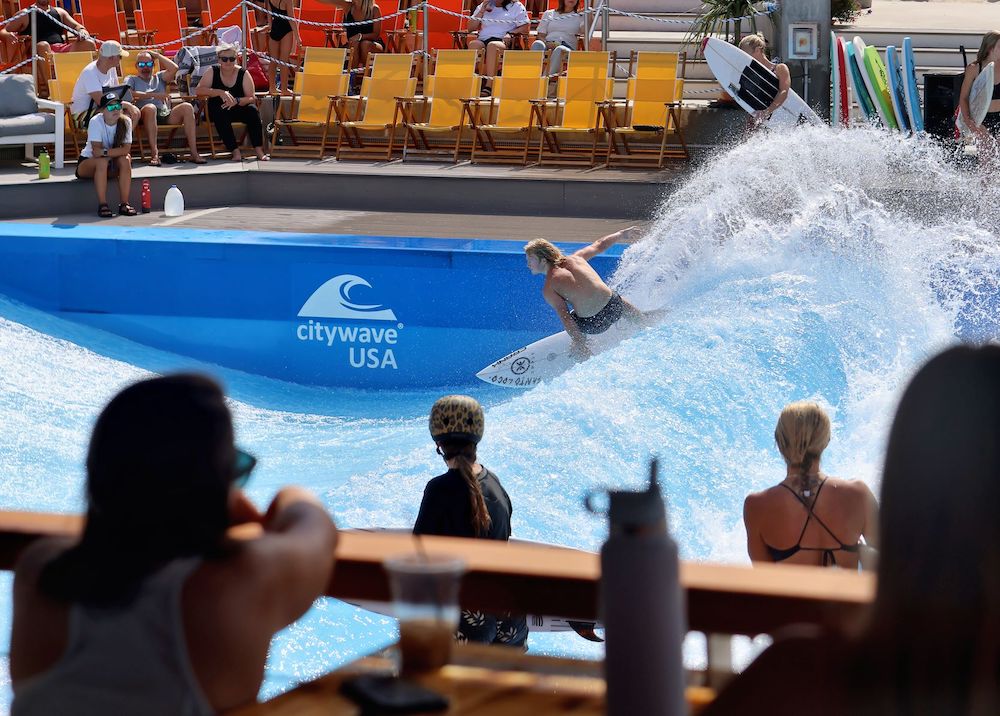 Catering to the Surf Culture Experience
No surf spot would be complete without a local surf shop, and the Lakeside Surf shop has a range of surfing gear, high-performance boards, and surf outerwear. There's also a taco truck, a BBQ pork sandwich station, and a bar where you can grab a drink and watch the other surfers. There's also a volleyball pit, horshoes, and cornhole tournaments every Thursday night throughout the summer. Admission to Lakeside Surf is free to come in and watch surfers and grab a coffee, beer or plate of tacos.
Lakeside Surf also plays host to an international surfing competition. The Continental Surf Cup brings man-made wave surfers from Europe to compete against Team USA, which includes several Chelan-area surfers including two of Eygabroad's sons. This year's event is set for Labor Day weekend and promises excellent spectator opportunities with pro-level surfing including carving, tricks, and airs, explains Eygabroad.
Pre-book your 12-person or private sessions at Lakesidesurf.com.
(Sponsored Content)