By Phil Linden
Lakeside Surf, the new surf wave on the shores of Lake Chelan, is the world's largest stationary wave located on hills above the lake at the Slidewaters water park. The surf wave works like a river surfing wave, where the wave feature, built into the pool, stays put and the water rushes past you as you ride back and forth across the pool. And rest assured that stationary wave is fun, fast, and rippable.
Both times I visited this spring, surfers were all smiles and eager to get back onto the pool deck to catch their next wave of engineered perfection at the end of every ride.
I got my first introduction to Lakeside Surf at a pre-opening press event, where local rippers and aspiring international super-stars were showing what is possible. Airs, 360s, and round house cutbacks were performed by some of the greatest surfers in the Northwest and beyond. By the end of the weekend my legs were burning, my stoke was high, and I had already pulled out my credit card to book additional sessions for opening weekend.
It would be a couple of weeks before I was back at Lakeside Surf for my newly purchased surf sessions, and so I headed to the Pacific Ocean to surf my usual spot. Instantly I noticed my cutbacks and top turns were stronger and I was looser rail to rail as a result of my Lakeside waves. I couldn't believe how much my Lakeside wave time transferred to better ocean surfing.
Learning to surf is difficult, and it's a life-long pursuit. For most of us, the time that the board is actually under your feet and you are engaging the fins into a wave is somewhat limited. So the concept of being able to 'practice' and get feedback to make improvements can be fleeting.
Lakeside Surf is a surf lab in which you can hone your craft in an environment that is free of the constraints of river levels, tide, wind, swell direction, cross chop, and dark of night.
As my next Lakeside Surf sessions approached, I contacted four friends of different surfing abilities to join me on the pool deck for a weekend of fun. It was surf day again at Lakeside, and I waited in the hot tub overlooking the wave and the snowcapped North Cascades.
One by one I saw my friend's disbelief that we were going to session the longest standing wave in the world for the better part of the day.
Easy entry onto the wave from the side of the pool allowed my pals to begin to improve rapidly. They quickly corrected their board's trim, got their feet in a more aggressive location, and began to make the transition to surfing rail to rail. Each subsequent ride gave way to pumping down the line, top-turns and cutbacks, only to see the 50 feet of green face open back for more and more turns.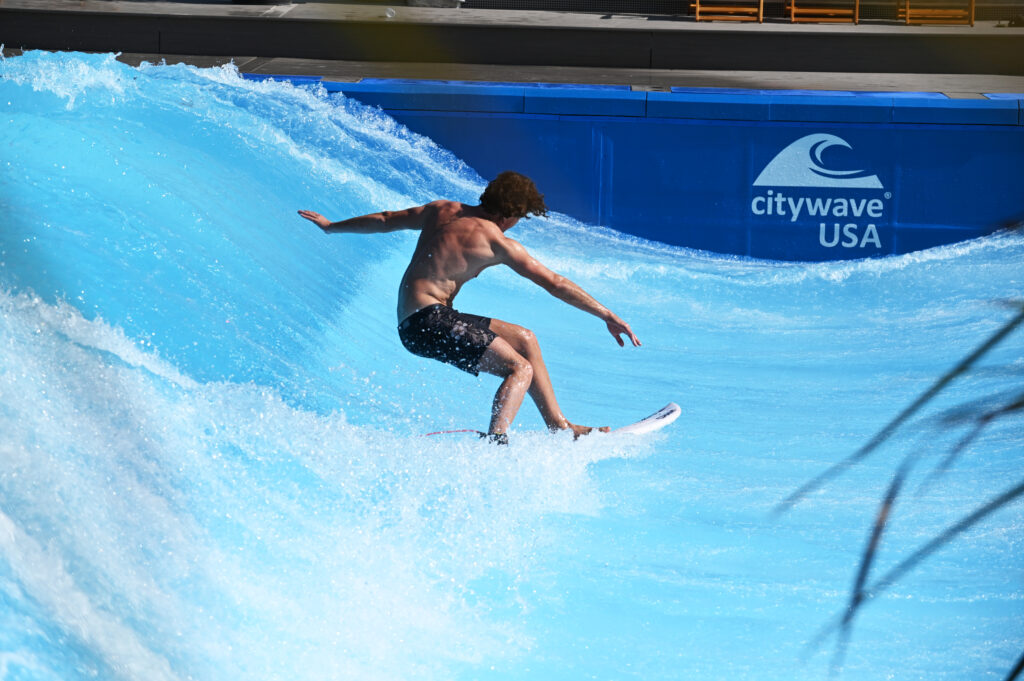 That day on the pool deck the pros were replaced by aspiring surfers, wake boarders, and snow enthusiasts; everyone was happy and rallying.
The wave at Lakeside Surf is fun for everyone from beginners to seasoned wave riders. Staff on the edge of the pool offer assistance and tips, and boards are provided as part of your paid 45-minute surf sessions.
Pre-book your 12-person or private sessions at Lakesidesurf.com.
Learn more about lake destinations and recreation in the 2021 Inland Northwest Lake Guide.