Sometimes kids need a carrot—a motivator—and that carrot is better if it's cold and sweet. Who would say "no" to a biking route that stops along the way at an ice cream or frozen yogurt shop? Or an out-and-back ride that ends at one? These regional paved bike paths offer sweet "carrots" for your kids.
Coeur d'Alene, Idaho
Sandpoint, Idaho
Sand Creek Trail: Connects the cities of Ponderay and Sandpoint and travels by the entrance to City Beach.
Long Bridge Trail: At the south end of Sand Creek Trail, this bike path leads past "Dog Beach" (off-leash sandy beach) and across Lake Pend Oreille over the Long Bridge (2 miles).
Sandpoint-Dover Community Trail: This rail trail leads 2 miles west to Dover and beyond from its start at Larch and Fifth in Sandpoint.
Sandpoint's downtown district includes these locations serving ice cream and/or frozen yogurt: Murphy's (130 N. 6th Ave), Cedar St. Bistro & Espresso Bar (334 N. First Ave), and Panhandle Cone & Coffee (216 N. First Ave).
For more trail information, visit Pend Oreille Pedalers.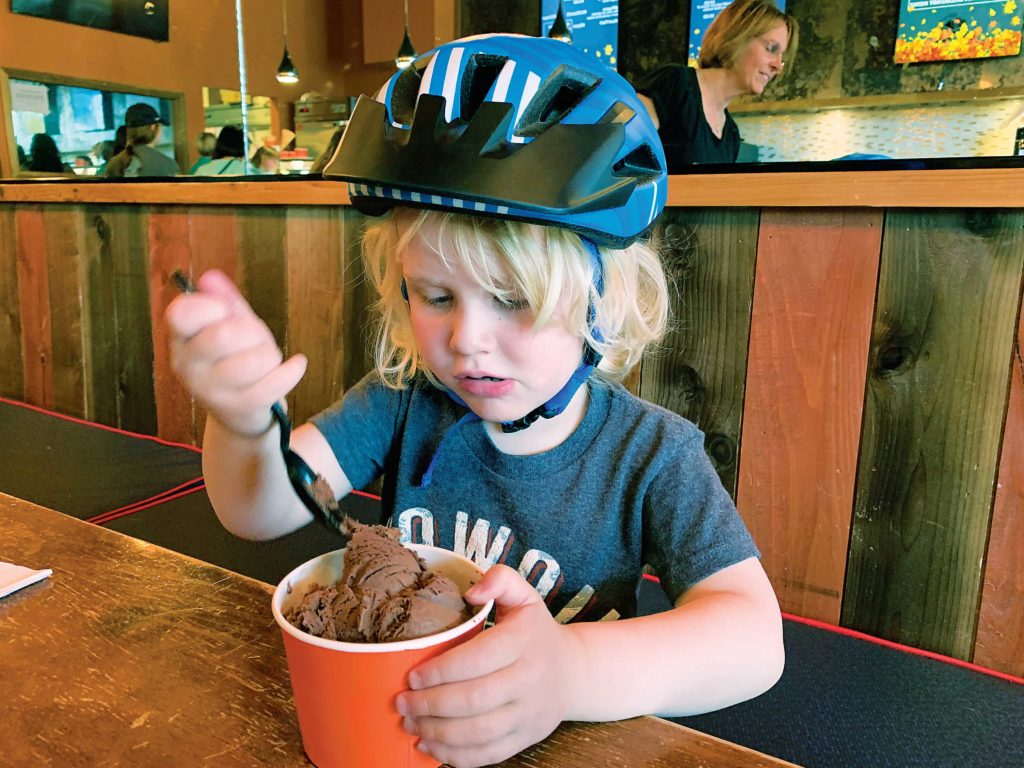 Spokane River Centennial Trail
Trail of the Coeur d'Alenes
Silver Valley: Ride between the cities of Kellogg and Wallace and stop at The Bean in Kellogg (448 Railroad Ave) for ice cream, smoothies, or milkshakes.
Ride to Harrison: Start at the trailhead at the Lake Chatcolet Day-Use Area at Heyburn State Park in Worley, Idaho, where the Shadowy St. Joe bridge divides Chatcolet from Lake Coeur d'Alene. It's about a 9-mile one-way ride to the Harrison Creamery and Fudge Factory (206 Coeur D'Alene Ave)—it typically opens in May by Memorial Day weekend. You can also start your bike ride east of Harrison from one of the four trailheads accessible off Highway 3—Springston, Medimont, Blackrock, and Bull Run trailheads.
Review the trail map at Friendsofcdatrails.org and plan an excursion best for your children's ages and riding abilities.