A lot has been canceled this year due to the pandemic: school, trips, reunions, weddings, summer camps, business conferences, getaway weekends, the list goes on…and on…and on. Thankfully, one of the activities deemed relatively safe is camping, rated low risk by a panel of infectious disease and public health experts in the NPR piece "From Camping To Dining Out: Here's How Experts Rate The Risks Of 14 Summer Activities." With a few extra precautions, a camping getaway might be exactly the breath of fresh air you need right now.
Know Where You're Going
When it comes to travel, the Center for Disease Control advises staying close to home and avoiding crowded areas. As schedules permit, consider camping mid-week versus over a busy holiday weekend, for instance. If you decide to leave your local area, check for state and local guidelines that may require staying home for 14 days after traveling. Read health and safety guidelines of the area where you'll be camping, as well as what's posted on the campground's website or social media pages. Review the rates of infection near where you'll be camping and of your home area to make respectful decisions about whether this is the right time to adventure.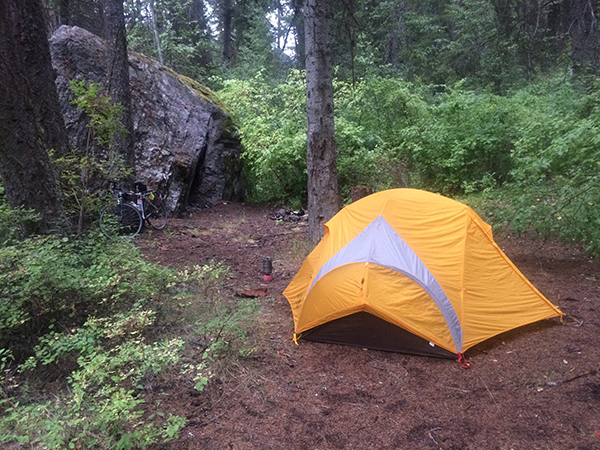 Choose Companions Wisely
The lowest risk scenario is camping with members of your immediate household. The CDC recommends wearing cloth face coverings to help slow the spread of coronavirus. When joining with other household units, consider whether they've been social distancing and following the guidelines for your area, as well as whether anyone holds a high-risk job or will be coming into contact with those more vulnerable due to age or health issues. Note that physical distancing protocols are still in place across the country, and don't travel with anyone who is sick or if you've had contact with someone with COVID-19 in the past 14 days. When joining with those outside your household, avoid sharing food and drinks and remember that outdoor activities are lower risk than indoor ones. Aim to transport household units in separate vehicles, and plan to sleep separately versus piling into a shared tent or RV.
Be Smart About Shared Spaces and Sanitation
Check with your campground for details about cleaning procedures and requirements for shared facilities (bathrooms, outdoor kitchens, water spigots, etc.). Bring your own disinfectant wipes or sprays plus cloths or paper towels to sanitize shared hard surfaces, following instructions on disinfectant to ensure it sits long enough to be effective. Pack wet wipes and hand sanitizer to use when handwashing isn't realistic. If well-maintained bathroom facilities are available, wash hands frequently. If they are open, consider visiting shared areas like beaches and picnic spots at off-peak hours to minimize potential exposure (and wash hands or use hand sanitizer afterward). Maintain 6-foot spacing between yourself and members of other households. For an added measure of safety, bring a mask to wear when close proximity to others is unavoidable.
Stock Up in Advance
Plan meals and snacks in advance, and shop for what you'll need in your own neighborhood rather than out of town.
Follow COVID-Era Trail Etiquette
Best practices include keeping a 6-foot distance between those from other households. If that's not realistic, plan to return at a lower-use time. When passing others, face away as you come into close proximity (although of course you can still give a friendly hello or wave!); those ascending typically have the right-of-way. Be sure to pick up your own trash—both to avoid the potential spread of germs, and because it's just the right thing to do.
For more outdoor recreation safety tips, see this story from our June 2020 issue about #RecreateResponsibly guidelines.
Originally published as "Stay Healthy While Camping During COVID" in the July-August 2020 issue.
[Feature photo: Jumping into Lake Pend Oreille by Amy McCaffree.]