Like some people, wildlife get winter-weary too. Fortunately there are plenty of opportunities for both to bask in the warming temperatures of early spring.
A transition zone between the Cascades and Rocky Mountains, eastern Washington's low-elevation wetlands, rivers and forests provide the perfect habitat for a rich array of plant and animal life, including some of the state's only breeding populations of loons as well as bald eagles and osprey and one of the greatest diversities of owls and woodpeckers in North America. These hikes provide superb wildlife watching in addition to being reliably hikeable by early spring, so you can stretch your legs while watching critters stretch theirs.
Turnbull National Wildlife Refuge, Cheney, Wash.
Turnbull National Wildlife Refuge protects more than 18,000 acres of landscape scoured by the millennia-old Missoula Floods, which left behind shallow "pothole" ponds, literal oases for more than 200 species of birds that make the refuge a rest-stop or year-long residence. A nearly 6-mile roundtrip to Stubblefield Lake samples the bird-watching bounty at the refuge, including the shallow muddy shoreline of Stubblefield Lake, the frog-thronged Headquarters Pond and the turtle haven of Pine Lake. In addition, the hike offers up expansive wildflower meadows later in the season and a thick ponderosa forest, the latter of which provides refuge to a sizable elk population. Moose frequent the shallow marshes of the refuge's interior, as do a variety of waterfowl. Scope the wetlands for tundra and trumpeter swans, the latter perhaps the most beloved of refuge residents.
Getting There: From Spokane, take Interstate 90 west to exit 270. Drive six miles west on State Route 904 to Cheney. From the downtown traffic light proceed 0.4 mile. Look for the "Turnbull National Wildlife Refuge 4 miles" sign. Turn left onto the Cheney-Plaza Road and drive 4.25 miles. At the big refuge sign, turn left (South Smith Road) and proceed two miles to the refuge headquarters. The trail begins opposite the office at the far end of the parking lot.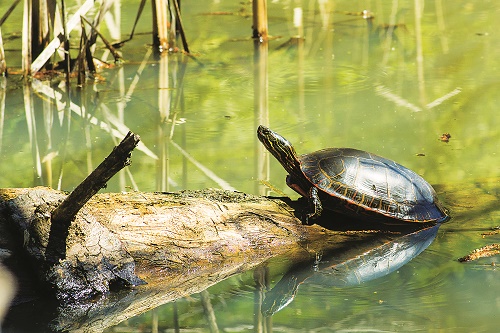 Slavin Conservation Area, Spokane, Wash.
Close to town, hikers can get in some early-season conditioning while spotting wildlife in Slavin Conservation Area. Purchased by Spokane County as part of its Conservation Futures program – an immensely popular and forward-thinking property tax levy that has preserved over 7,000 acres of open space in Spokane County – Slavin Conservation Area protects over 600 acres of rolling fields, pine-forested buttes and wetlands just minutes south of Spokane. Slavin Conservation Area is a link in the winter migratory flyway for many birds; hikers are likely to spot ducks, geese and owls on their early-spring forays. The open pine and aspen forest shelters foxes, coyote and deer. (Incidentally, ticks are common here and may be out early this year; take proper precautions.) The area is also popular with equestrians and dog-walkers, and numerous user-created paths wind through the woods; hikers can sample a five-mile loop that circumnavigates the lake at Slavin's core. Blue camas blooms in mid-spring provide a colorful bonus.
Getting There: From Spokane, drive west on Interstate 90 one mile to the Colfax/Pullman exit 279. Merge onto Hwy 195 and travel south on 195 for approximately 8.4 miles. Turn right (west) on Washington Road and travel 0.5 to the 'T' intersection with Keeney Road. Turn right (north) on Keeney Road; parking is immediately on the left.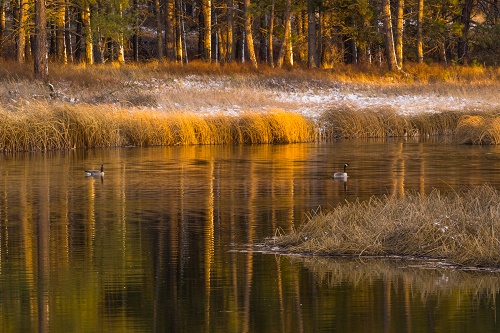 Reardan Audubon Lake Wildlife Area, Reardan, Wash.
There might not be an easier – or better – bird-watching walk in eastern Washington than Reardan Audubon Lake Wildlife Area. Labeled on many maps simply as "Reardan Pond," the 80-acre lake on the north side of Reardan, Wash., has been attracting so many birders to its shallow alkaline shores since the 1950s that it has unofficially earned the name "Audubon Lake." In addition to the unique aquatic habitat, the 277-acre Department of Fish and Wildlife property protects shrub steppe, shallow pothole ponds and increasingly rare Palouse prairie, all magnets for over 200 bird species. Two short paved paths access large, ADA-accessible viewing blinds. From the south access, a 0.1-mile route skirts shore grasses to a small rise. From the north access, a 0.2-mile path tacks across an old field. Both provide impeccable birds-eye views of the lake. And the property just got bigger: In January, the Inland Northwest Land Trust completed a purchase of 150 acres of adjacent private land; pending funding, the Washington Department of Fish and Wildlife will purchase the plot from the INLT, bringing together more than 400 acres of prime bird habitat. Plans to develop a trail system mean birders may soon have even more to crow about.
Getting There: From Highway 2 at milepost 261 in the town of Reardan, turn north onto Highway 231. Turn right at 0.1 mile and follow signs to the south access. For the north access, continue one mile on Highway 231 and turn right at the sign.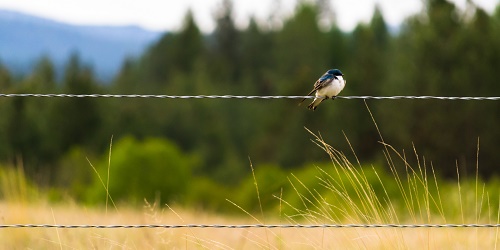 Flying Goose Ranch, Pend Oreille County, Wash.
Tucked in the far northeast corner of Washington, the Selkirk Mountains are arguably the most wildlife-rich pocket of the state. And the Pend Oreille River that meanders at their base serves as feeding and breeding grounds for hundreds of species of bird and beast. Both city and Kalispel tribal leaders have been proactive in preserving the delicate shoreline. Owned by the Kalispel tribe, Flying Goose Ranch protects 440 acres of wildlife and waterfowl refuge – towering black cottonwoods, wetlands, river shoreline and upland forest – along the Pend Oreille River north of Usk. From the fish hatchery, walk 0.5 mile on old roadbed directly to the riverfront or traverse a fallow field 0.7 mile; either direction, scan for western tanager, osprey, bald eagle, great blue heron and warblers.
Getting There: From Highway 20 near Usk, cross the bridge and turn left (north) onto Leclerc Road. Just past mile marker nine, turn left into the tribal fish hatchery parking area; look for the "Palouse to Pines" Audubon sign.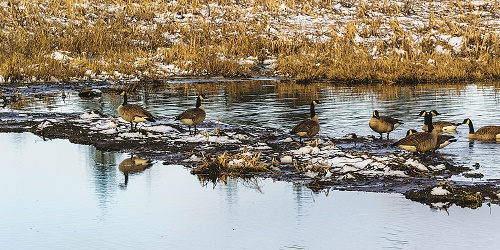 Cusick Wetland Education Site, Pend Oreille County, Wash.
Just north of Usk, the Cusick Wetland Education Site repurposes old flood-prone Diamond Match Company land into a city-owned community park and wetland education area for local schools. The site's shallow marshlands act as a wildlife magnet in addition to protecting the town from flooding. An easy 0.5-mile shoreline interpretive trail explores the waterfowl-friendly wetlands on the shoreline of the Pend Oreille River. Old river pilings make new homes for nesting osprey, while prickly hawthorn plantings hide smaller songbirds.
Getting There:At Cusick, turn east off Highway 20 onto Monumental Street. Proceed about 0.5 miles to river's edge. //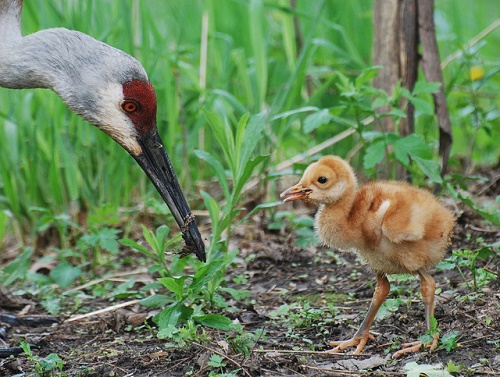 Spring Wildlife Festivals
Two of the region's best birding fests, where you can let the experts help with the avian identification, happen in March.
Pend Oreille Valley Tundra Swan Festival (March 21)
Between mid-February and mid-April, up to 5,000 tundra swans migrate through Washington's Pend Oreille Valley on their way from wintering grounds in the southwest to summer abodes in the Canadian tundra. Celebrate all things swan during the annual Pend Oreille Valley Tundra Swan Festival, co-hosted by the Kalispel Tribe of Indians and Pend Oreille River Tourism Alliance. Participants in this kid- and budget-friendly festival enjoy a bus ride from Usk to privately owned Calispell Lake, a 500-acre swan magnet that has earned it the unofficial title "Swan Lake." Bird watchers can scope Canada geese, northern pintails and wood ducks too, but it's the swans who are the stars here, with their grand and graceful bodies contrasting with cacophonous honks. Wildlife related presentations follow back in Usk. Info: www.porta-us.com.
Othello Sandhill Crane Festival (March 27-29)
Each year since 1998, over 1,000 birders have flocked to the basalt and sage of the Columbia National Wildlife Refuge for the Othello Sandhill Crane Festival to glimpse the nearly 30,000 cranes which stop here each spring on their way to summer breeding grounds in Alaska, enticed by pothole lakes created by the Columbia Basin Irrigation Project. Keen-eyed observers can also spot long-billed curlews and various waterfowl. Attendees enjoy tours and presentations on the area's natural and cultural heritage as well as children's activities. Prepare to be awed by the size of sandhill cranes – nearly four feet tall – and their high-volume honking. Info: www.othellosandhillcranefestival.org. //