Just Over Four Hours from Spokane, Big White Ski Resort Lives up to Its Name
If you are going to pony up the cash for a spring ski or snowboard road trip, make it a good one. Spokane is a ski city with over a dozen quality resorts in four states and B.C. that are within long-weekend striking distance. Whittling down the options may be tough, but if going big (skiable acres, vertical, and snowpack depth) is critical; keeping the drive time down under 5 hours is important; and scoring a ski-in-ski-out place on the mountain is non-negotiable, head north to British Columbia's Big White. Canada's largest totally ski-in-ski-out resort, Big White is only around a 4.5 hour drive northwest of the Spokane County line if you know the right shortcut (see below).
Big White lives up to its name with an average 24.5 foot annual snowfall, 7,355 resort acres, mixed-group-pleasing terrain from beginner to expert, and 2,500 feet of vertical. The on-mountain amenities are also pretty unreal compared to other resorts within a five-hour drive of Spokane: 23 restaurants, pubs, bars, cafes, and even a brewery within ski boot walking distance from one chairlift or another.
Canada's Largest Totally Ski-in-Ski-out Resort Has Plenty of Sweet Ski & Stay Deals
You also don't have to worry if your decked-out condo or budget lodging option will mean driving up the mountain or a shuttle every day to get on a lift. Every lodging option at Big White is ski-in-ski-out, which will spoil you real quick after a few days of stepping outside your dwelling, strapping on your boards, and pointing them towards the nearest ride to the top. Or you may choose to snore for another hour while your significant other sneaks out to catch first chair. A wide range of lodging options and generous ski-and-stay deals mean a Big White trip is within budget reach of most Spokane and North Idaho skiers or snowboarders. An exchange rate that saves those of us from the States an additional 20-25% on everything is pretty sweet too.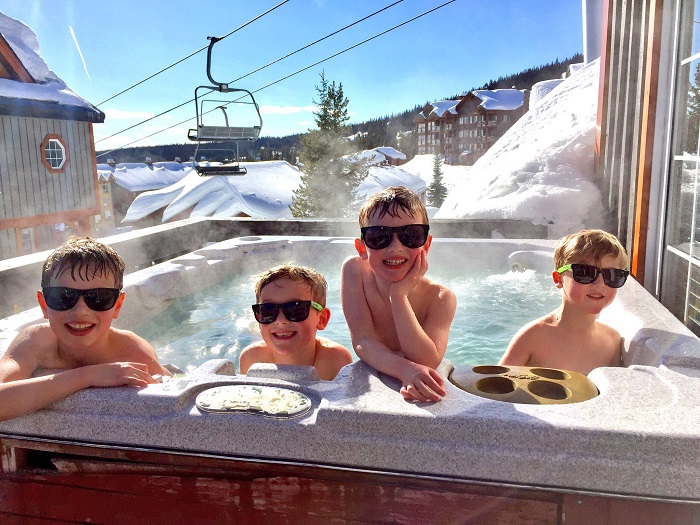 Family-Friendly & Just Plain Super Friendly
Big White doesn't hold back when promoting their family-friendly creds, noting frequently in promotions that the resort is family owned and operated with a friendly atmosphere. But even if you are kid-free or eat black diamond runs for breakfast, don't let the "family friendly" thing scare you off. After a couple of trips without kids, I've found that this simply means that staff and guests treat you like fellow snow-sliding human beings who are stoked to spend time together in such an amazing place. The huge number of friendly Australians and Canadians who go to work and call the mountain home all winter long and the friendly locals from Kelowna really make a ski trip to Big White something you will want to repeat year after year.

Big White Events to Plan Your Spring Road Trip Around
Ales & Après (March 24): Big White's Ales & Aprés Beer Fest gives you a chance to explore the mountain's eateries and bars for some beer sampling from over 25 Canadian and international breweries after a day on the slopes. Your wristband gets you access to nine great venues with beer-inspired appy menus, live entertainment, and plenty of awesome beers. Tickets are $30/per person and include 12 beer tasting tokens, a souvenir mini pilsner glass, a downloadable app with brewery locations, and beer trivia with opportunities to win tons of prizes. And you get a souvenir t-shirt on completion of all stops on the Ales & Après circuit!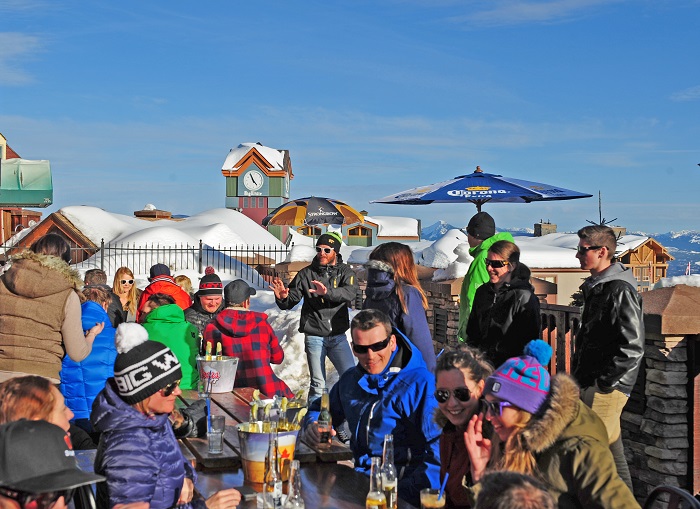 Slush Cup (April 8): See the season out in style with some wild pond skim action BC style: DJ beats pumping from the patio; outdoor barbecues billowing delicious smelling smoke; an entire village full of pubs and drinkeries featuring Canadian brews and Okanagan wines; crazed skiers and snowboarders launching themselves into a freezing, slush-infested pool. How could an American skier or snowboarder ask for a better spring break? Watch this video for some inspiration, then scrounge around for your passport and start planning that trip.
Getting to Big White from Spokane and Making that Border Crossing Easy
If you have a passport, great. If not, no problem since you can easily pick up an enhanced WA drivers license that will get you into and back from Canada for less than a passport. Read more about that and the ease of traveling to Canada from Out There's border crossing guide from a few years back.
Now that you're ready to hit the road for Big White, this little short cut will carve off some time from your scenic and relaxing back-highway trip if road conditions are good. With this shortcut the drive is around 4.5 hours on good roads. Head north from Spokane on Highway 395 past Kettle Falls and the Columbia River, head west just south of the border over Boulder Pass to Curlew, Wash., and then beeline northwest to the Midway Border Crossing (open 9-5 daily). Navigate through Midway, B.C., then turn left on BC-3 towards Osoyoos, make a right onto Rock Creek Highway/BC-33, then a final right at the sign for Big White. Note that Boulder Pass between Highway 395 and Curlew, Wash., can be sketchy during or just after a snowstorm, in which case continue north to the Canadian Border at Christina Lake and hop on better-maintained BC-3. //