College of the Rockies Students Developing Best Practices Guidelines for Tree Well Incidents
As a skier or snowboarder, is there anything better than carving through a fresh dump of pristine snow as you rip down a tree-lined backcountry mountainside? The beauty and unspoiled powder found off-piste is a draw to many and make it easy to forget the potential danger lurking amongst the trees: tree wells. These areas of loose snow around the trunk of a tree create risks for serious injury or even death when a skier or snowboarder falls into one. Trapped by the snow, the immobilized skier or boarder runs the risk of suffocating. According to the Canadian Ski Patrol, 90 per cent of people trapped in tree well hazards are unable to rescue themselves.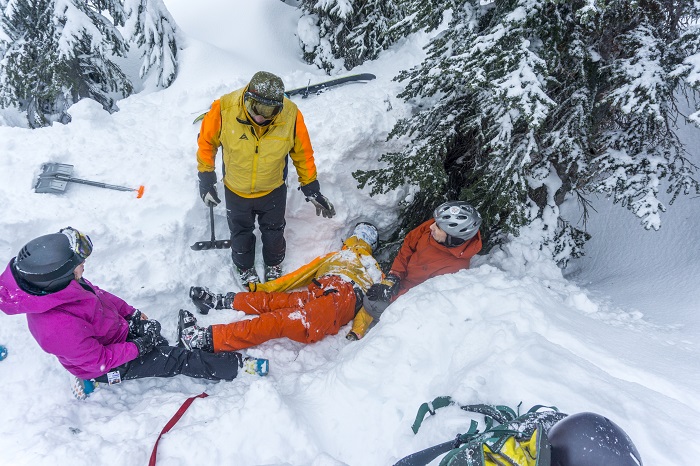 Commercial operators, such as Canadian Mountain Holidays (CMH), the largest helicopter skiing operation in the world, are particularly interested in developing tree well extraction protocols and documenting best practices for their staff and guests.
The College of the Rockies Mountain Adventure Skills Training (MAST) program, located in Fernie, British Columbia, is equally concerned with ensuring students and staff remain safe when in the backcountry. With 60 per cent of MAST students' learning time spent outdoors, much of it in the backcountry, hazards like tree wells are always on the radar.
With this mutual goal in mind, CMH and MAST joined forces for an applied research project in an effort to determine best practice protocols. After viewing GoPro videos of skiers who had fallen into tree wells, MAST students timed and videotaped simulated burial rescues to assess effectiveness of a variety of removal techniques. They will quantify their results and compare them with data from other sources to draft a report for CMH's Mountain Safety Officer who will formalize the MAST students' findings.
"After our intense scrutiny of tree wells, I have a greater respect and fear for them," says MAST program coordinator, Brian Bell. "With the results of this research, we, along with CMH, will be able to publish best-practices guidelines for tree well incidents and, most importantly, help to make the backcountry a safer place for all to enjoy."

About the Mountain Adventure Skills Training Program
For those who dream of turning their passion for the outdoors into a career, College of the Rockies, located in the beautiful Canadian Rocky Mountains, offers the Mountain Adventure Skills Training (MAST) program. Located in Fernie, British Columbia, students receive first-hand outdoor adventure experience along with the relevant academic training and industry certifications. Sixty per cent of the program takes place outdoors in activities such as rock climbing, hiking, mountaineering, skiing, canoeing, and whitewater rafting, preparing students to succeed in adventure tourism careers. Learn more about the MAST program at College of the Rockies here. (Article Sponsored by the College of the Rockies MAST Program.)