Brief History of Spokane Parks
About 70 years ago, Laurence Hamblen, who was the Spokane City Park Board President at the time, realized that there was a gap between what the local municipalities could provide and the very real parks and recreation needs in the community, including programming, infrastructure, playgrounds, and access for individuals with disabilities. So, he appointed a committee to create what is now the well-established Spokane Parks Foundation. "We are here to bridge that gap," says Amy Lutz, President of the Foundation. "We do a lot of fundraising for both specific projects and community organizations so that we can provide expanded access to parks and improvements for all the parks in the county."
Spokane Parks Foundation Programs
The Foundation's official mission statement is to "cultivate the health, growth, and continued enjoyment of our communities by inspiring giving and passion for our parks." And they have a seven-decade legacy of doing just that. Through an appreciative transparency and clear directives, the foundation has increased awareness and access to parks and recreation for all ages and people and empowered local organizations to succeed in their community-building endeavors.
The Foundation's Make-a-Splash Program is only a few years old but is a project that is close to the heart of everyone involved. "With all of the bodies of water in our area, it's important to know how to be safe around the water," says Lutz, "and not only for yourself but also for others to have some swimming ability, because that's what we do in summer. We get out and get in the water!" In addition to sponsoring free swim lessons and open swim nights through local partnerships, Make-a-Splash also provides funding for discounted lifeguard training so that pools and parks can hire the staff needed to provide safe and enjoyable water recreation throughout the season. Also, through a long-standing relationship with The General Store, the foundation supplies free swimsuits to kids in need throughout Spokane County.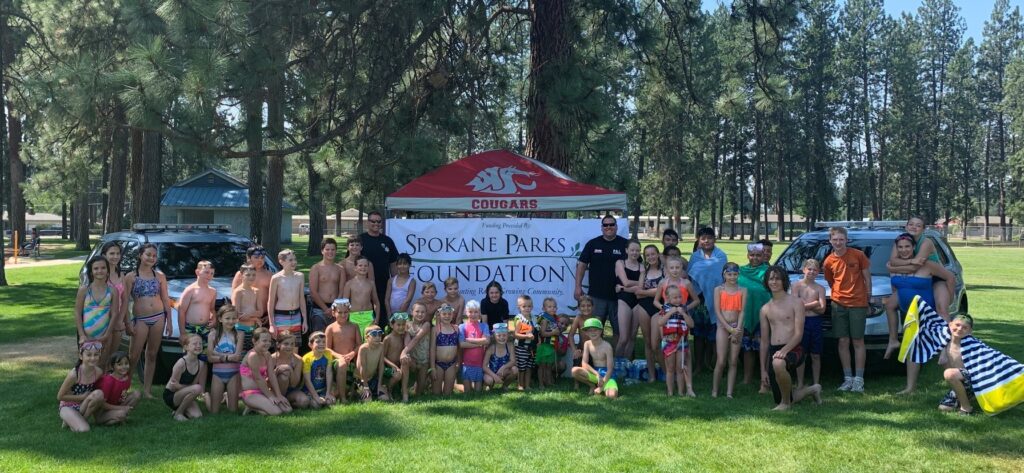 The Foundation's other primary funding is its grants program. Community organizations and municipalities submit a letter of interest each November, and in the spring, the board announces which applications will be awarded funding. There are always more applications than the foundation is able to meet, but they're goal this summer is to create more awareness of these grants, their partner organizations, and the benefit of donating unrestricted funds to distribute more widely throughout the county.
"Many of our partners are our grantees that we're working with to tell the appropriate story as well as solicit giving and support for our parks and recreation countywide," says Terri Fortner, the Spokane Parks Foundation's executive director. "The advocacy and informational awareness of just being present and talking about what we and our partners do is a very important piece of the foundation."
Discover how you can get involved with, donate to, and support the parks and recreation opportunities in your neighborhood through the Spokane Parks Foundation by visiting their website, going to their giving site, texting "parks" to 202-858-1233, or stopping by one of their upcoming events.
Spokane Parks Foundation Spring 2022 Events
Month of April – Round Up at the General Store! Shoppers can round up their change at the cash register to support the Make-a-Splash in a Kid's Life Program. All proceeds go towards purchasing new swimsuits for kids in need.
May 14, 1:00 – 5:00 PM – Pints for Parks at Brick West Brewing Co
June 11, 1:00 – 5:00 PM – Paws for a Cause at Brick West Brewing Co in support of the dog park in Riverfront Park