Skis assist people who want to move efficiently, and often rapidly, in alpine terrain. And just as humans have injected charisma and flare into their technique, they have infused personality and self-expression into their equipment. Here are three companies that work with local artists who elevate the alpine experience with inspiring visual designs.
Personalized Art – Folsom Skis
When skier Alix Whitener saw a "low-poly image of a fellow skier's dog" on a set of Folsom custom-made skis, she was inspired. Her dog Remi's "doberman mask would look super rad on skis," she thought at the time.
Whitener's desire to capture her dog's likeness on a pair of skis runs deeper than aesthetics. "Remi has been my adventure partner for the last seven years. [She has] run, skied, and hiked by my side…I wanted to honor her role in my life as well as treat myself to custom skis after finishing graduate school," says Whitener. "Skis don't last on the mountain forever, but they will look great on my wall once they've lived out their lives."
 Whitener called Folsom Skis, in Denver, and shared a photo of Remi with designers and described the art style she wanted. Technical specs for the ski core were decided based on Whitener's style of skiing. Two weeks later, her new skis arrived.
Recently, Whitener's dog passed away. "Remi is always with me, skis or no skis. But it feels extra special knowing she's right at my feet while I'm enjoying our favorite sport," she says. "It's not about having something no one else has on their skis; it's a personal touch that's part of who I am and what's special to me."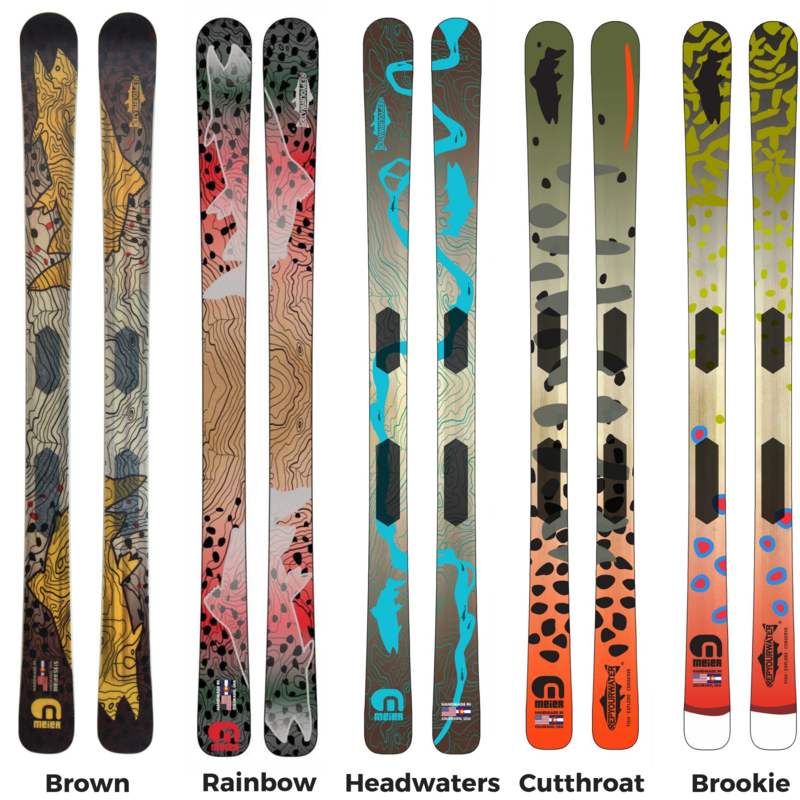 Northwest Art – Lithic Skis
Based in Peshastin, near Leavenworth, Lithic Skis is the only independent ski manufacturer in Washington State, founded by Ty Bourgeois and Paul Roberts. "We came from a company in Tahoe that was making ugly stuff—great skis but the art was painful to look at," says Bourgeois. "Essentially, it comes down to me and Paul in the shop every day. When we look down at the skis we're working on and can feel happy, we like that. And that translates into other people being happy about the skis. It really comes down to trying to be unique."
 However, Bourgeois doesn't slam other companies for not putting as much focus on the art. "There are still companies that make really generic top sheets. I like that aesthetic—simple and clean and a simple logo…We're not trying to thumb our nose at K2 by being unique, but if it looks good and all comes together, then we're stoked."
This is the third season that Lithic has collaborated with a local artist. For 2019-20, the featured artist is Craig Muderlak, a climber and fellow skier in Washington. Every set of custom Lithic skis is hand made according to a customer's desired flex and core type, and hardwoods are hand selected at the local lumber mill.
"First priority is the quality of our skis," says Bourgeois, who, along with Roberts, skis 100 days a year—Mission Ridge is their home mountain, and they also ski at Stevens Pass. "We don't even call it skiing. We call it 'prototyping.'"
Art For a Cause – RepYourWater Fish Sticks by Meier Skis
Owners of two small Colorado-based companies were inspired by the crossover interest in snow sports and fishing. The result is the Meier X RepYourWater Fish Sticks collection of skis and snowboards.
"Good snowpack is great for a ski season and also critical for healthy trout fisheries and good fishing," says RepYourWater co-founder Corinne Doctor. "We knew that the killer graphics from us would look great on the Meier skis, especially with their natural wood aesthetic." Debuting in 2017, there are now five designs available—one depicts the Colorado River headwaters and the others focus on individual trout species, including rainbow and cutthroat.