Skiing allows you to "be intentional about creating memories for the family," says Brad McQuarrie, general manager for Mt. Spokane Ski and Snowboard Park.
He and his wife Brenda have always made it a priority to ski with their four children – three daughters, now ages 20, 19, and 15, and a son, 13. "We put them all through ski school – I'm a firm believer in that. That worked out great for us," he says.
Before moving to the Spokane area in 2002 to manage Mt. Spokane, the McQuarrie family lived in Ketchikan, Alaska, which is where his oldest daughters initially learned to ski. When they weren't using snowmobiles to access backcountry runs on the local Deer Mountain (there were no chairlifts), the family took the ferry to Canada and then drove inland for over an hour to ski and stay at Shamas Mountain in Terrace, British Columbia.
Each of the children had a different ski school experience – a combination of group lessons the first season followed by private ones in subsequent years. For example, his two youngest children started with Mt. Spokane's "Mini Mites" program (for ages 4-6) followed by the "Mighty Mites" before progressing to multi-week group and private lessons.
"I didn't put my kids into skis until each wanted to. I think it's important not to push kids into it," he says. "Children will whine and complain with their parents, but get them in a class, and they're not going to whine in front of their peers. I just didn't have the tenacity to teach my own kids."
Ski training also begins at home, says McQuarrie. "The first thing I did was put them into the gear on the carpet. I think adults tend to take it all for granted – how skis feel – but it's a huge change for kids, to be in boots and skis. So let them be in the gear at home. Let them hike around in their boots," says McQuarrie.
Through the years, McQuarrie also learned from his missteps. "Whenever kids get tired or lose interest, get them inside and get them a hot cocoa. Just have fun with them as much as you can. I've made the mistake of pushing my kids too much," he says.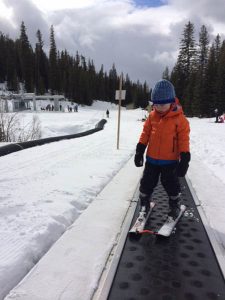 From its extensive ski school program to its daycare facility, Mt. Spokane – like other regional ski areas – aims to ensure that skiers and snowboarders, parents and children, all feel safe and have fun on the mountain. Mt. Spokane and other regional resorts also participate in the national 5th Grade Ski/Ride Free Passport Program. "That's a transitional age for kids," says McQuarrie. "Studies have shown that if you learn to ski before that time, you're likely to become a lifelong skier."
Today, McQuarrie says he'd classify his children as all intermediate skiers.
"They can go most anywhere on the mountain but probably wouldn't do too well off piste in the crud. Despite my warnings, they do go out of bounds. One daughter had to be rescued two winters ago after coming out on the road down by the Lower Mt. Kit Carson road parking lot!," he says. "Regardless of training or instruction, some people progress very quickly, and others take a bit more time. Two things all 'expert' skiers have in common: lots of days and lots of mileage!"